Breakfast Charcuterie Board is a grazing board full of a variety of food items perfect for a delicious meal in the morning. What a fun way to eat breakfast!
Make breakfast something special with a grazing board. You don't have to cook that much, just grab some easy breakfast items, cook up some simple eggs and make this amazing breakfast grazing board.
Grazing platters are so versatile. I love making them for holidays, like Christmas, Valentine's Day, and 4th of July. But this breakfast platter is perfect for every day!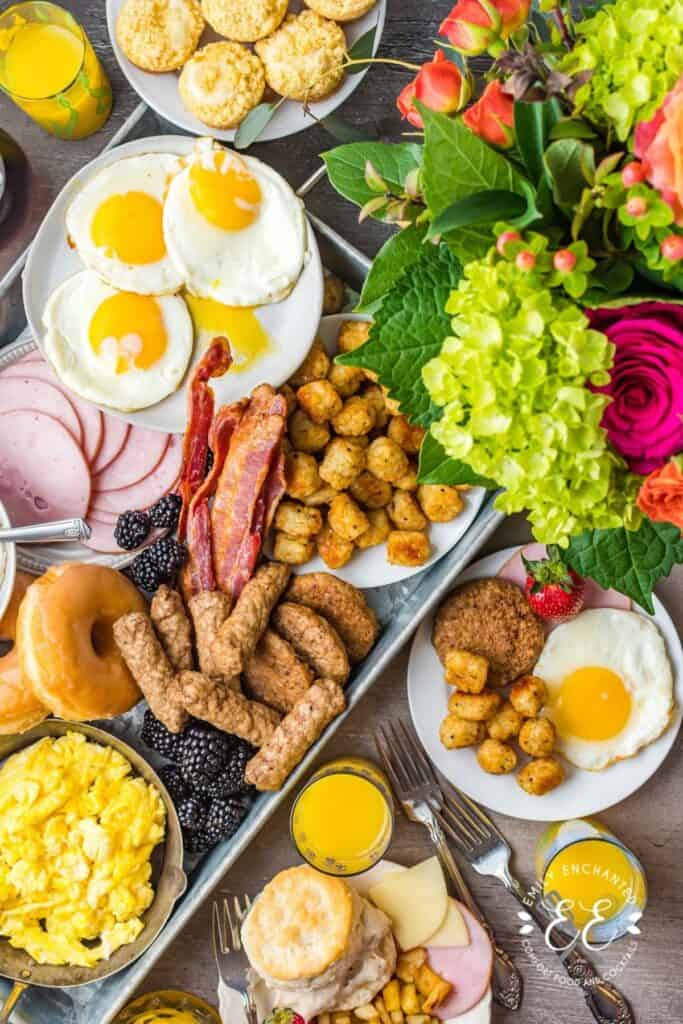 What is a Grazing Board?
Similar to a charcuterie board, but a grazing board isn't limited to meats and cheeses. You can choose a theme and build a board around it. It often has small items that people can just stand around and graze from, but can also include full sized items.
Make sure to include some items that people don't have to cut or use silverware to eat. But also include small plates for those that prefer to graze from their own plate.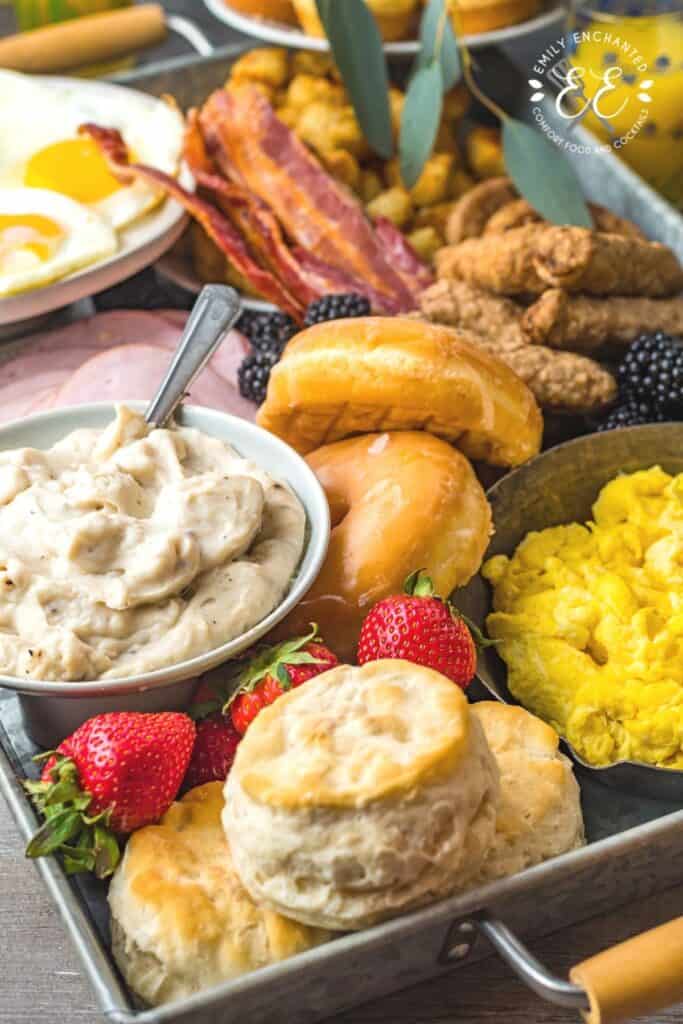 Breakfast Charcuterie Board Ingredients
What's great about charcuterie boards is that you can use whatever you like! Here are some ideas to get you started:
Meat – sausage links or patties, Ham, bacon, smoked sausage
Cheese – cubed or sliced smoked gouda, cheddar, pepper jack, or cheese spreads
Eggs – you can make scrambled eggs, fried eggs, hard boiled eggs, or make egg muffins
Sweet Bread – donuts, cinnamon rolls, donut holes, mini muffins, pop tarts, french toast roll ups
Potatoes – cubed with onions and peppers, hash browns, tater tots
Gravy – white gravy or with sausage
Cream cheese – regular or flavored
Condiments – jellies, butter, syrup
Fruit – strawberries, orange slices, raspberries, blueberries, apple slices, melons, bananas
Vegetables – tomato, onion, cucumber, etc.
Other – yogurt, granola, cereals
Platters – wooden cutting boards, metal trays, small serving bowls, spoons and plates
How to Assemble a Breakfast Grazing Board
This is the fun part! Try to visualize what you want before you start. Don't be afraid to move things around as you go.
Step 1. Choose your food and supplies
Choose the items you want on your grazing board. Cook or heat everything so it is ready to go. Choose your serving board or platter, as well as your bowls and spoons.
Step 2. Fill and place bowls and large items
Fill your bowls with jams, gravy, berries and other things you don't want falling or running off the board. You can plate some main items or just layer them around.
Begin by placing a few main bowls or plates on the board. Use small lids or mini bowls to raise other items.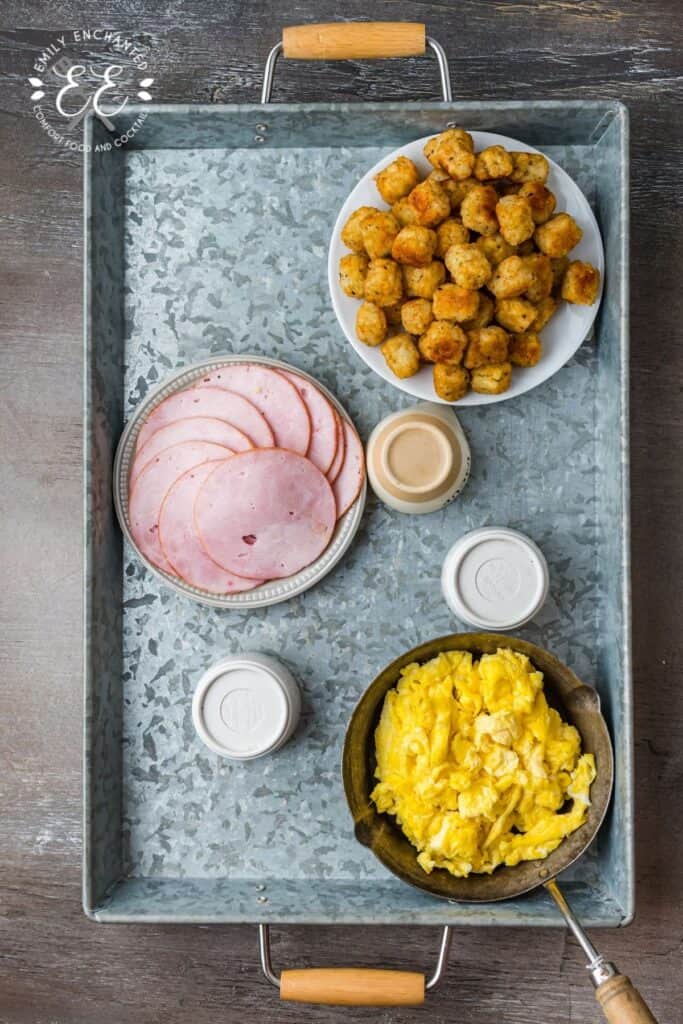 Step 3. Fill in empty spaces
Place smaller bowls or glasses around the board. Fill in areas with fruit, breads, and cheeses.
Step 4. Add serving utensils and finishing touches
Add the spoons to the bowls that need them and lay out plates.
You can set up drinks near your board as well.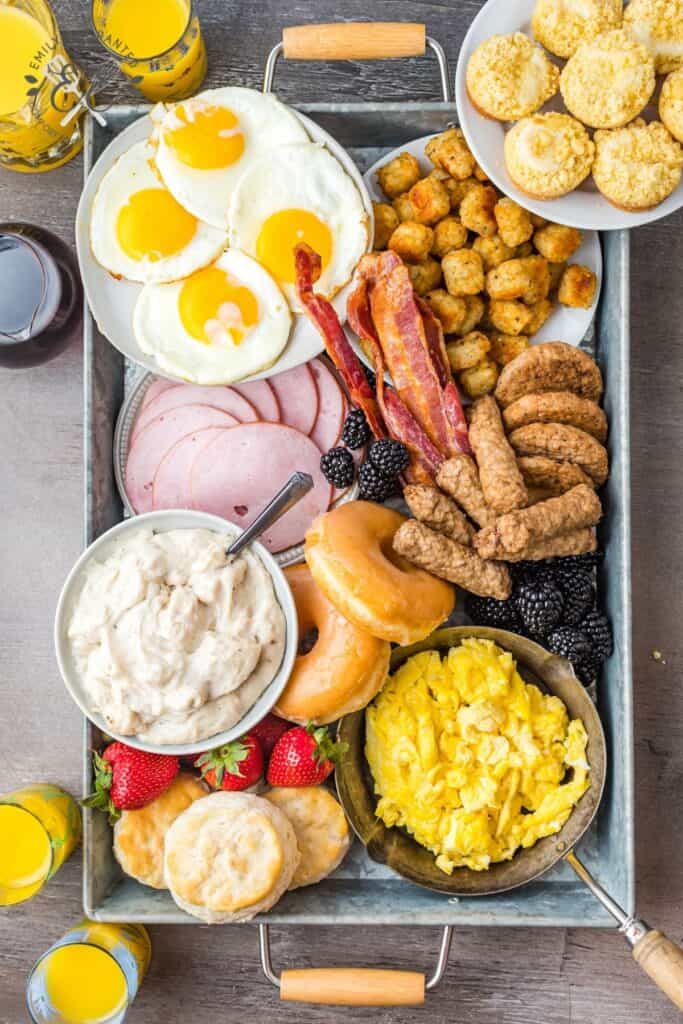 Tips for Making a Breakfast Grazing Platter
Don't hesitate to buy frozen or refrigerated items that you can just heat and serve. Key to a grazing board is fast and easy.
These are great to make and take to a sick friend, new mother, or aging loved one.
A great grazing board will be crowded with items. The more, the better! You want everyone to feel there is plenty for all to graze.
Layering items is great. You can layer by adding mini bowls on the board and placing another bowl on top. This will raise the bowl and it can be crowded in, overlapping a plate or bowl.
Make everything mini, such as waffles or pancakes, so they become finger food and you can dip in maple syrup.