This Christmas Charcuterie Board is so festive and filled with delicious treats like cheese, fruit, salty snacks and chocolate.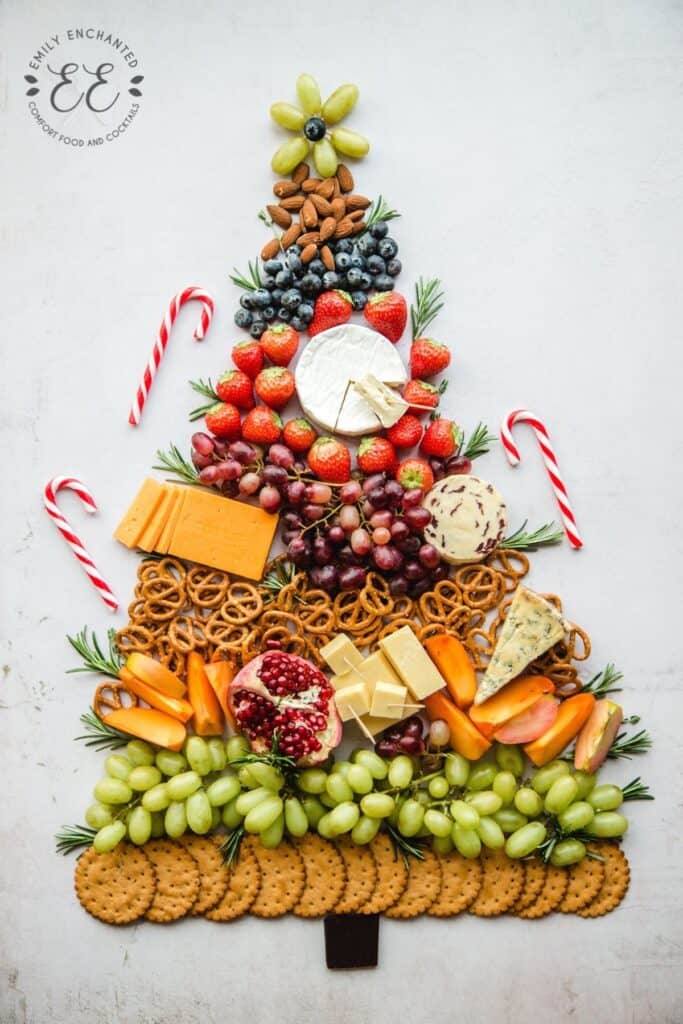 This post contains affiliate links.
You can make this charcuterie board right on a table or a large cutting board, or you can make a small version on this Christmas tree cutting board.
Christmas Charcuterie Board Ingredients
To make this savory Christmas cheese spread, you will need the following:
Cheese: Brie, medium cheddar, cranberry cheddar, aged sharp cheddar, stilton blue cheese.
Fruit: Grapes, pomegranate, persimmon, strawberries, blueberries, apples, cherry tomatoes.
Salty snacks: Almonds, pretzels, crackers.
Garnishes: Fresh rosemary, dark chocolate, and candy canes.
Exact quantities are up to you! I love making cheese boards because they are so versatile. You can also add other items, like these Christmas deviled eggs.
If you can't find the exact cheeses I used, just go the deli section of your grocery store and see what special cheeses they have.
How to Make a Christmas Charcuterie Board
Making a holiday charcuterie board is so easy.
Start by making rows with your foods, with each row getting a little longer until a tree shape (triangle) is formed.
Use a square piece of chocolate as the tree trunk.
Stick little sprigs of rosemary in between to look like pine needles.
Make a star tree topper. You will need 6 grapes, 1 blueberry, and 3 toothpicks. Take each toothpick and add a grape on each end, leaving the middle of the toothpick exposed. Lay the toothpicks on top of each other so the grapes form the points of the star. Next, lay a blueberry on top of the toothpicks.
Recipe Tips
You do not have to make a Christmas tree shape. If you use a round or rectangle design, start with placing the large items like the cheese and pomegranate. They add the smaller items around those items. You can also make a Christmas Wreath Charcuterie Board!
Don't forget to serve with a cheese board knife set.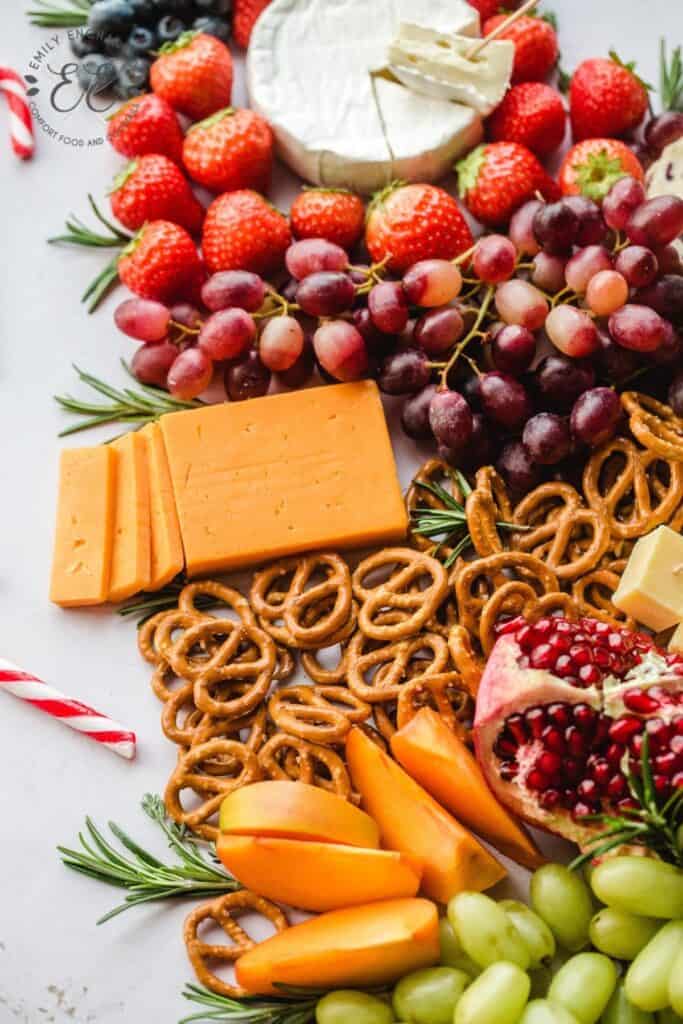 More Christmas Appetizers