This beautiful and festive Christmas Wreath Charcuterie Board is the perfect thing to add to any snack table this holiday season. This board is simple to make, eye-catching and so delicious. Add homemade items and local favorites to give it a personal touch!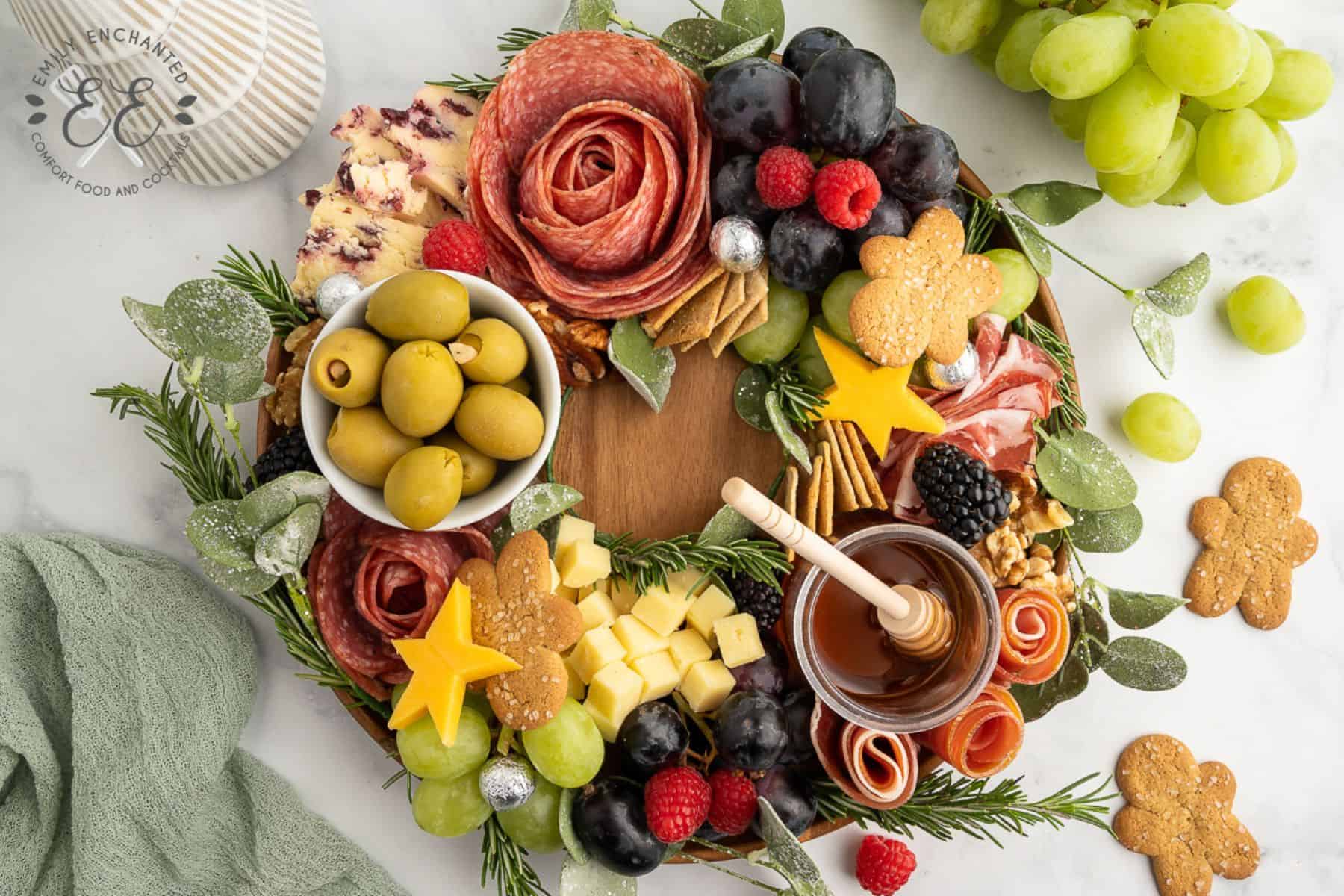 This post contains affiliate links.
Wreath Charcuterie Board Ingredients
These are the ingredients used in the Christmas appetizer board pictured here. You can use these or any of the ingredients listed in my suggestions below.
green grapes
black seedless table grapes
dry coppa
Italian dry salami
prosciutto
local honey
raspberries
blackberries
garlic-stuffed green olives
crackers
white cheddar
Wensleydale cheese with cranberries
yellow cheddar cut into stars
pecans
walnuts
gingerbread cookies
foil-wrapped chocolates
fresh rosemary, for garnish
Other Ingredient Ideas
Select any combination of the suggestions listed below or create the board using your favorites. Keep in mind that you want to offer variety but you also want the flavors to complement each other.
Meats – (Choose 2-3 items)

Salami
Prosciutto
Calabrese
Chorizo
Mortadella
Capocollo
Soppressata
Summer Sausage
Pate
Jamon Iberico

Cheeses – (Choose 2-3 items)

Goat Cheese
Brie
Manchego
Gouda
Cheddar
Parmesan
Havarti
Blue cheese
Baby mozzarella balls
Gruyere
Asiago
Muenster

Fruit – (Choose 1-4)

Blackberries
Raspberries
Apple slices
Cherries
Blueberries
Pear slices
Figs
Cranberries
Grapes

Dips – (Choose 1-2)

Honey
Olive oil
Bruschetta
Preserves
Pesto

Crunch – (Choose 1-3)

Crackers
Shelled pistachios
Walnuts
Pecans
Cashews
Candied nuts
Macadamia nuts

Other – (Choose 1-4)

Pickles
Olives
Chocolate
Cookies
Dates
Special Items Needed
Round board, about 12-inch diameter (or square board, 12×12 inches or greater)
Greenery (optional – You can use only rosemary and/or real or fake greenery to help create the wreath. I prefer fake greenery with wire in it so you can shape it around the board.)
How to Make a Christmas Wreath Food Board
Start by picking out a round (12-inch diameter or greater) or square (12×12 or greater) board to use for the wreath.
Prepare the food you are using by washing any produce, slicing any produce that is not already bite-sized, cubing or slicing the cheese, preparing the salami roses (see instructions below), and placing any dips, olives, or anything that needs to be contained into small dishes.
If using fake greenery with wire in it, you can shape it around the outside of the board (if using a round board) or shape it around a large bowl (about the size of your board or slightly smaller) to start to give your wreath some structure. Do the same for the inner circle of the wreath using a ramekin or a small bowl (about 3–4-inch diameter). If you are only using real greenery or rosemary, you can place a ramekin upside down in the center of your board while creating your wreath so that you can maintain the shape, just remove the ramekin before serving.
Place any large items like bowls/dishes, salami roses, and wedges, or whole cheeses (like brie). Space them apart from each other so they are sprinkled throughout the wreath. These items are what you will start to build around. They give some geometry to the board to really draw the eye in.
After the large items are placed, you can start to incorporate the items that flow and sprawl, like grapes on the vine, rolled/bunched meats, crackers, or cubed/sliced cheeses. These items should start to fill the board and frame the larger items that were placed in step 4.
Use smaller items like chocolate squares, nuts, and berries to fill the gaps so that the wreath looks full.
Begin to frame the outside and the center of the wreath with rosemary and any additional greenery you plan on using.
Lastly, add some fun festive items like a bow, cheese cut into the shape of stars, extra berries to look like ornaments, holly, holiday-shaped cookies, or foiled-wrapped candy.
Serve immediately or store covered with plastic wrap in the fridge until you are ready to serve it. Don't forget to serving utensils for anything that needs to be spread.
Charcuterie Board Tips
Use small bowls and pretty dishes to contain loose items or dips.
Create a visually appealing board by using repeating shapes (like circular bowls and round grapes) and patterns throughout the wreath.
Start your board by placing larger items like dishes filled with dips, oils, honey, or preserves, meat roses, and whole soft cheeses (like brie) first so you have something to build around.
Explore a variety of textures and flavors balancing the board with crunchy, soft, sweet, salty, savory, and fresh items. Aim for 2-3 types of cheeses (try soft, hard, and flavored cheeses) and 2-3 types of meats, several types of fresh or dried fruit, a few crunchy items like crackers or nuts, and a touch of chocolate or a few holiday cookies.
Add your family favorites or legendary local finds to make your board extra special.
To allow your wreath charcuterie board to still be the centerpiece but go further in a crowd, serve additional crackers, fresh veggies/fruit, nuts, or cheeses in bowls or platters off to the side.
If you are using a square board and are struggling to keep the round shape, you can trace a circle on a piece of parchment paper and place that on top of your board to use as an outline.
How to Make a Salami Rose
To make a salami rose, you will need a glass with a narrow mouth, like a champagne flute, and about 10-15 pieces of thinly sliced salami.
Begin by folding the salami slices along the rim of the glass allowing each slice to overlap the previous one. Continue to do this until the hole in the center narrows and closes. Once your rose is complete, flip the glass upside down against a hard surface and slide the rose off the glass.
FAQ's
What is a charcuterie board?
Charcuterie boards are all the rage right now because they are easy to make yet look beautifully crafted and feel like a sophisticated addition to any spread. Charcuterie is translated to mean 'cold cooked meats' and generally involves a wooden board used to serve an array of cured or smoked meats, fresh or dried fruits, cheeses, olives, nuts, and pickles.
How much food do I need for my charcuterie board?
A good rule of thumb is to aim for about 2 ounces of meat and cheese per person. If you are not offering a full meal and anticipate people being hungry you can always account for more! Hungry folks might eat closer to 4-5 ounces of cheese and meat per person.
How do I know how big of a board to use?
I used a board that was round with a 12-inch diameter. This is the smallest size I would recommend and could feed up to 6 people. If you have more than 6 people or this board is going to be the main offering to your guests a larger board would be better. To serve a very large crowd, you can trace the outline of a wreath on butcher paper and place it on a large table, skipping the board and building your wreath directly on the table.
What is the best way to cut cheese for charcuterie?
Deciding how to cut cheese for your board will depend largely on the type of cheese you are using and personal preference. Cutting your cheeses into a variety of shapes can be visually pleasing. If using soft cheeses, they will need to be sliced or left whole if you plan to have guests spread them. Hard or semi-hard cheeses can be sliced, cut into triangles, or cubed.
Preparing Charcuterie Ahead of Time
This board can be prepared up to 24 hours ahead of time. Be sure to wrap it in plastic wrap to prevent anything from drying out and store it in the fridge until the time of service. Keep in mind that if you are using anything that might not hold up well (like sliced apples) these items should be added right before serving.