Here is a traditional and delicious recipe for funeral potatoes. This potato dish is cheesy and creamy, with a crunchy cornflake topping. It is the ULTIMATE comfort food!
You know a recipe is going to be good when it comes from a little old lady at a church potluck. This is a popular casserole dish that is great for feeding a large crowd, whether it be a potluck or family gathering. This party potatoes dish is great for picnics and holidays, too. Thanksgiving and Christmas dinner will thank you for making this amazing side.
If you are looking for more side dishes like this, try an easy pasta side dish, a cold side salad, or a delicious vegetable side dish.
This funeral potatoes recipe is such a guilty pleasure, it is loaded with carbs and cheese. YUM! The best cheesy potatoes are warm and creamy, and they are topped with a buttery, crispy corn flake topping. Using mostly pantry items, this is also a great stockpile recipe.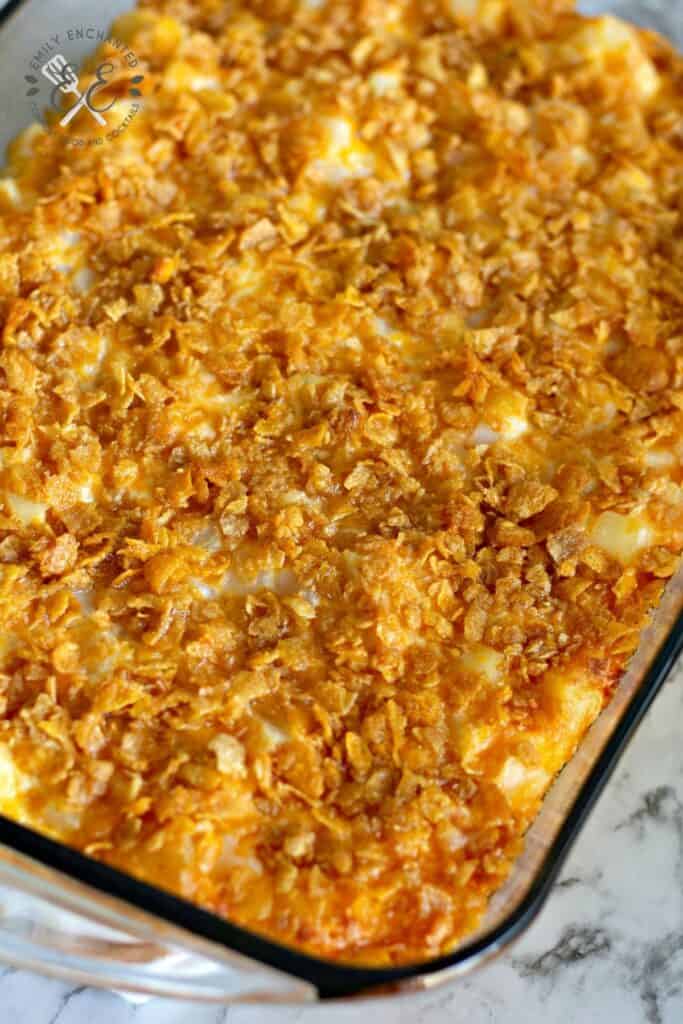 Funeral Potatoes Ingredients
This recipe uses a lot of ingredients that are already in your pantry. To make this cheesy potatoes side dish, you will need the following ingredients (print the recipe card below for exact amounts and directions):
Butter
Sour cream: I would not use light sour cream for this recipe. Do NOT use Greek yogurt instead of sour cream.
Salt
Onion powder
Cheddar cheese: I like to use sharp cheddar for more flavor
Frozen hash browns: cubed potatoes or diced, not shredded hash brown potatoes
Corn flakes: I don't normally buy cereal so I always have leftovers. You can also use this ingredient to make Cornflake Chicken.
How to Make Funeral Potatoes
Making this hash brown casserole is really easy. All you have to do is mix and bake!
Preheat oven to 350 degrees.
Combine the ingredients. In a large mixing bowl, combine the melted butter, sour cream, cream of chicken soup, salt, and onion powder. Stir in the cheese and thawed diced hashbrowns. Pour the mixture into a 9×13 inch glass baking dish greased with non-stick cooking spray.
Make the topping. In a medium mixing bowl, combine the ½ cup of melted butter and crushed cornflakes. Stir until the cornflakes are coated in the butter. Spoon the cornflake topping over the casserole.
Bake in the oven. Bake in an uncovered casserole dish for 45 minutes until it is bubbly and golden brown around the edges. Cool for 5-10 minutes before serving.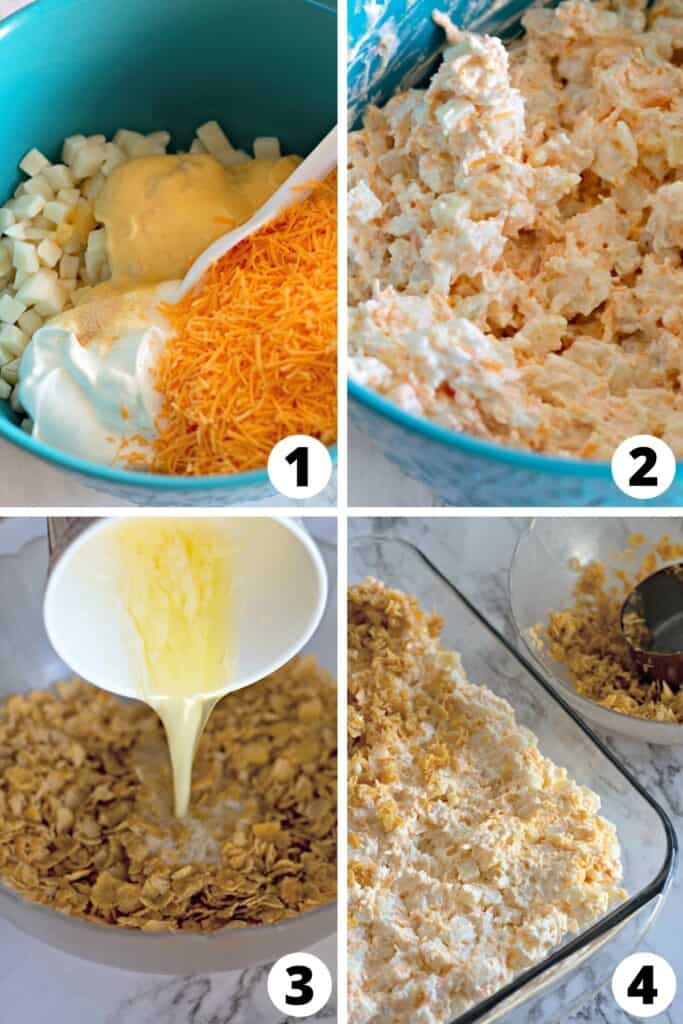 Recipe Tips
If you ever see a recipe that calls for butter, always go for unsalted butter. You can always add salt later if it needs it, but you can't take out salt!
The best way to crush corn flakes is to pour them into a plastic bag and then press down gently with your hand.
Variations and Substitutions
Toppings. You can also use crushed potato chips for the crunchy topping, or crushed ritz crackers, or even bread crumbs. Or, leave the topping off entirely. Sprinkle Parmesan cheese on top.
Cream soup. Don't have canned cream of chicken soup? Try cream of mushroom soup.
Added veggies. Add green onions for more flavor and color. You can cook them in with the hash browns, or just sprinkle green onions on top. Also, try adding 1 or 2 cloves garlic, minced.
Seasonings. Add black pepper to taste.
Meat. Add in diced ham or chicken to make this a main dish. YUM!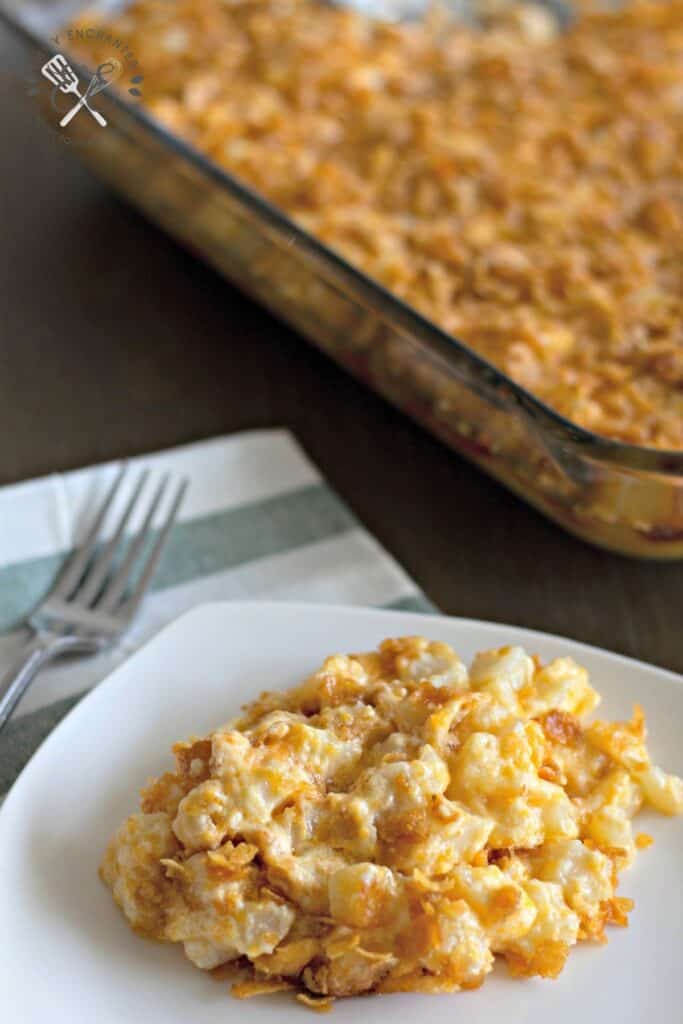 FAQs
Why Are They Called Funeral Potatoes?
This hash brown casserole is called funeral potatoes because it is commonly served at after-funeral dinners in the Midwest and among the LDS church (Latter-Day Saints aka Mormon). Funeral potatoes can also be assembled beforehand and refrigerated until you need to bring it to the church kitchen for cooking.
Can I Use Real Potatoes?
Yes, you can use fresh potatoes instead of frozen hash browns. You will need to parboil them first. I recommend using small potatoes so they boil faster. 10 small potatoes boiled for 2 minutes should be enough. Dice them up and they are ready to go.
Can I Make this Recipe Ahead of Time?
Yes! You can make funeral potatoes ahead of time in a casserole dish and put it in the fridge overnight, but wait to add the cornflake crust until you are ready to bake it so that the cornflakes do not get soggy in the fridge.
Can I Freeze Funeral Potatoes?
You can freeze funeral potatoes before you bake them, but without the cornflake topping. Just thaw when you are ready to bake, add the topping, and bake in the prepared baking dish. Bake time make take longer if not thawed all the way.
How to Reheat Funeral Potatoes
The best way to reheat this recipe is to put your induvial serving on a plate and reheat in the microwave until heated through. I don't like to reheat the whole dish if I am not going to eat it all at once. The act of heating and cooling food over and over can compromise it.
Can I Make This for a Crowd?
You can easily make this recipe to feed a crowd. Double, triple, or quadruple – just make sure you have enough pans! Traveling? This recipe cooks perfectly in disposable aluminum foil trays.
Serving Suggestions
Funeral potatoes are an easy side dish to make for any comfort food dinner. My favorite thing to serve with funeral potatoes is a hearty main meat dish, like ham or pot roast.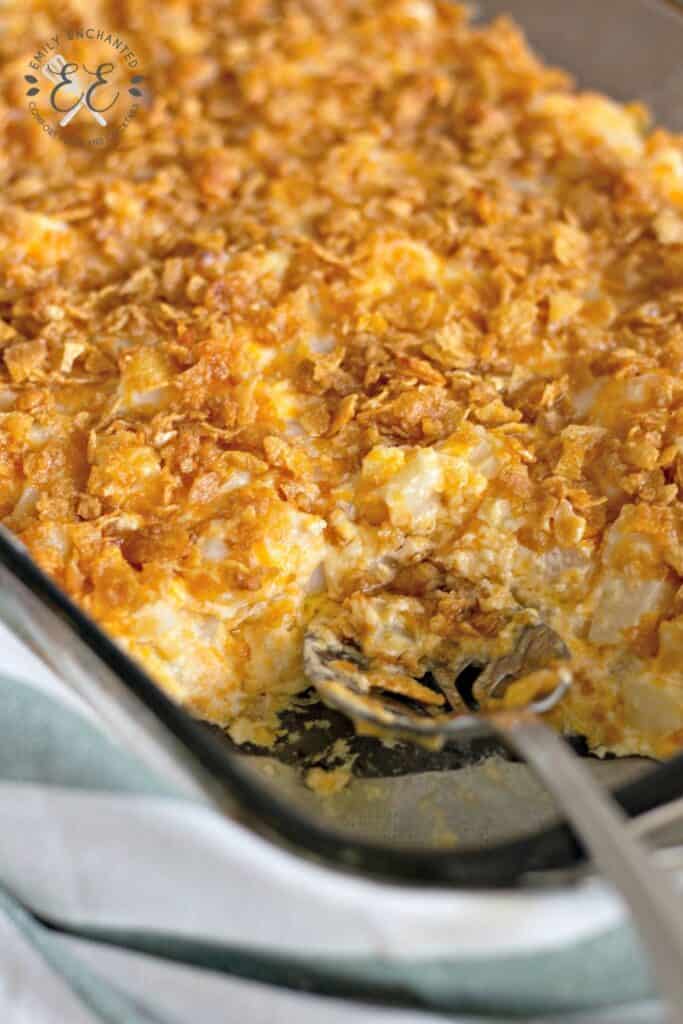 More Delicious Party Potatoes Recipes
It is hard to choose which potato recipe to make as a side dish, but why not make 2 or more? Potatoes are such a staple, you really can't go wrong, no matter how you make them.