Red Velvet Waffles are a delicious chocolatey waffle with a bright red color. Top with powdered sugar, whipped cream and raspberries for a beautiful breakfast.
This recipe makes the perfect Valentine's Day brunch for 2 people. Serve with fresh fruit and mimosas for a romantic morning meal!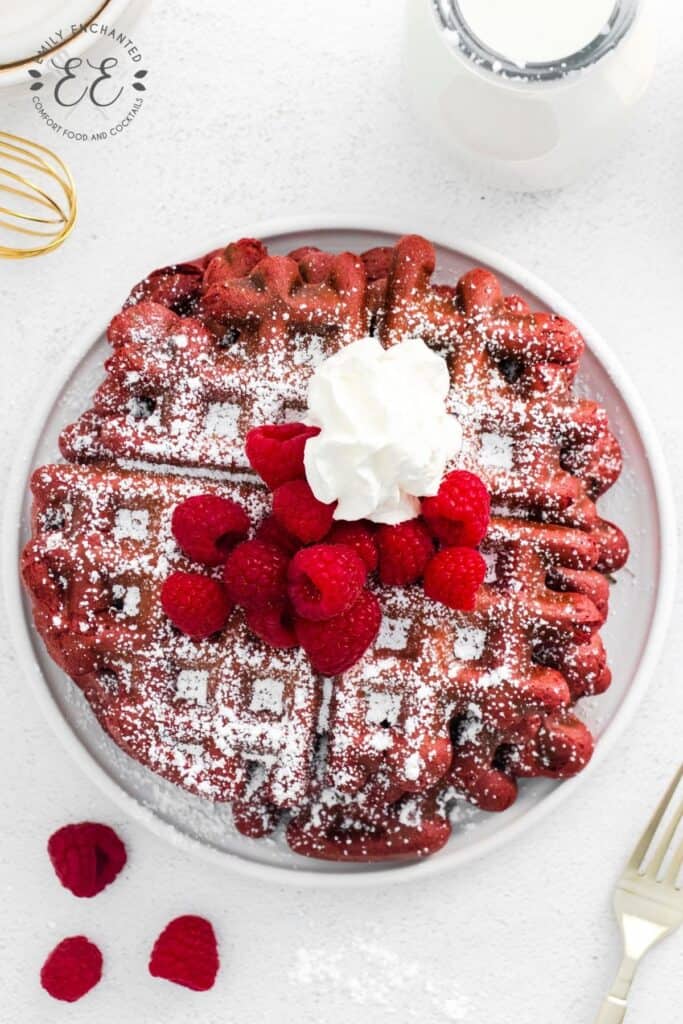 This post contains affiliate links.
Red Velvet Waffles Ingredients
To make red velvet waffles, you will need the following ingredients (go to the recipe card below for measurements):
Eggs
Milk
Butter
Vanilla extract
Red Food Coloring
Flour
Sugar
Cocoa powder
Baking powder
Salt
Valentine's Day Waffles
These waffles are the perfect thing to eat on Valentine's Day morning for breakfast. Show your loved one how much you care by making these waffles from scratch.
To make this recipe, you will need a waffle iron.
Step 1. Make Stiff Peaks
Separate the egg whites from the yolks. Add the egg whites to the bowl of a stand mixer fitted with the whisk attachment and beat on medium-high speed until they form stiff peaks, about 5 minutes.
If you have never made stiff peaks with egg whites before, there are a lot of great tutorials on Youtube. It's not as hard as you think!
Step 2. Make the Batter
Add the egg yolks to a medium-sized bowl. Add the milk, melted butter, and vanilla. Whisk to combine. Add red food coloring until you achieve the desired color.
In a separate, large bowl, combine the flour, sugar, cocoa powder, baking powder, and salt.
Add the wet ingredients to the dry ingredients and whisk just until combined. Be careful not to over mix.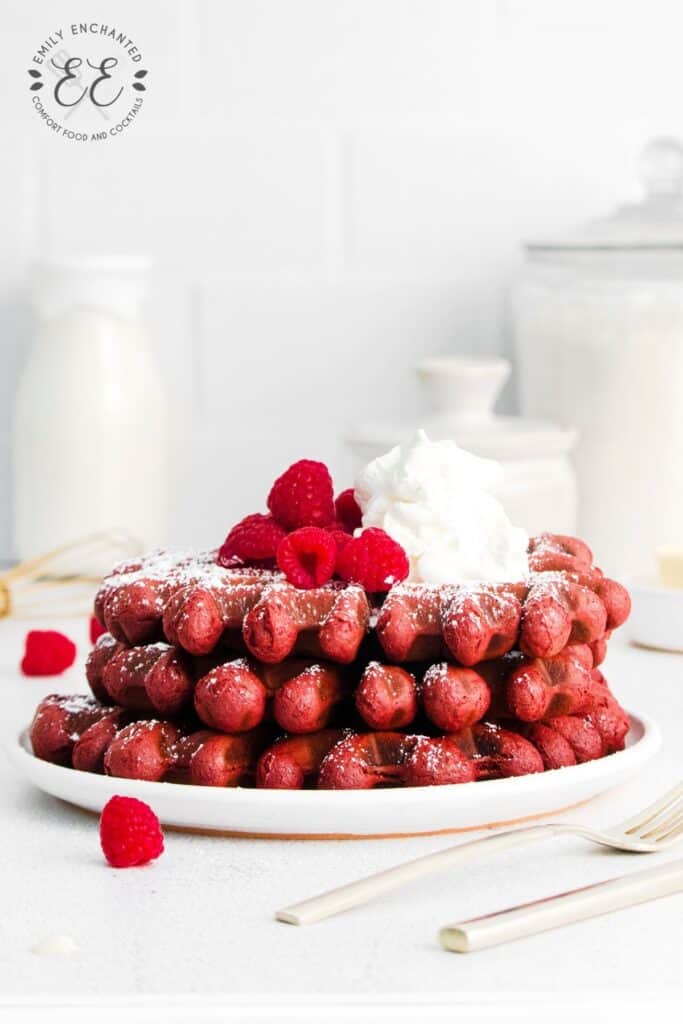 Next, fold the egg whites into the batter, making sure not to deflate them too much.
Once the egg whites have been fully incorporated, allow the mixture to sit for five minutes. This will help the gluten relax and give soft, fluffy waffles.
Step 3. Make the Waffles in a Waffle Iron
Preheat your waffle iron according to the instructions.
Spray your waffle iron with nonstick baking spray and add as much batter as is needed to completely fill the tray. In an 8-inch waffle iron, it is about 1 cup.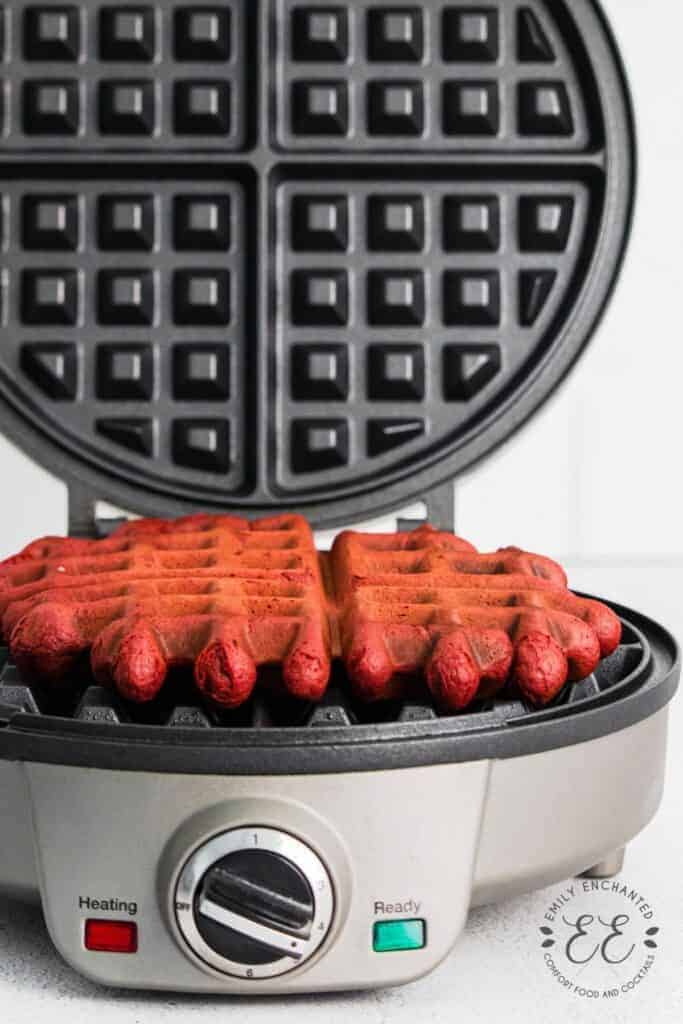 Bake until the waffle is no longer steaming or the iron indicates that the waffle is cooked, about 3-4 minutes.
Garnish with jam, whipped cream, or fresh berries. Serve warm.
How Do I Store Leftover Waffles?
Store any leftover waffles in an airtight container in the fridge for up to two days.
Tips for Making Waffles From Scratch
Whipping the egg whites is an optional step but I highly recommend it for the lightest, fluffiest waffles. It really makes a difference!
I use a natural process dark cocoa powder but natural or dutch process will work in this recipe.
I used 1 teaspoon of basic red gel food coloring to achieve the bright red color.