Breakfast Egg Muffins are an easy breakfast idea that you can make ahead for when you are on the go. Eggs, sausage, veggies and cheese are cooked in a muffin tray to create delicious and convenient egg cups.
You can eat sausage egg bites alone, or serve with a delicious avocado smoothie or a side of twisted bacon. Add a dab of hot sauce on top for a spicy kick. These are great for breakfast charcuterie boards too!
Everything you love in an omelet is made into a healthy egg breakfast cup that allows you to meal prep for the week. If you are looking for a low carb breakfast recipe, this is it! You can even substitute turkey sausage. If you like bisquick breakfast muffins, these are similar but without the baking mix.
These hearty egg and sausage muffins are a great breakfast idea for work and can be eaten on their own or on an English muffin as a sandwich.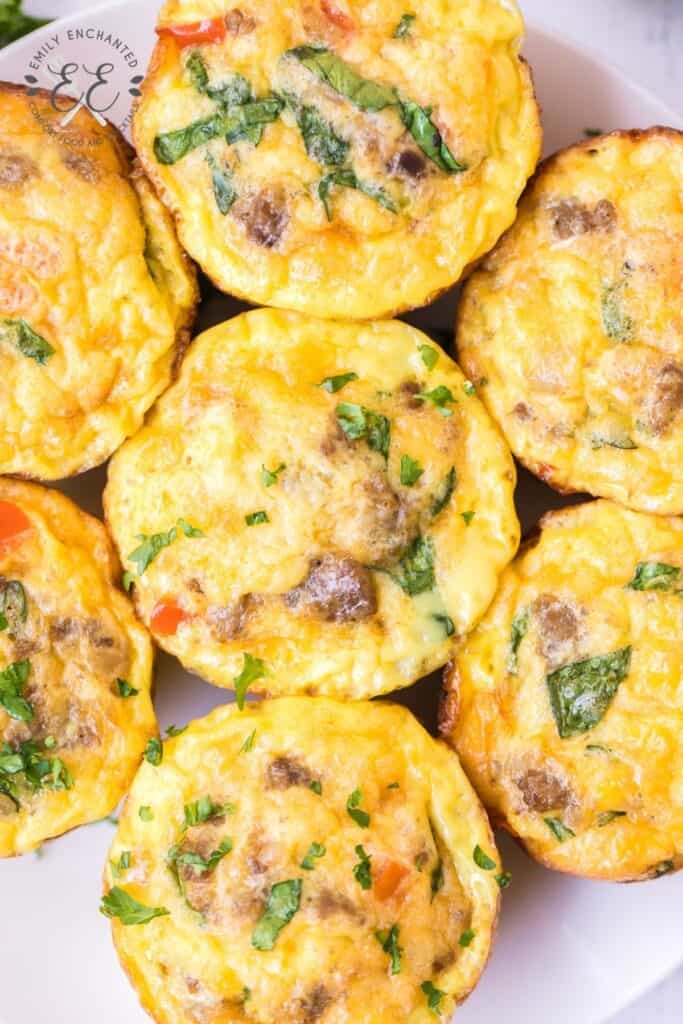 This post contains affiliate links.
Breakfast Egg Muffin Ingredients – Customize to Make it Your Own!
To make this savory breakfast muffins, you will need the following ingredients. This list has been provided for a quick shopping guide. Go to the recipe below to print or screenshot the exact amounts.
Ground sausage: Also labeled as ground pork in the grocery store. The ground sausage can be substituted with bacon to keep with the breakfast theme. Or you can try adding Italian sausage, ground turkey sausage, chicken, hot sausage, ground beef, or even tofu (just make sure you press it before cooking).
Red bell pepper: Any bell pepper will work, but I love seeing the pop of red in these muffins.
Baby spinach: I used fresh baby spinach, but you can also use frozen spinach if you have it on hand. If you decide to use frozen spinach, make sure it is thawed and drained of any excess moisture. Using frozen spinach will give the muffins a more prominent spinach flavor (think spinach quiche) than if you use the fresh spinach.
Milk
Seasonings: I used garlic powder, onion powder, salt, and pepper.
Cheese: I used a sharp cheddar cheese for my breakfast muffins, but feel free to experiment with different types of shredded cheese.
Tools You Need to Make This Recipe
Muffin Pan – I used a standard 12 cup muffin tray. You could use the larger 6 cup trays or mini muffin trays, but that would change the cooking time.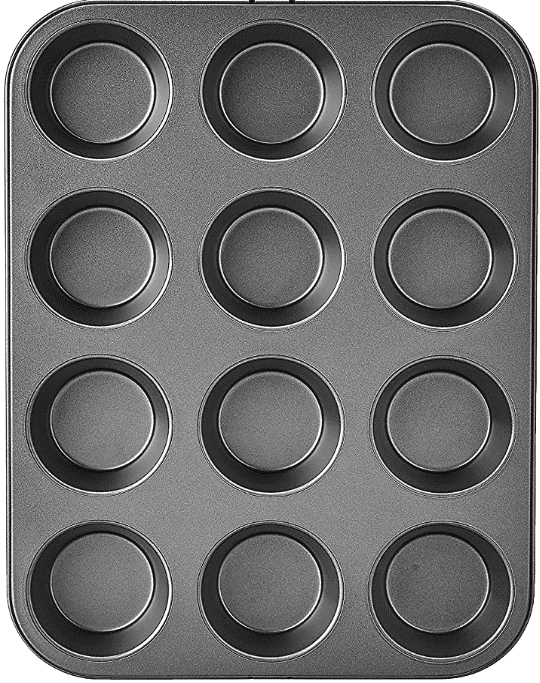 These Non-Stick Muffin Pans are a lifesaver in the kitchen! I use them for muffins, cupcakes, and more!
Cooking Spray – I prefer to use olive oil spray or avocado oil spray.
Medium Bowl – This set of mixing bowls is my favorite.
How to Make Egg and Sausage Muffins
This is one of the easiest egg recipes for breakfast. Just combine the ingredients and bake in the oven! No need to tend to the eggs on the stove top and breakfast is ready in 30 minutes or less.
Preheat oven to 375 degrees F. Brown the sausage in a pan. Prepare the veggies.
Combine all the ingredients, including salt pepper seasoning mix, together in a large bowl and stir until well combined.
Pour egg mixture equally into a lightly greased muffin pan. You can use cooking spray or butter. Do not overfill the cups.
Bake for 15-20 minutes or until lightly golden around the edges and it springs back to touch. [Tip: If your egg overflows, use a butter knife to cut around the edges of the muffin.]
Let cool. Once your muffins are finished baking, remove from the muffin pan right away to prevent any sweating. Sweating will negatively affect the flavor. Serve right away or move muffins to a cooling rack until they are completely cooled.
Storage Instructions
Your sausage egg bites recipes will last for up to 1 week in the refrigerator. Store the muffins in an airtight container or plastic baggie.
These also freeze great and can be a quick and delicious on the go breakfast. Store the muffins in an airtight freezer bag and microwave for 1-2 minutes or until heated through.
Breakfast muffins can be stored in the freezer for up to 3 months.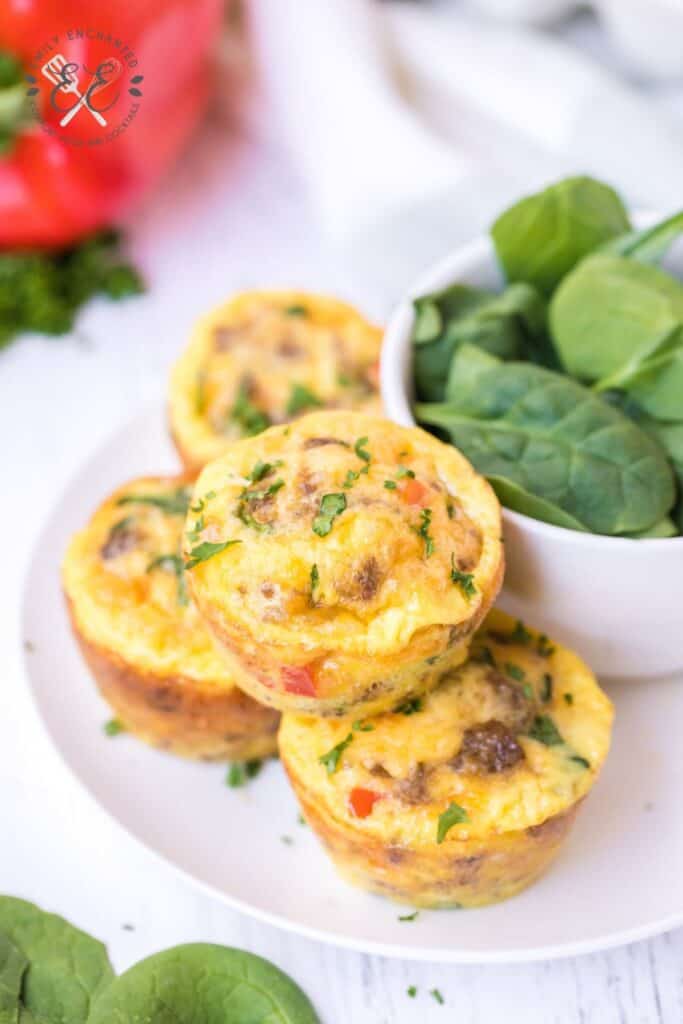 Can I Reheat Breakfast Sausage Muffins?
You can certainly eat these sausage egg cups right out of the refrigerator, but I prefer to eat eggs warm.
Microwave Method – To reheat muffin cups, microwave them for about 20 seconds. They will need to be microwaved for about 60-90 seconds if you had them in the freezer.
Toaster Oven Method – You can also reheat muffins made with eggs in a toaster oven for about 10 minutes at 350°F.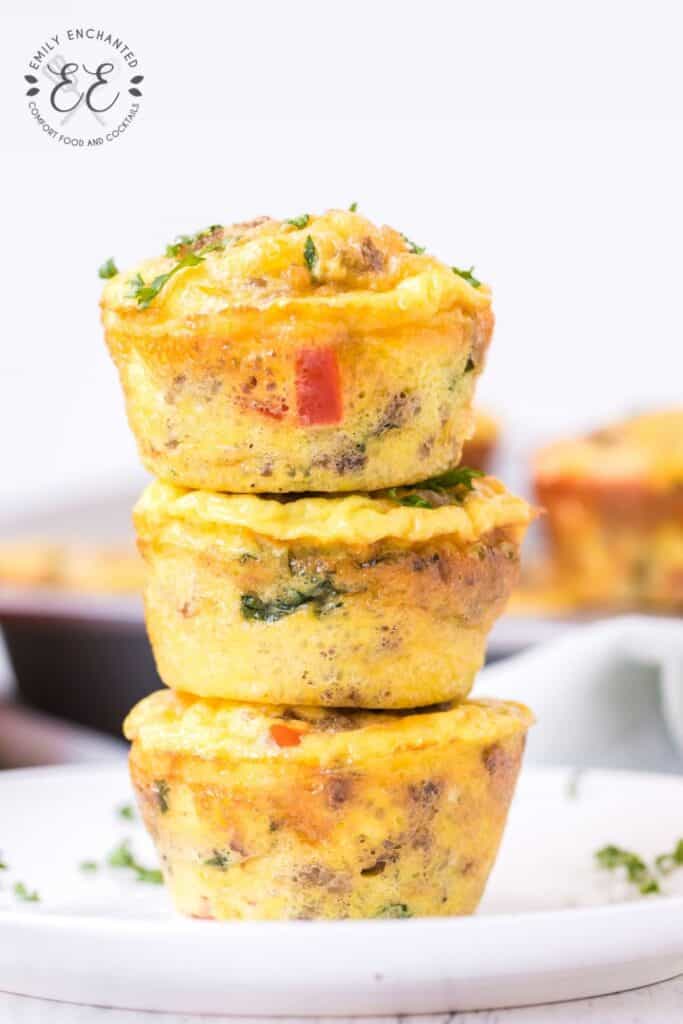 FAQs
Do I Need to Line My Muffin Tin?
No, you do not need to use liners for this recipe. If you grease the pan, the egg muffins will slide right out.
How Do I Prevent Egg Muffins from Deflating?
Your sausage breakfast egg muffins will naturally puff up in the oven and deflate once they start to cool. While making this recipe, I tried a batch using cupcake liners instead of a lightly greased baking tin and noticed a drastic difference. The muffin cups that were baked using cupcake liners showed much more deflation (at least 2x the amount) as when I simply oiled the tin.
Why Are My Breakfast Muffins Dry?
Make sure you do not reheat the eggs to the point of overheating, or they may turn out dry and tough. You just want to warm them up a bit. Add more salt pepper if needed.
What Do I Do if My Eggs are Overflowing?
Eggs puff up as they bake, so it is possible that they may spill out of the muffin pan if the muffin pan is too full. To prevent this, do not fill the muffin tins all the way to the top. If you have leftover mixture, just make more muffins. You can also place a piece of aluminum foil or a large baking sheet under the muffin pan to catch any spills.
Related Egg Breakfast Recipes