Savor the sweet taste of summer with this Apricot Chicken recipe. Apricot preserves, a few handy pantry spices and some chicken all add up to a deliciously sweet and savory dinner.
Sometimes when I see a recipe for the first time, I think to myself "that's an odd combination." But then I find out it really tastes amazing and wonder why I ever questioned it! This is one of those recipes.
Somewhere between a peach and plum, this velvety fruit makes the perfect marinade. Have you ever had orange chicken at a Chinese restaurant? This is the same concept – sweet and savory flavors combined to make the perfect marriage.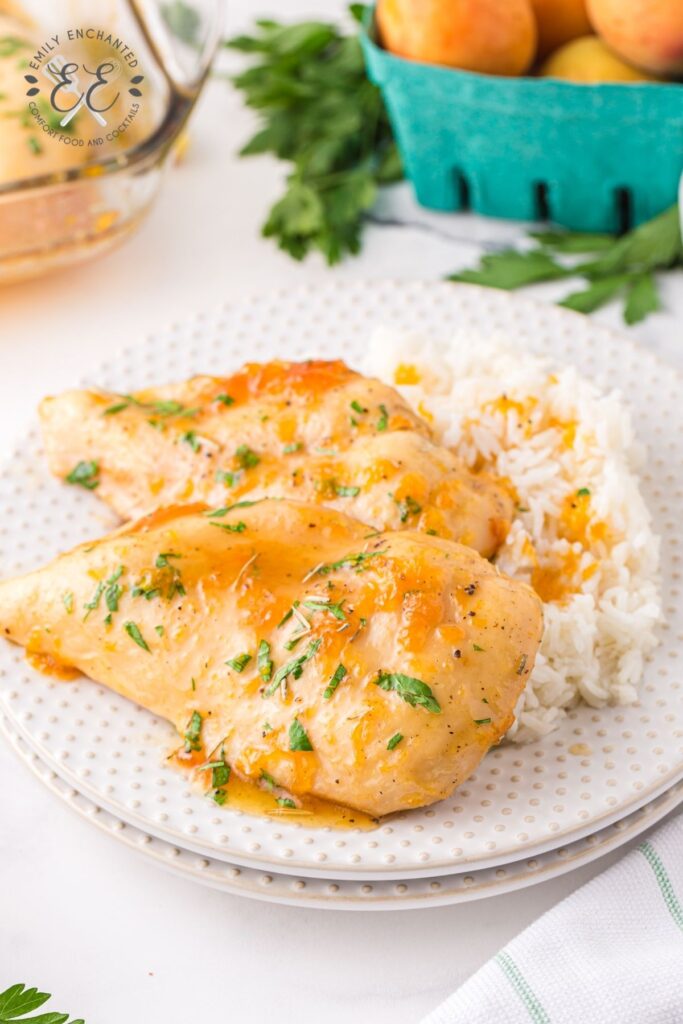 Apricot Chicken Ingredients
To make this sweet chicken recipe, you will need the following ingredients (see the recipe card below for exact amounts):
Chicken breasts: Feel free to use boneless and skinless chicken thighs, or even bone-in breasts, thighs, drumsticks, or wings instead.
Salt and Pepper
Vegetable oil: Canola oil or grapeseed oil will also work for this recipe.
Apricot preserves: Do not use jam or jelly. You really want the chunks of apricot in the preserves.
Fish sauce: You can substitute oyster sauce or soy sauce if you don't have any fish sauce.
Honey: A good substitute for this ingredient is agave nectar or maple syrup.
Orange juice: Fresh orange juice or orange juice from concentrate can be used.
Dried rosemary
How to Make Baked Chicken Breasts with Apricot Glaze
Preheat the oven to 375 degrees Fahrenheit and prepare a 9×13 inch baking dish by spraying it with cooking spray.
Using a mallet or rolling pin, flatten each chicken breast until it is 1 inch thick on all sides. Salt and pepper the chicken breasts and then lay them out evenly in the prepared baking dish. Take care not to overlap them.
In a medium mixing bowl, whisk together the vegetable oil, apricot jam, fish sauce, honey, orange juice, and rosemary until combined.
Pour the apricot mixture over the chicken and bake in the oven for 30-35 minutes or until the chicken reads 165 degrees Fahrenheit on a meat thermometer and juices run clear. The bake time will vary depending on the size of the chicken breast.
Once fully cooked, take the chicken out of the oven and let it rest for 5 minutes.
Plate and serve with a chopped parsley garnish, optional.
Storage Instructions
Once it has been cooled to room temperature, you can cover and store the chicken in the refrigerator for up to 3 days. You can also put these into a plastic storage bag and store in the freezer for up to 1 month.
How Do I Know When Chicken is Done Baking?
Chicken needs to reach an internal temperature of 165 degrees Fahrenheit to be considered safe to eat. If you have a meat thermometer, the best way to check for doneness is to open the oven and test the inside of the chicken. Make sure to insert the thermometer into the thickest part of the chicken.
Lacking a thermometer, you can use a knife to slice into the chicken and make sure there is no pink left. Make note of the color of any juice that comes out as well, you want it to be clear. 30-35 minutes may overcook your chicken if you have smaller or thinner slices, yet it may not cook a thick breast thoroughly. Pay attention to your chicken so you can enjoy the juiciest piece your oven has to offer.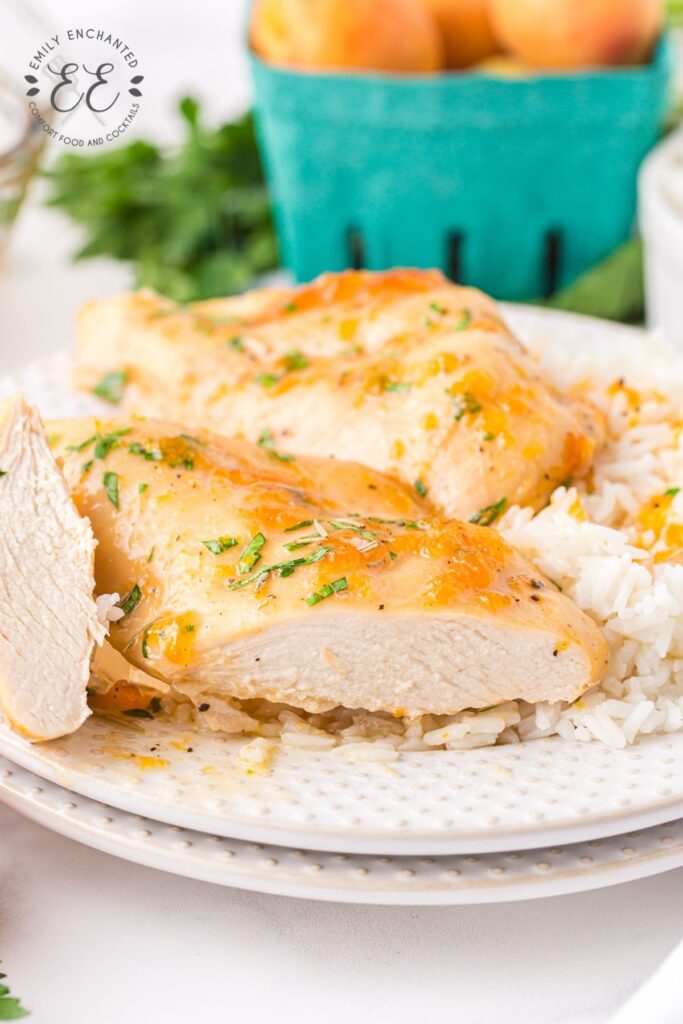 What to Serve with Apricot Chicken
This is a sweet main dish recipe that I like to serve with a savory side dish to balance it out. Here are some delicious sides to serve with chicken:
Green Beans Almondine – A classic side dish recipe that pairs perfectly with baked chicken.
Roasted Potatoes – Potatoes are always a good option. I like making plain potatoes to go with any extra sauce from the main dish.
Instant Pot Beets – Simple and a colorful addition for a beautiful dinner.
Vegetable Fried Rice – This classic rice dish with eggs and vegetables only takes minutes to make and is so yummy.