Pink Mimosa Punch is a spring drink with white peach and grapefruit flavors, perfect for Easter Sunday. Made with Torani Puremade White Peach Syrup, this sweet drink will definitely put you in the Easter mood.
This post is sponsored by Torani. All opinions expressed herein are mine, and mine alone. #easterbrunchpunch
This pretty drink will brighten up your home celebration. You can serve it with Easter brunch, Easter dinner, or even Easter dessert. This punch can easily be doubled to accommodate the size of your family.
Make Your At Home Easter Celebration Memorable with Torani
Torani Puremade Syrups add amazing flavor to your favorite drinks. These syrups have no artificial flavors, colors or preservatives. Purchase Torani Syrups online at torani.com. You can use these syrups in cocktails, lemonade, tea and more!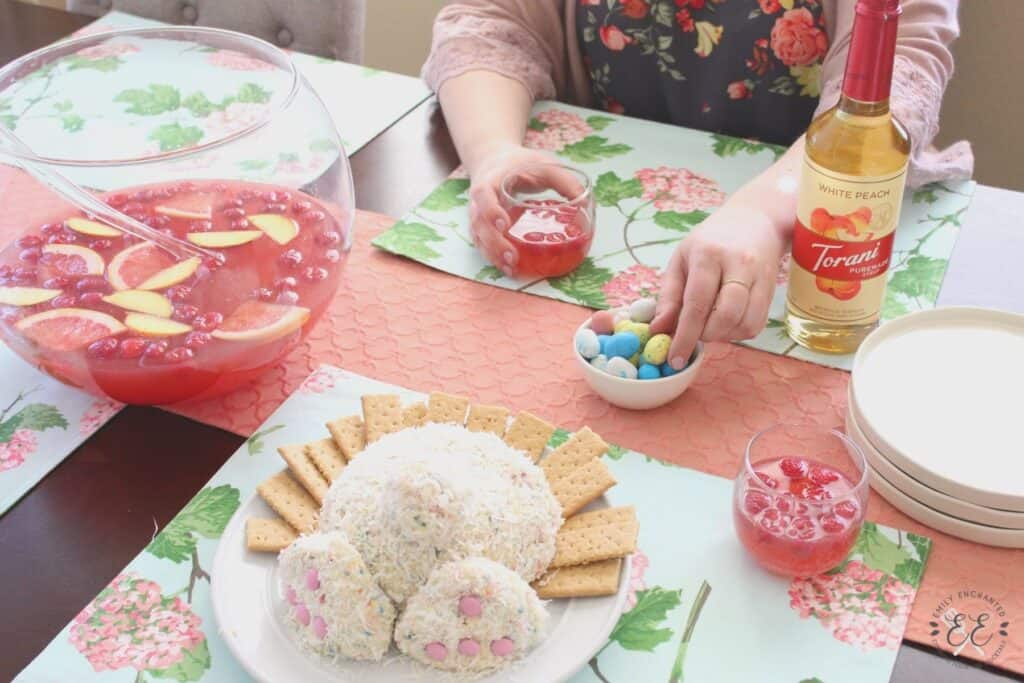 Mimosa Punch Ingredients
To make this Easter punch recipe, you will need the following ingredients (see the recipe below for exact amounts):
Pink Champagne: I used a brut rosé but you can use a pink moscato
Grapefruit juice: You can use 100% grapefruit juice, but I prefer to use a grapefruit juice cocktail or ruby red juice drink with added sugar. This really helps cut the bitterness of the grapefruit.
Torani Puremade White Peach Syrup: This syrup tastes like a juicy, ripe peach!
Garnish: Grapefruit, raspberries, mint leaves, peaches
How to Make a Mimosa Punch
What makes punch a punch is the bubbly effect usually achieved by adding a lemon lime soda or sparkling wine. This recipe uses pink champagne for the bubbles. You can use a moscato if you prefer, as it is just as bubbly and a bit sweeter.
Pour champagne into a punch bowl. Let the bubbles settle.
Add grapefruit juice and Torani syrup to the punch bowl.
Give the punch a good stir.
Slice some grapefruit and peaches and add to the punch bowl with raspberries and mint leaves.
How To Keep Punch Cold
If you want to keep your punch cold, you can make an ice ring in a bundt pan. Just pour some of the juice into the bundt pan and put it in the freezer until frozen. Then you can keep your punch chilled without it getting watered down by ice. Or you can use an ice cube tray if you do not have a bundt pan.
What Kind of Punch Will You Make with Torani?
You can certainly change up the flavor of this punch to your liking. Try lemonade with Torani Puremade Blueberry Syrup, or cranberry juice with Torani Puremade Green Apple Syrup. Let me know in the comments which syrup you are going to try!