This beautiful, patriotic 4th of July Charcuterie Board will amaze every guest at your 4th of July BBQ. It's the perfect summer appetizer.
This patriotic board is full of 4th of July appetizers such as paninos, mozzarella cheese, strawberries, blueberries, m&ms, red bell peppers, crackers, grape tomatoes, raspberries, provolone cheese. I like to mix and match the sweet and salty. You might be surprised what tastes good together. Try the apple with a piece of cheese. Yum!
You could even arrange the items by color to make an American Flag cheese board. I like to use star shaped cutters to make shapes on the board.
I love a good charcuterie board. They are so versatile and you can really make them your own. It's so fun to come up with something creative.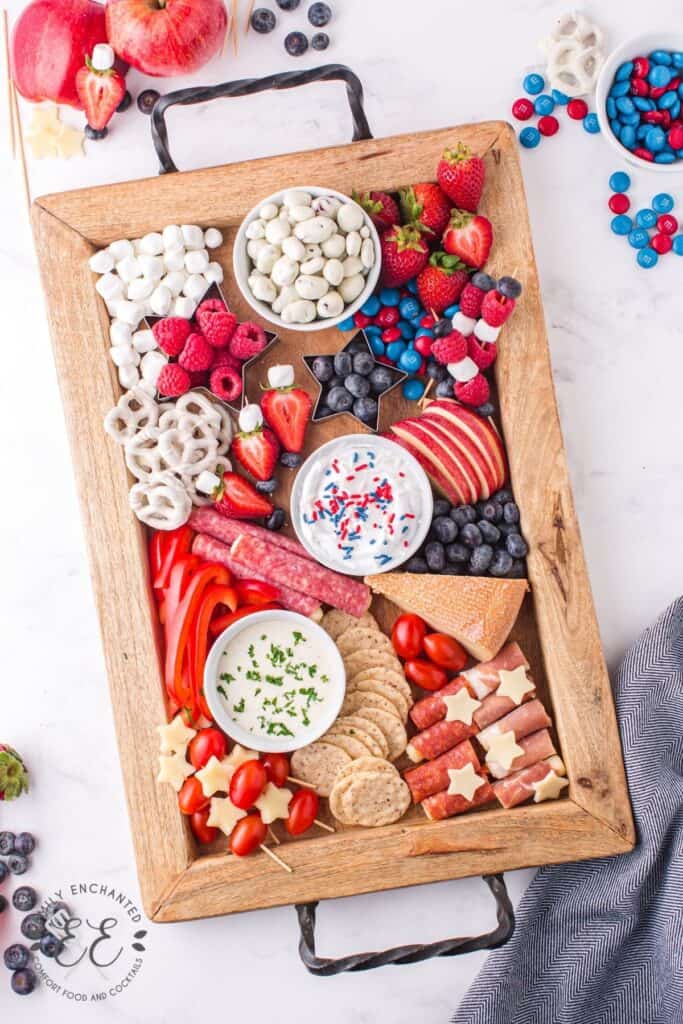 This post contains affiliate links.
4th of July Charcuterie Board Ingredients
To make this patriotic cheese board, you will need the following ingredients (see the recipe card below for exact amounts):
Blueberries: You can also use blackberries instead. Make sure to wash them well.
Blue m&ms
Strawberries: You could replace these with raspberries if you don't have strawberries.
Grape tomatoes: Cherries are another great option here, though I would use fresh cherries and take the stem off.
Italian assortment paninos: If you would prefer to use your own assortment of just meat slices, or create your own paninos, feel free to do so. Paninos are just mozzarella cheese wrapped in salami or prosciutto.
Red apple: Any type of red apple will work. My personal favorite is Honeycrisp and Red Delicious will add the most red color.
Red bell pepper
Raspberries: You could also use more Strawberries instead.
Red m&ms
Nut thins: Any type of round almond or rice cracker will work for this ingredient.
Mozzarella cheese: You can use additional provolone or monterey jack instead.
Semi soft cheese wheel: I used Mountaineer cheese which I found in a specialty store. Brie cheese or fresh mozzarella cheese are great options, they can be found in the deli section of most grocery stores.
Ranch dressing: Use your favorite dipping sauce here!
Yogurt covered cranberries
Whipped topping: I used pre-made but if you want to use homemade whipped topping you certainly can.
Provolone cheese slices: You can switch this out with mozzarella cheese slices if necessary.
White yogurt covered pretzels
Mini marshmallows
How to Make a Red White and Blue Snack Board
To make grape tomato and cheese skewers: slice mozzarella cheese into at least ¼ inch slices and cut into star shapes. Place cheese and tomatoes onto skewers in an alternating pattern. Make 4-5 skewers.
To make strawberry skewers: Cut strawberries in half. Place a blueberry, followed by the strawberry half, topped with a mini marshmallow. Make 4-5 skewers.
To make raspberry skewers, place a blueberry on the skewer, then top with a raspberry, marshmallow, and another raspberry. Place a blueberry on the top to secure the raspberry in place.
Use a charcuterie board, wooden tray or half sheet pan to arrange all the different foods together.
Place the chocolate covered cranberries, ranch dressing, and whipped topping in small bowls. Sprinkle patriotic sprinkles on top of whipped topping, optional.
I placed the sweet treats and fruits at the top of the tray and placed the meat, crackers, vegetables, and cheese on the bottom half of the tray. Feel free to get creative or follow the layout of the foods in the photos.
Put extra blueberries and strawberries in to star shaped cookie cutters to help separate them. If you don't have these, you can put them in separate bowls, or simply place them on the charcuterie board. Don't forget to have fun with it!
Storage Instructions
To keep the ingredients on the cheese board as fresh as possible, you will need to store whatever is left in separate containers. Items like the pretzels or m&ms can be stored at room temperature in plastic baggies. The fruits, meats, and cheeses must be kept in the refrigerator. You can store them together, but meats will start to go bad in 2-3 days, while the cheeses can last 2-3 weeks. Fresh fruits will only last 1-2 days. If you would like to cover the entire sheet pan in plastic wrap and place it in the refrigerator, you can do so, but remember the freshness of each item will differ.
Can I Use Any Other Ingredients for This Cheese Board?
There are so many possible ingredient combinations for this 4th of July appetizer board! Some other food items you can use include cashews, other types of crackers, dried cranberries, cauliflower, jicama, many types of deli meats, feta, goat cheese, radishes, hummus, blue cheese, or white cheddar cubes.