Christmas Bagels are a festive green and red bagel perfect for serving at Christmas breakfast. This homemade bagel can be served with cream cheese, toasted, or your favorite bagel topping.
Take Christmas breakfast to the next level with these recipes: Stuffed Butternut Squash, Sour Cream Coffee Cake Muffins, Egg Muffins, or Dark Cherry Muffins.
This post contains affiliate links.
Christmas Bagel Ingredients
To make this homemade bagel recipe for Christmas breakfast, you will need the following ingredients (see the recipe card below for exact amounts):
Warm water, 100-110℉
Instant or active yeast
Green and Red gel food coloring
All-purpose flour
Granulated sugar
Salt
A neutral oil, like canola or vegetable: You could coat the bowls with olive oil, note that it may add a bit of residual flavor.
Egg
Honey
Tools You Need to Make Homemade Bagels
When making bagels from scratch, it is important to have the correct tools. Here is a list of items you need to successfully make your own bagels at home:
Large and medium mixing bowls – I like to use this bowls with a grip, or you can use glass bowls. You can get a set of 10 different sizes here.
A wooden spoon or rubber spatula
Plastic wrap
Large pot – I prefer to use my Lodge Cast Iron Dutch Oven.
Two baking sheets – If you only have one, you can alternate its use. I like to use large sheet pans.
Parchment paper or a silpat
How to Make a Christmas Bagel
Making this Christmas recipe takes some patience but is so worth it!
Divide the warm water and yeast equally in two large mixing bowls. Gently whisk the yeast to mix in the water and let sit for 5 minutes to activate. You'll know it's activated when it looks bubbly and foamy. Add a dime-sized amount of red gel food coloring to one bowl, and the same with the green to the other. Gently whisky to incorporate with the water.
Add half of the flour to each mixing bowl and use a wooden spoon or rubber spatula to mix the dough until it begins to loosely form a ball. Lightly flour a working surface and knead each ball of dough for 4 minutes.
Lightly coat two medium mixing bowls with oil and place a ball of dough in each. Cover with plastic wrap, or a clean kitchen towel, and let rise until the ball doubles in size. Rising time can vary depending on the temperature, taking 60-120 minutes.
When the dough is ready, punch down into the ball of dough to release some air.
Then, divide into 8 equal pieces.
Use your hands to gently squeeze and roll each piece into an 8 inch log.
Take one red strip and one green strip: twist them together, bend into a circle and twist the ends together to secure.
Preheat the oven to 425 and line two baking sheets with parchment paper or a silpat. Add the water and honey to a large, wide pot. Bring the water to a boil and then lower to a medium-high heat.
Carefully drop the bagels inside the pot, 2-4 at a time depending on available space. Cook for 1 minute, and then flip over to cook for another minute. Use a slotted spoon to lift the bagels out and place on a baking sheet. Place 4 bagels per sheet, leaving 2 inches of space between each.
Use a pastry brush to coat the top and sides of each bagel with the egg wash.
Bake for 20-25 minutes total, rotating the sheets halfway through. Let them sit on the sheet for an additional 20 minutes after removing from the oven and then transfer to a wire rack to cool.
Slice, toast, and serve with cream cheese or your favorite bagel toppings! You are ready for Christmas breakfast.
What to Serve with Christmas Breakfast Bagels
Butter
Cream cheese – Plain cream cheese or holiday flavors like rosemary cream cheese or cranberry cream cheese. Philadelphia puts out a brown sugar and cinnamon cream cheese spread.
Jelly/jam
Use them to dip in this cheesy pizza dip
Create a Christmas breakfast board
Storage Instructions
Store the bagels in an airtight container for up to a week. You can also freeze them and bring them back to room temperature when ready for use. If freezing, I recommend toasting the bagels as they won't be as soft as fresh bagels.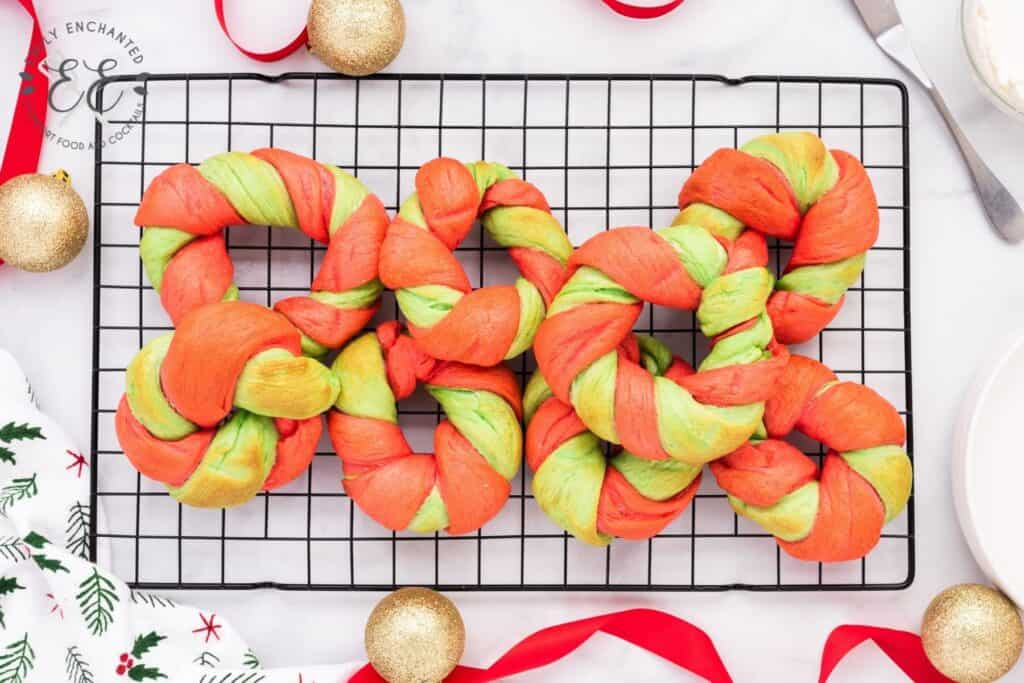 FAQs
Can I Use Liquid Food Coloring Instead of Gel?
I recommend gels for a more vibrant color, but liquid food coloring should work as well.
Why Do I Need to Put Honey in the Water Bath?
You could omit the honey, or try substituting with maple syrup. It adds a hint of sweetness to the dough and acts similarly to an egg wash. The honey may leave some residue on the bagels.
How Do I Knead Dough?
Starting with the dough in the shape of a ball, press down and outward with the palm of your hands. Fold the back of the dough over and to the opposite side (closest to you). Again, push down and outward against the dough with the palm of your hands and repeat the process.
How Do I Connect the Strips of Dough Together?
Twist the strips tightly and press the same color ends together and do a small twist of the ends, tucking the connection on what will be the underside of the bagel. This will flatten during the bake.
Variations
For an easier variation of the recipe, at step 6, divide each ball of dough into 4 equal pieces. Roll into each one into a ball and push your thumb through the center, creating the bagel's center hole. Gently pull the insides out to stretch and form the bagel's shape. This will yield four red and four green solid colored bagels.