This Pecan Pumpkin Granola is perfect for Fall! Oats, pecans and dates are mixed with spices, pumpkin, and maple syrup.
Homemade granola is perfect to eat as a snack, as a breakfast cereal, or in overnight oats. The flavor combination of pecan and pumpkin is like Fall exploded in your mouth. I like to eat it warm right out of the oven! Kids and adults alike will love this granola snack. Enjoy it with milk or hot apple cider. Yum!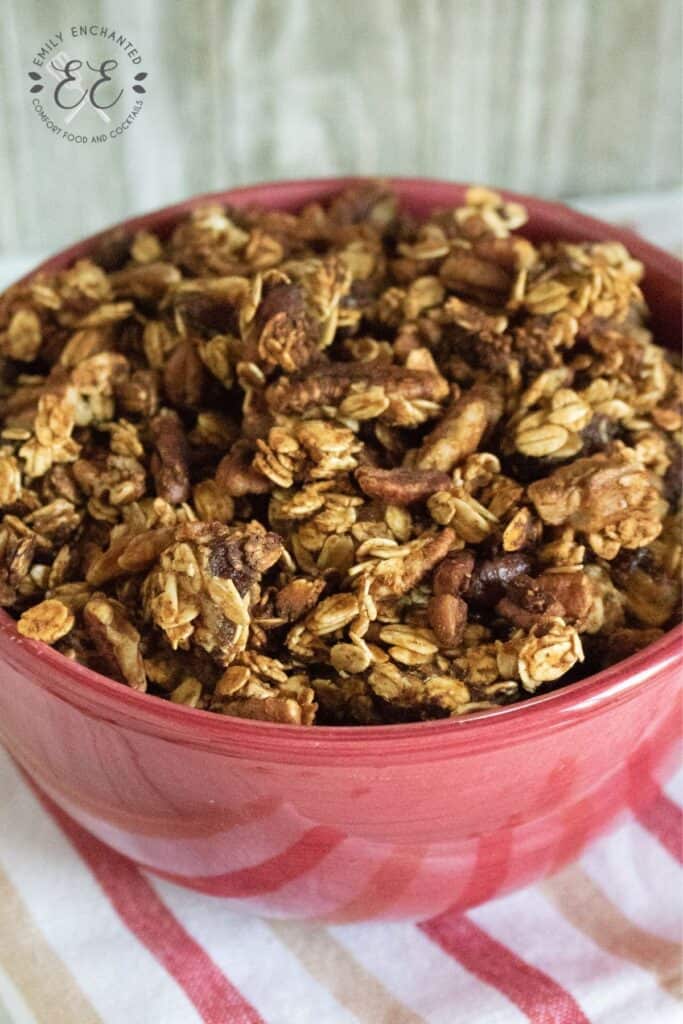 This post contains affiliate links.
Pecan Pumpkin Granola Ingredients
To make this pumpkin snack recipe, you will need the following ingredients (scroll down to the recipe below for precise amounts):
old-fashioned oats
pecans, half chopped and half whole
salt
cinnamon
ground nutmeg
ground cloves
chopped dates
canned pumpkin
maple syrup
vanilla extract
How to Make Granola
Preheat oven to 350 degrees F.
Combine oats, pecans, and spices in large mixing bowl. Add in pumpkin, syrup and vanilla extract, mixing well to incorporate all ingredients. Add in chopped dates and stir again.
Pour granola onto a non-stick baking sheet or one lined with parchment paper or a Silpat mat.
Bake for 30-40 minutes, stirring halfway through and breaking up any clumps that are too big. Remove from oven and cool.
Storage Instructions
Store in an airtight container. Will keep for 2-3 weeks. You can make a batch and save it for later as it lasts a long time. If you are storing for later, make sure you use airtight containers so they last longer.