If you are looking for a healthy party snack alternative, this post will show you how to make a healthy charcuterie board. They key is to fill it with protein, healthy fats, whole grains, and fruits.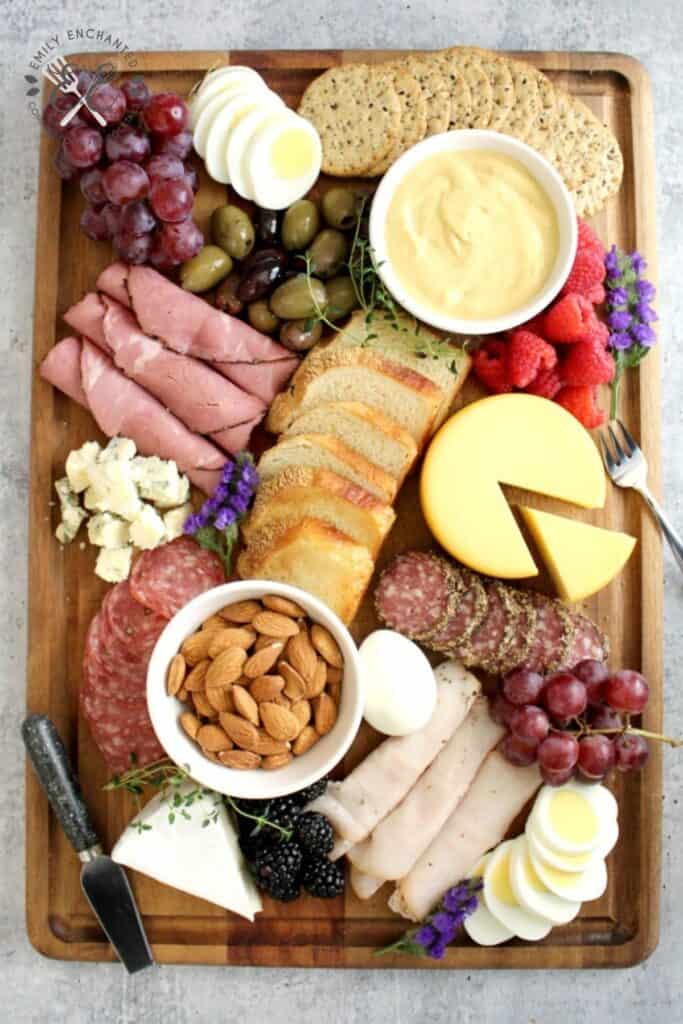 Healthy Charcuterie Board Ingredients
To make a healthy charcuterie board, you should choose food items from the list below. Of course, you can put your own spin on a charcuterie board and add anything you like that I haven't mentioned. Let me know what you would add!
Meat – Lean beef and white poultry meat, such as chicken breast or turkey breast
Cheese – Hard cheeses and spreadable cheeses are both appropriate for a healthy charcuterie board, but use these in moderation. Crumbled cheeses are best, like feta and blue cheese.
Whole Grains – Bread or crackers are a fun way to enjoy a charcuterie board. I like to stack meat and cheese on top of a cracker to make an open faced sandwich.
Fruit – Grapes and berries enhance the board with their vibrant colors as well as enhance the flavors.
Spreads – Mustard, horseradish, jams, and honey are great flavor enhancers and you only need a little.
Nuts – Almonds are packed with protein and a great addition to a charcuterie board.
Eggs – Hard-boiled eggs are an excellent source of protein and taste delicious. Great Day Farms Hard-Boiled Eggs are available at Walmart in the Deli section. They come in a convenient 2-pack or 6-pack and are great for on-the-go snacking. They are easy to add to meals and I love that I avoid the pain of peeling hard-boiled eggs. The struggle is real! You can also add deviled eggs to your board.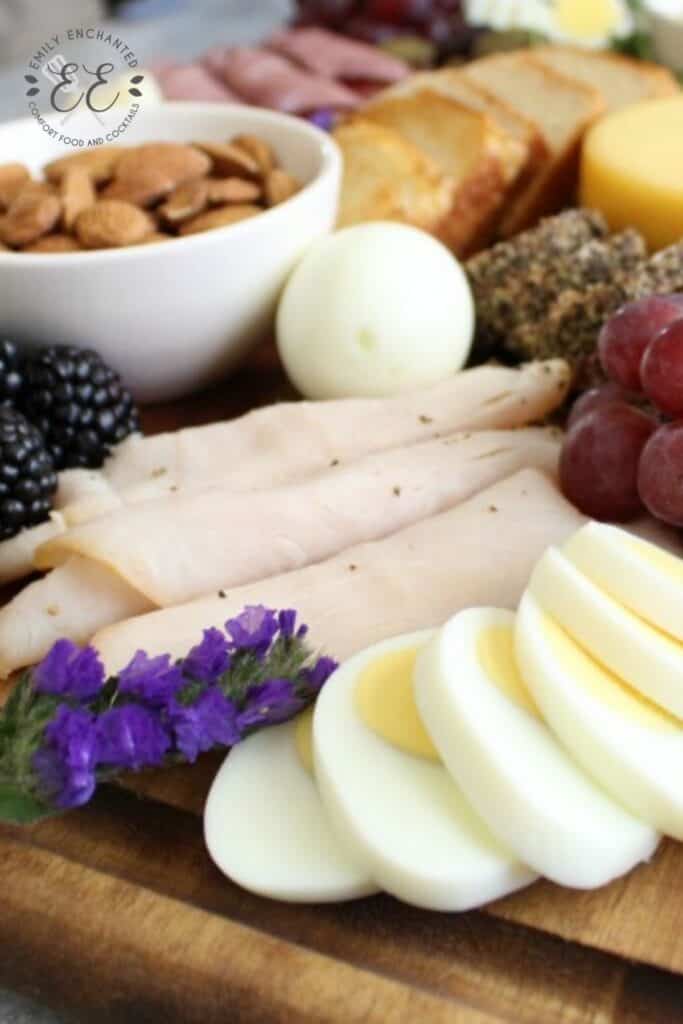 How to Make a Charcuterie Board
When creating a charcuterie board, first it is important to decide what foods you are going to include and map it out on a piece of paper or envision it in your mind. There is only so much space on a board and planning is key. You don't want a board that looks empty or can't hold everything you want to include.
Next, I prep by using a paper towel to dab out any excess moisture that may be on my meat slices or fruit. I like to toast my bread in the broiler, as I prefer a crispy slice. Also, decide if anything needs to go in smalls bowls, such as sauces.
Start by placing the bowls where you would like them. Then arrange the larger items, like cheese blocks, bread and crackers.
Next, fill in the voids on the board with hard-boiled eggs, meats, nuts, fruits, olives, and whatever else you decide to put in your charcuterie board.
Lastly, add any utensils that are needed, such as cocktail forks and cheese knives, and garnish with springs of rosemary and thyme.
More Snack Board Ideas
Note: This post was formerly a sponsored post containing this disclaimer: "This post is sponsored by Great Day Farms." It has been modified to better serve my readers.