This recipe for corn avocado salad side dish is fresh and delicious. It's full of bright vegetables, all tossed together in a light vinaigrette.
With just the right mix of ingredients and textures, this cold side dish is always a hit. It's sweet, crunchy, and so fresh – the perfect side dish for summer days.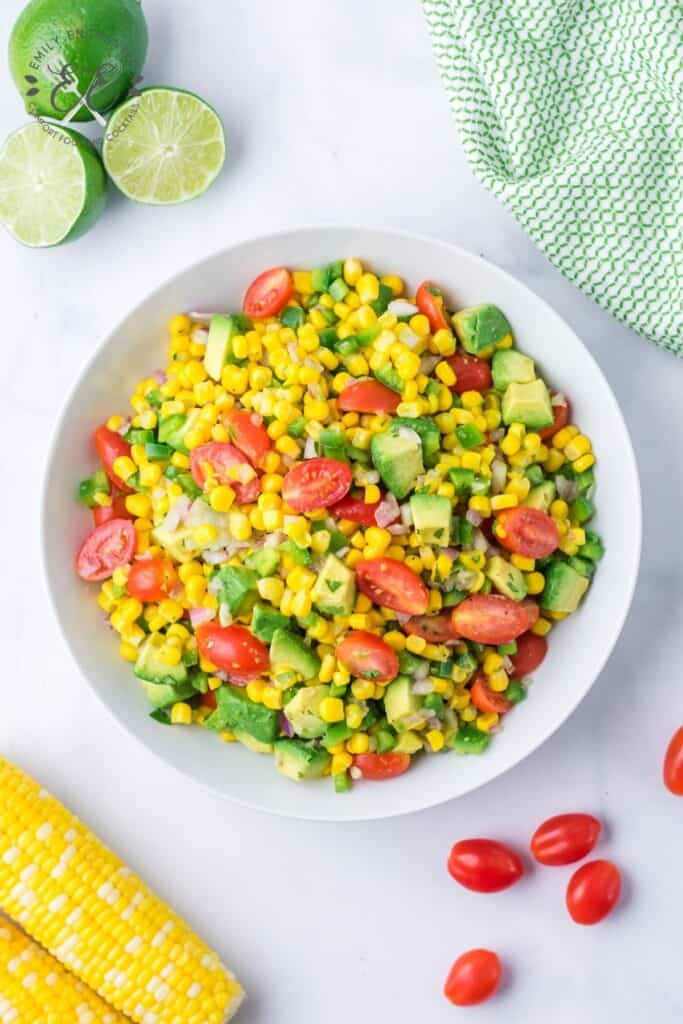 Corn Avocado Salad Ingredients
To make this corn recipe, you will need the following ingredients (go to the recipe below for exact quantities and instructions):
Olive oil
White wine vinegar
Lime juice
Garlic powder
Salt & pepper
Corn: fresh ears of corn are best for this recipe, but you can substitute canned corn or frozen corn
Red onion
Green bell pepper
Cherry tomatoes
Avocados: make sure the avocados are ripe. They will be too difficult to cut if they are firm, and too mushy if overripe.
Cilantro
How to Make Corn Salad Side Dish
This corn side dish is easy and quick to make. Simply whisk together the vinaigrette, chop your vegetables, and mix everything together. This recipe is ready in only 15 minutes and can also be made ahead of time.
Make the dressing. In a small bowl, whisk together the olive oil, white wine vinegar, lime juice, garlic powder and a pinch of salt and pepper.
Mix the vegetables. In a large bowl, stir together the corn, onion, bell pepper, tomatoes, avocado and cilantro.
Combine. Pour the dressing over the corn mixture and stir to combine. Cover with plastic wrap and refrigerate for at least 10 minutes to chill before serving.
Optional Add-Ins
Beans: a popular addition to this recipe is black beans to transform this into a black bean and corn salad. Drain and rinse a can of black beans before stirring them into your salad.
Add your favorite fresh veggies: if you have other fresh veggies on hand (popular ones include cucumbers, zucchini, and celery) you can chop them up and add them to your salad.
Feta cheese: you can substitute feta cheese instead of avocado, or leave the avocado in. Feta cheese adds a nice salty and tangy flavor.
Storage Instructions
Corn salad can be stored in the fridge for 3 – 4 days covered in plastic wrap or in an airtight container.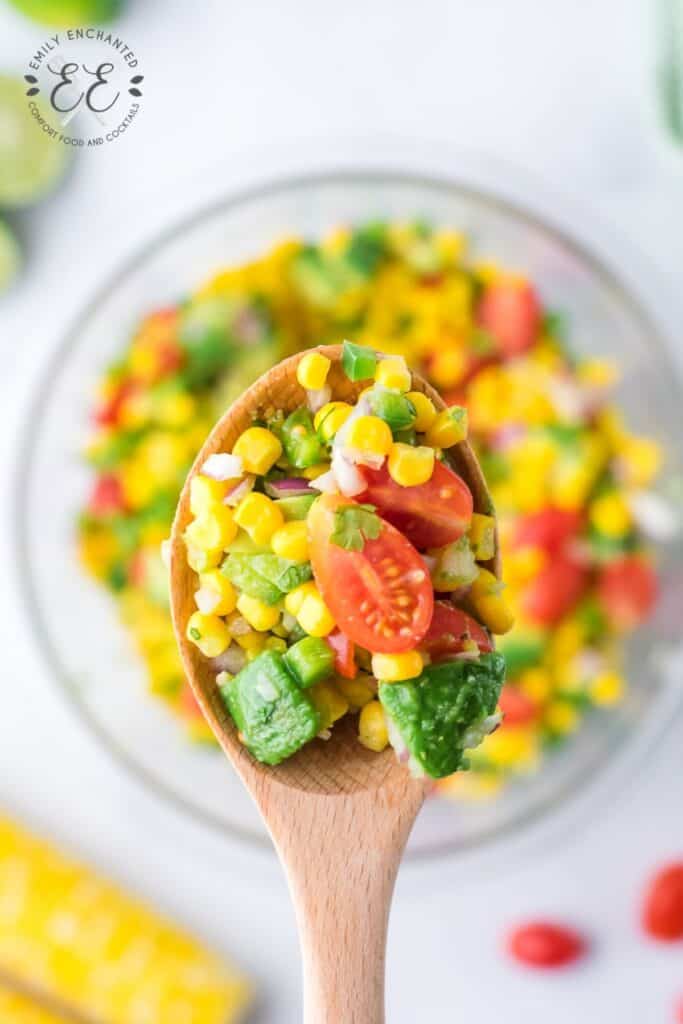 Tips for Corn Salad
It is very important to chill your salad. This salad should be chilled before serving (ideally for 15 minutes or more). This allows the flavors to mingle.
What to Serve with Corn Salad
This cold corn salad is perfect to serve at a potluck, picnic or backyard barbecue. Here are some ideas of what to serve with corn salad:
Hamburgers
Brats
Hot Dogs
Macaroni salad
Grilled chicken breast
BBQ Ribs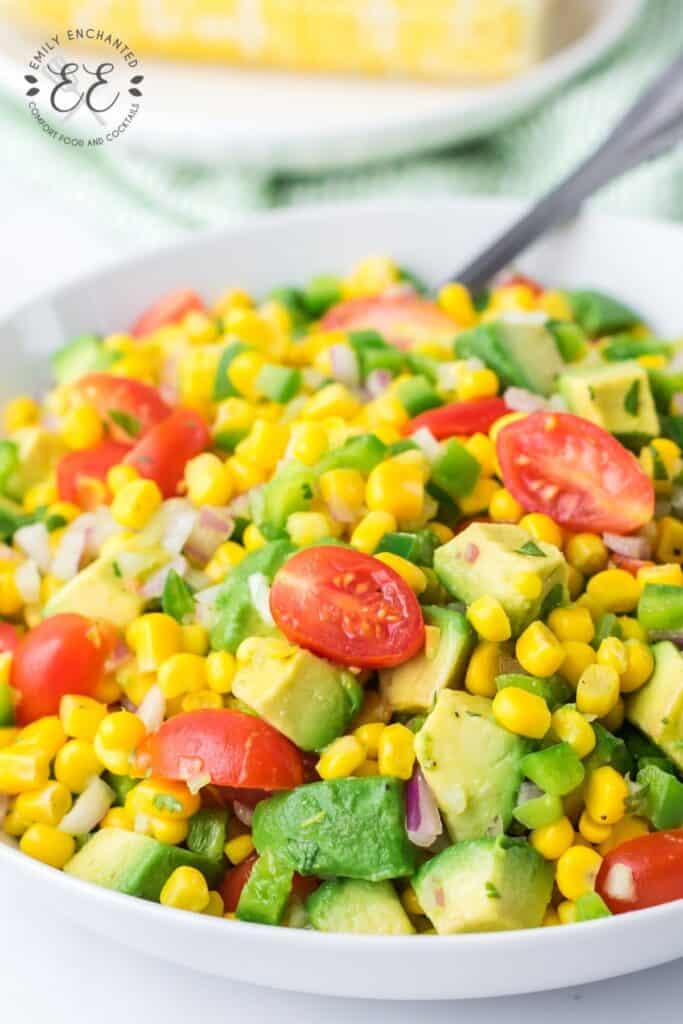 Other Corn Recipes
If you love corn recipes, here are some of my favorite corn side dishes:
Instant Pot Mexican Street Corn