This post contains affiliate links. As an Amazon Associate I earn from qualifying purchases. View our Privacy Policy.
Do you ever crave nachos for breakfast? This Breakfast Nachos recipe will scratch that itch and cure it too!
This recipe features everything you love in nachos – tortilla chips, cheese, avocado, tomatoes, salsa, sour cream – and then it adds sausage and eggs to make a delicious breakfast meal that is fun to eat. Serve with a side of guacamole.
Nothing is as easy as a sheet pan breakfast and your family will think you spent so much time in the kitchen making an amazing breakfast.
If you love making breakfast fun, try my Breakfast Charcuterie Board.
Breakfast Nachos Ingredients
To make this loaded breakfast nachos recipe, you will need the following ingredients (see the recipe card below for exact amounts):
Breakfast sausage: If you want to make some bacon and crumble that into the nachos instead, feel free to do so.
Tortilla chips
Colby jack cheese: You can also switch this out for cheddar or mozzarella cheese. Or, try pepper jack for a little extra spice.
Large eggs
Salt and Pepper
Large avocado: You could go straight for the guacamole instead. Personally I believe either one is a great choice.
Cherry tomatoes: If you don't have any cherry tomatoes, just chop up whatever tomatoes you have on hand instead.
Salsa: I sometimes use pico de gallo instead of salsa. It gives a fresher taste.
Sour cream: Plain Greek yogurt can also be used.
Lime juice: You can use fresh lime juice, or pull out that bottle from concentrate.
Kitchen Tools Needed
You will need the following supplies:
Large sheet pan
Medium skillet
Mixing tools
Measuring tools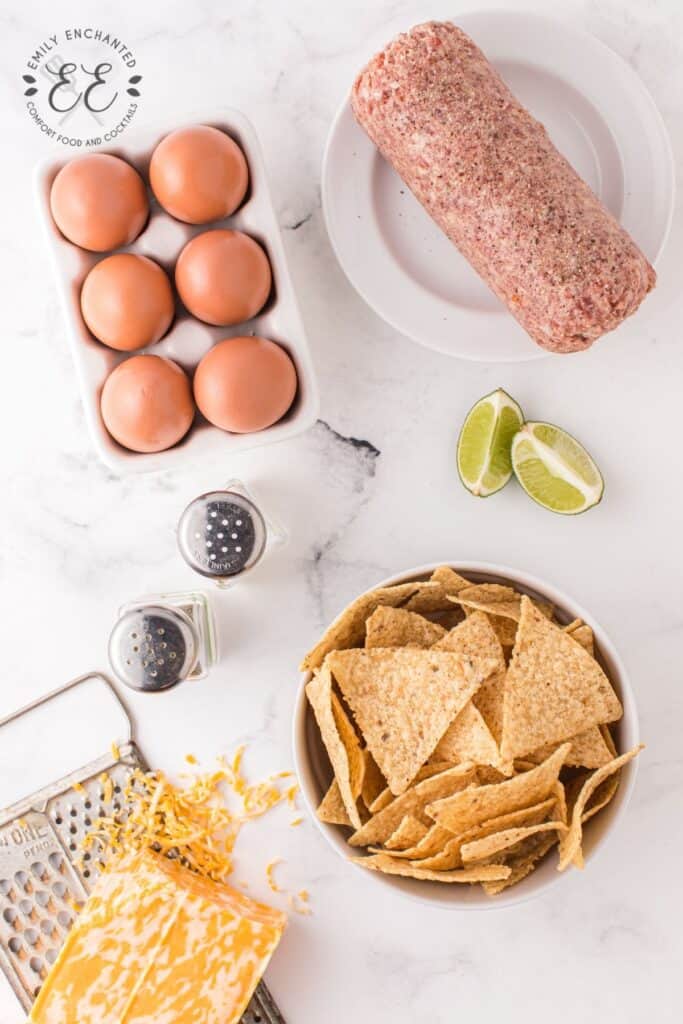 How to Make Breakfast Nachos
Preheat the oven to 350 degrees Fahrenheit and prepare a large sheet pan by spraying it with cooking spray.
In a medium sized skillet, over medium high heat, cook the breakfast sausage (break it up as it cooks) until crumbled with no pink on the inside. Set aside for now.
Begin assembling the nachos by taking half the tortilla chips and spreading them evenly on the sheet pan. Top with half the Colby jack cheese and half the cooked sausage. Repeat with the remaining half of chips, making 6-7 "nests" or holes for the eggs. Add the rest of the Colby jack cheese and cooked sausage to the top layer of chips.
Break the eggs into the nests and season with salt and pepper. Bake in the oven for 15-20 minutes or until the cheese has completely melted and the eggs are cooked to your preference.
Remove from the oven and top with the diced avocado, cherry tomatoes, salsa, dollops of sour cream, and a splash of lime juice, optional. Plate and serve warm.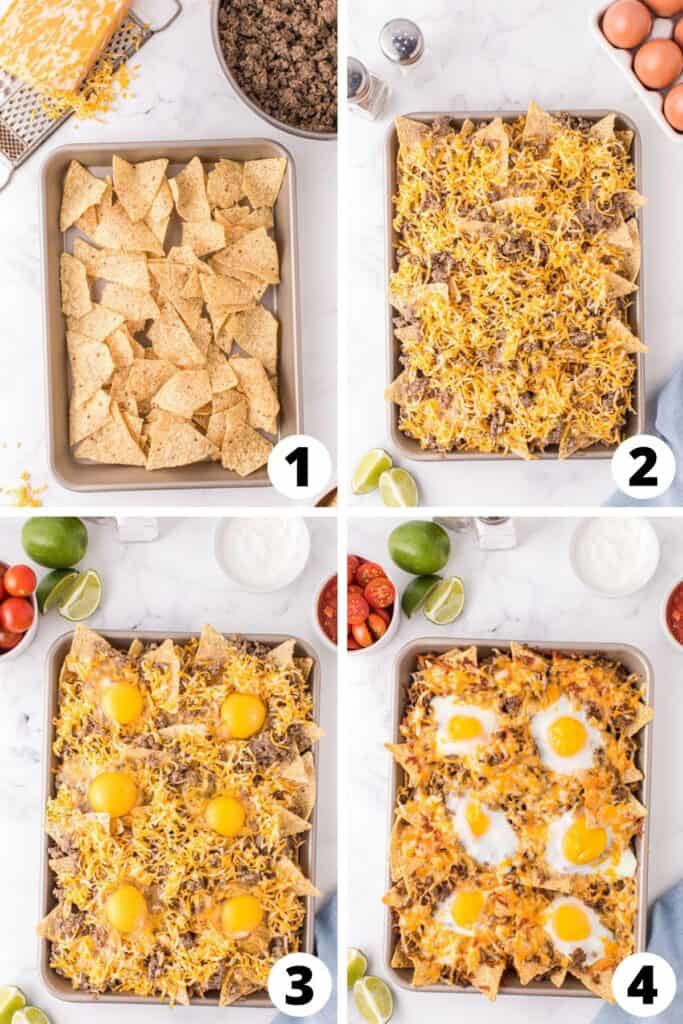 FAQs
Can I Use Scrambled Eggs Instead?
If you prefer scrambled eggs, you can cook the eggs with the sausage and add the eggs and sausage on the chips together. If you decide to pre-cook the eggs, only bake the nachos for 5-7 minutes or until the cheese melts.
Can I Store Leftover Nachos?
These don't really store very well, but you can cover them and place them in the refrigerator for a few days. The chips especially lose their crispness quickly so the best option is to just store the ingredients and make this meal when you are ready to eat it.
Optional Substitutions
There are tons of things you can do to make these Mexican breakfast nachos something you will like even more. For example, instead of making over easy eggs, you could scramble the eggs in with the cooked sausage.
You can also add some bacon bits to the top of the recipe, or include jalapenos or scallions. Try some extra protein with black beans, or more vegetables with some onions and bell peppers. You can even sprinkle cilantro on at the very end, which adds great flavor! Just make sure you enjoy every bite!