This post contains affiliate links. As an Amazon Associate I earn from qualifying purchases. View our Privacy Policy.
There are just not enough ways to enjoy the loveliness of avocados. This avocado smoothie recipe is deliciously creamy and tasty, with flavors of almond milk, orange juice, mango, banana, and vanilla Greek yogurt.
Smoothies are a great way to start your day with healthy fats or to pack a ton of nutrients into one meal. This avocado banana smoothie makes two 6 ounce servings.
If you love healthy smoothie recipes, try my Berry Protein Smoothie or Kale Smoothie (it's delicious, I promise).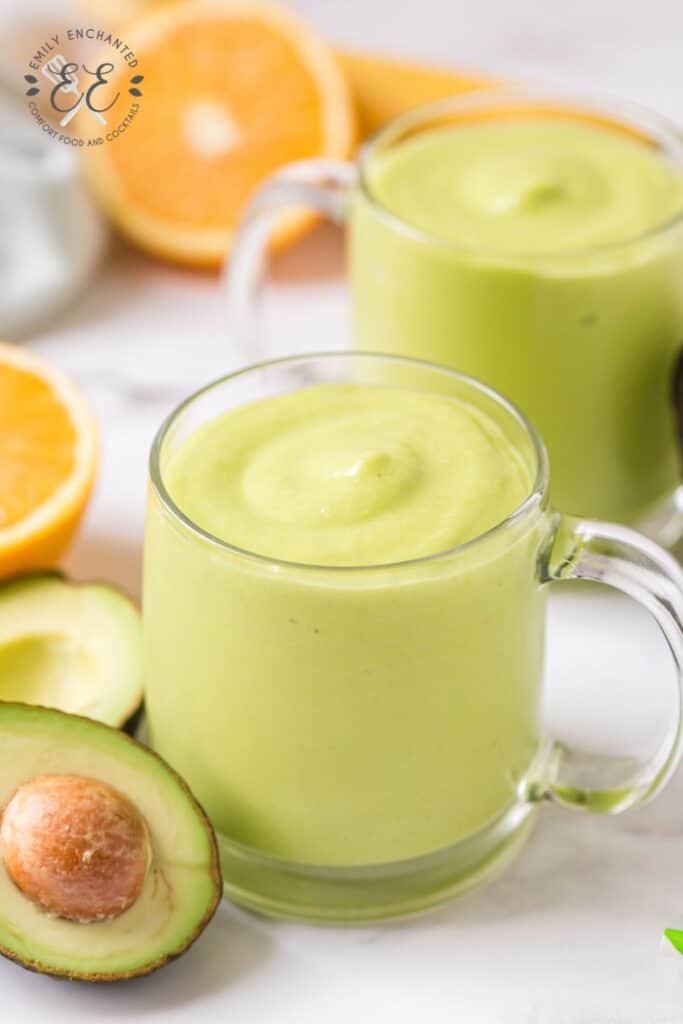 This post contains affiliate links.
Creamy Avocado Smoothie Recipe Ingredients
To make this creamy avocado smoothie recipe, you will need the following ingredients (go to the recipe card below for exact amounts):
Avocados: See my tips below for finding the best fresh avocados and how to find a ripe avocado.
Orange juice: Freshly squeezed orange juice is always the best choice here, but any orange juice will do. You can also use apple pineapple juice.
Sweetened almond milk: Or use your milk of choice. My other favorite for smoothies is coconut milk. You can even replace the milk for juice for a slightly sweeter smoothie.
Ice cubes: You can replace the ice cubes with frozen bananas.
Frozen mango
Vanilla Greek yogurt: You can use a typical vanilla yogurt here as well if you prefer.
Granulated sugar: you can use another sweetener here as well. Try honey, maple syrup or agave syrup as a healthier option.
Banana: Ripe banana is best for this recipe. Do not use frozen banana, as the smoothie will end up less creamy and more frozen.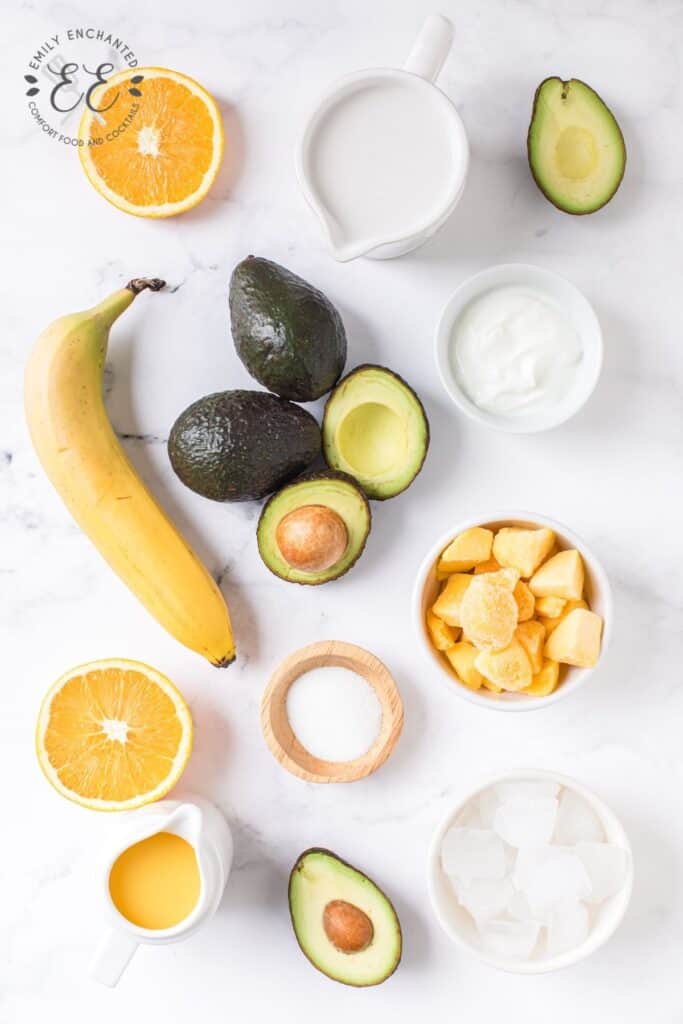 How to Make a Smoothie with Avocado
Combine all the ingredients into a blender in the order listed and blend until smooth.
Serve immediately and enjoy!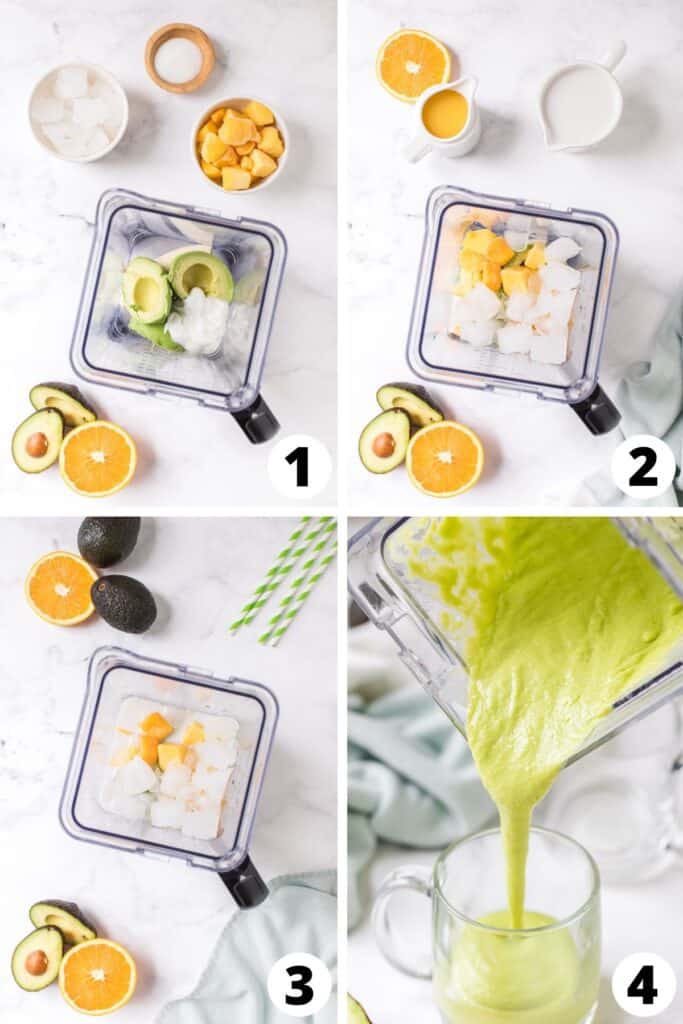 Tips for Making Smoothies in a Blender
Don't put the frozen items at the bottom of the blender, or they won't mix very well. I recommend putting pieces of the avocado or banana at the bottom first and then building your smoothie from there.
If you have a high-powered blender, the order of the ingredients doesn't matter as much.
Storage Instructions
This is best eaten right away, since otherwise the ingredients will separate. However, you can store this smoothie in the refrigerator for 24 hours or in the freezer for 2 weeks.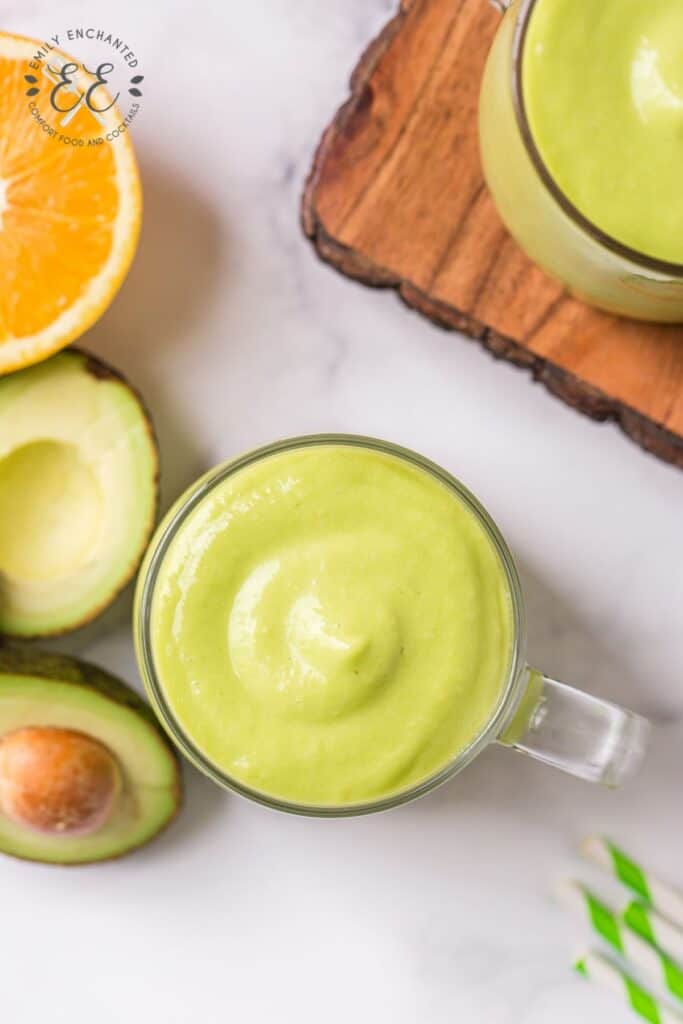 FAQs
How Do I Know If an Avocado is Ripe?
Avocados can be a little tricky to use. Make sure that your avocado is ripe enough. If it is completely firm and does not have any give, it is too green and needs a day or so at room temperature to ripen. If it has a lot of give, it is probably overripe, and when you cut into it you will find a lot of brown spots.
What are the best avocados to pick?
When choosing avocados, try to choose the elongated ones, since those tend to have a smaller pit.
How Do I Take the Pit Out of an Avocado?
To cut open the avocado, slice it longways around the pit and twist to separate the two halves. Get out the pit by carefully popping/swinging your knife into the pit, and twisting it out. If the pit comes out easily, spoon out the green of your avocado and place into the blender.
What Do I Do if I Cut an Avocado and It's Not Ripe Yet?
If the pit does not come out easily, your avocado is too green and needs a little more time. Replace the two halves and put it in the refrigerator for a day. The pit helps to keep the avocado from browning.
Variations
Add vanilla protein powder for a powerful post workout smoothie.
Bump up the flavor with coconut milk.
A splash of lime juice goes a long way.
Love garnish? Sprinkle some chia seeds on top.