Overnight Breakfast Casserole is a cheesy breakfast bake with bread, ham, and eggs. Everything you love to eat for breakfast is baked in one dish.
This breakfast dish is a classic for a reason! It is so convenient to have it all prepared the evening before so that all you need to do is pop it in the oven and then enjoy! It is also versatile and can easily be personalized to your own tastes. Some people refer to this recipe as Wife Saver…call it whatever you want, it's the perfect breakfast casserole!
Overnight meals, like these overnight oats, are perfect for when you know you won't have time to make breakfast in the morning, such as leaving early for a trip or having to make holiday preparation.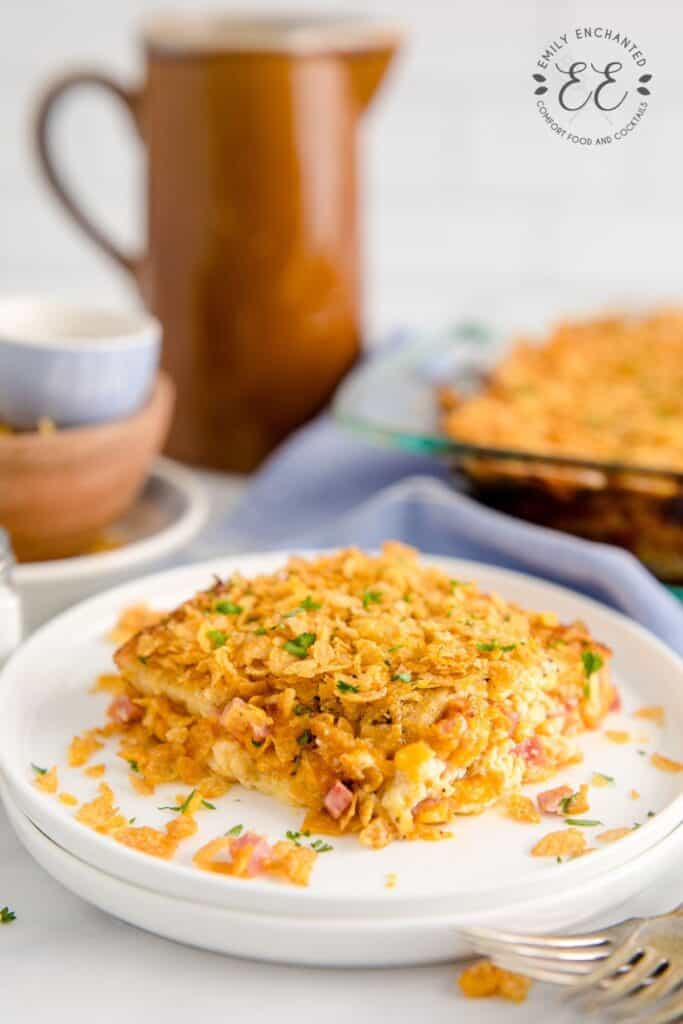 Overnight Breakfast Casserole Ingredients
To make this overnight breakfast recipe, make sure you have the following ingredients on hand (see the recipe below for exact amounts and instructions):
Bread
Ham: I used pre-diced ham, but you can use slices of deli ham or chopped spiral ham.
Cheddar cheese
Eggs
Seasoning Salt
Salt
Pepper
Onion powder
Milk
Salted butter
Cornflakes
Garnish with parsley (optional)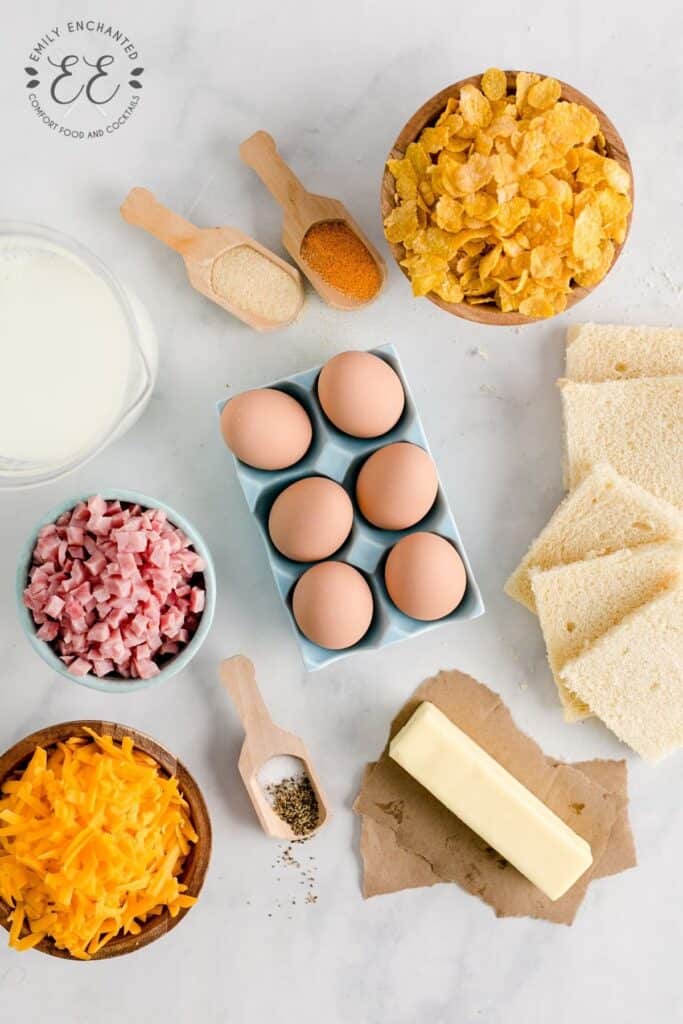 How to Make Breakfast Casserole The Night Before
Making this breakfast dish ahead of time gives the sauce a chance to infuse the bread and other ingredients.
Step 1. Add bread to a baking dish
Butter or spray a 9×13 inch baking dish. Cover the bottom of the baking dish with 8 slices of bread. Every baking dish is different so tare your bread is necessary to cover the bottom evenly. It is alright if they go up the sides slightly.
Step 2. Layer the ham and cheese
Use the cubed ham to make the next layer. Evenly sprinkle on the shredded cheddar cheese.
Cover the cheese with the remaining 8 slices of bread.
Step 3. Make the egg mixture
Beat eggs, salt, seasoning salt and pepper in a bowl. Whisk in the onion powder and milk. Pour the eggs, salt, pepper, onion powder and milk mixture over the casserole.
Step 4. Refrigerate the casserole
Cover the baking dish and place it in the fridge overnight.
Step 5. Bake the casserole
In the morning, preheat the oven to 350 degrees.
Melt 1/2 cup of butter and pour it over top of the casserole. Crush the Cornflakes and spread an even layer over top.
Leave this uncovered and bake for 1 hour. Let sit for 10 minutes before serving.
Storage Instructions
Seal well and store in the refrigerator for up to 4 days. This dish is best reheated in the oven, rather than the microwave. This way the cornflake topping should stay crispy. Bake it at 350 degrees for approximately 15 minutes, or until heated through.
Can this Casserole be Frozen?
Yes! This casserole may be frozen for up to 2 months. Thaw it in the refrigerator overnight. If you had already baked it, then reheat at 350ºF for about 20 minutes or until heated through. If you had frozen it unbaked, then bake it for 1 hour at 350 degrees.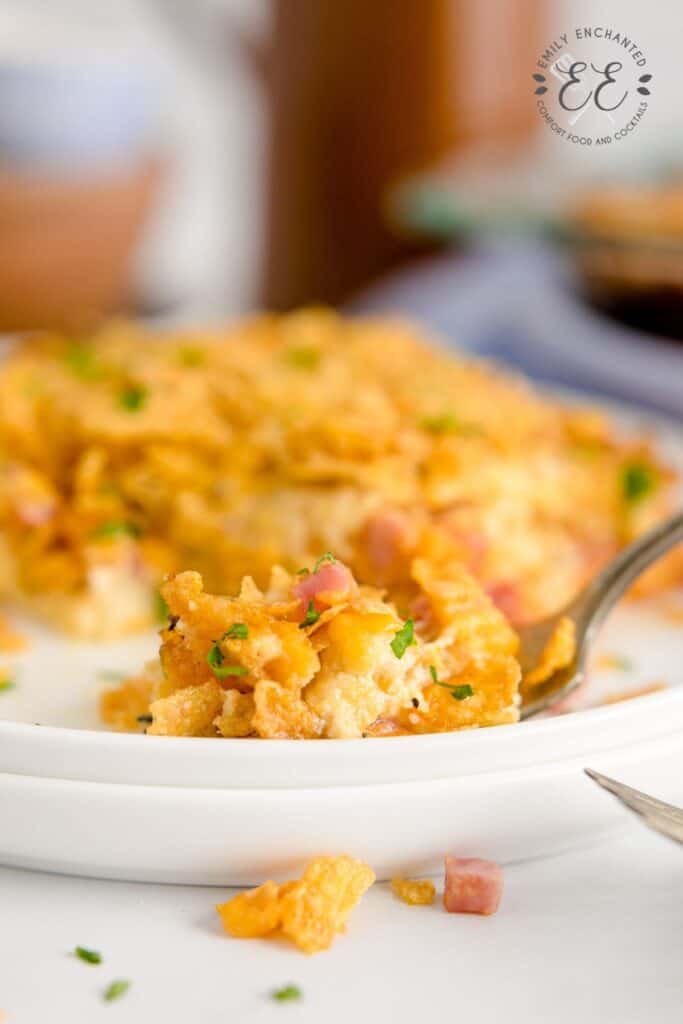 Recipe Variations
This casserole can be catered to your family's preferences. Want bacon? Add cooked bacon before baking. Add fresh bell peppers or mushrooms. Get creative!
Can I Use Something Besides Chopped Ham?
Yes, you could substitute 16 slices of ham (they can overlap), or even 16 slices of turkey.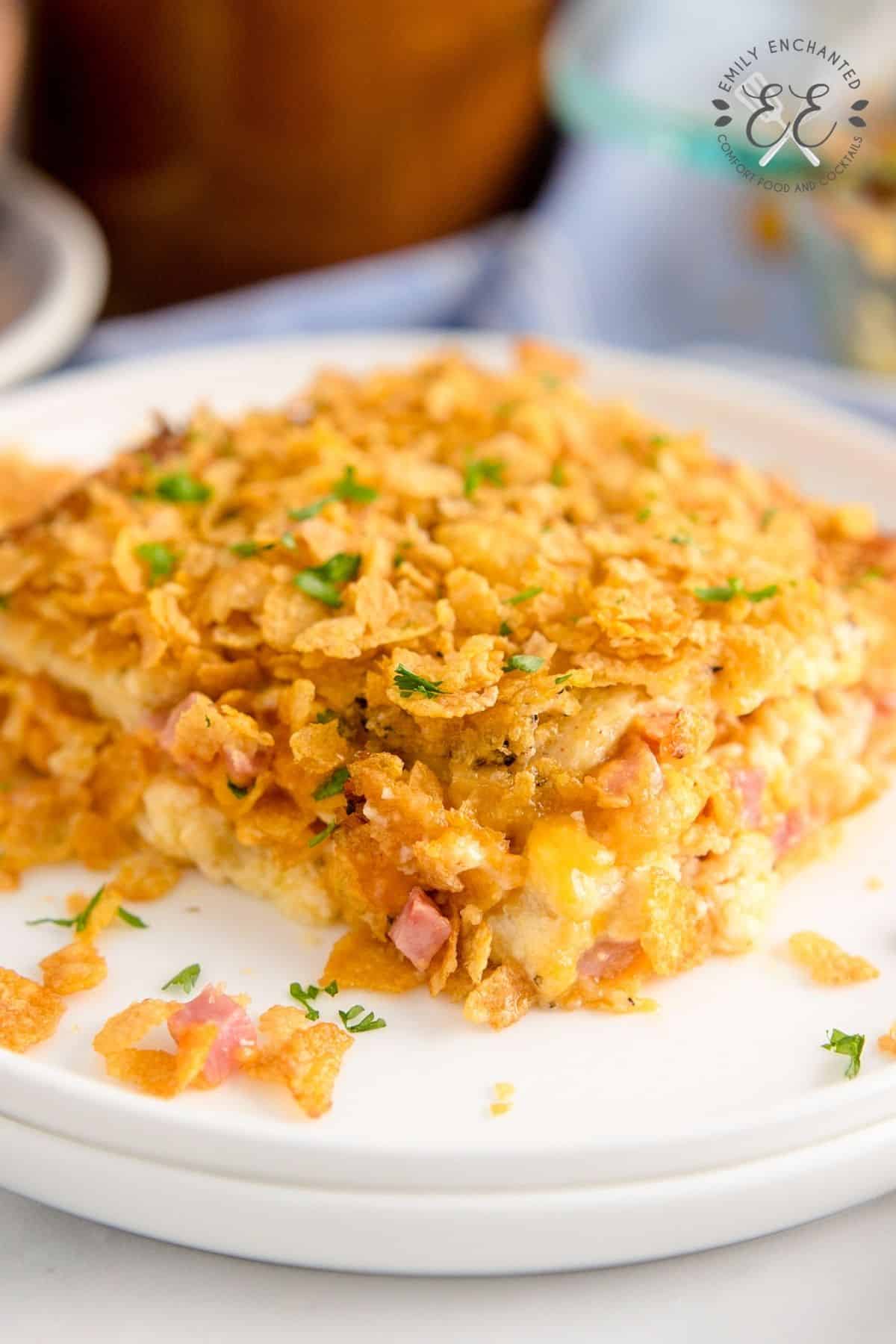 Do I Have to Shred the Cheese?
No, you can actually just slice up the cheese and lay the slices on the ham. Slice the cheese about ¼ of an inch thick. And slice enough to completely cover the ham layer.
I Don't Have Cornflakes, What Would you Recommend?
Special K works just as well. You could also try Panko crumbs, just make sure you allow for a crispy, crunchy topping. It pairs well with the soft layers of casserole.