Air Fryer Gingerbread Man Cookies are a delicious Christmas cookie recipe that is easy to make. These spiced cookies are perfect for the holidays. You can even dip them in Gingerbread Dip.
Have leftover dough? Make this cute Gingerbread House.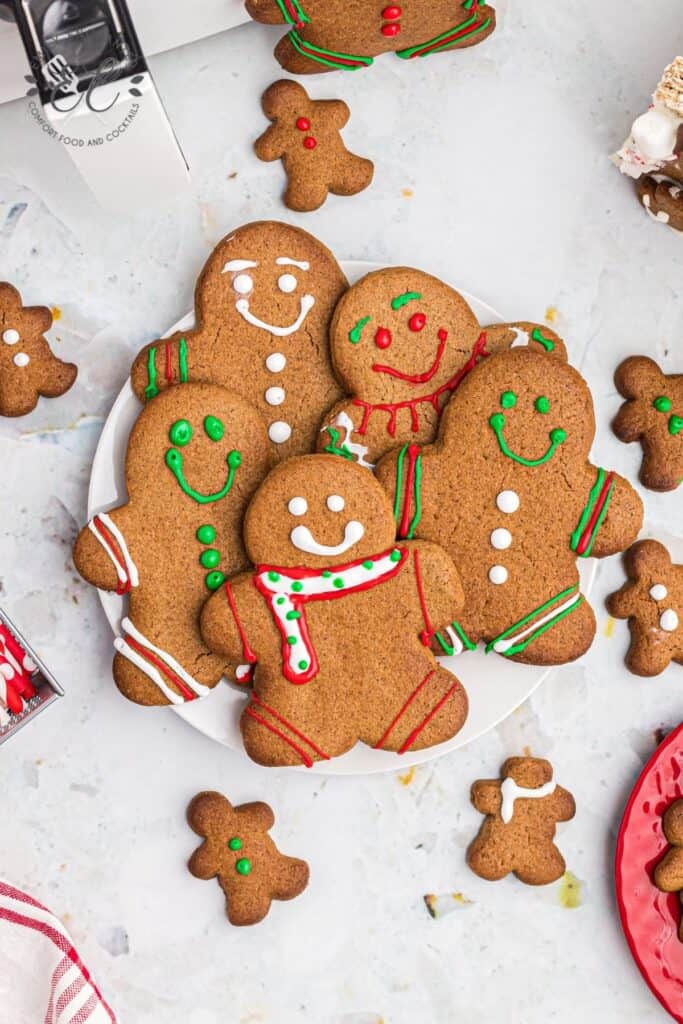 Air Fryer Gingerbread Cookies Ingredients
To make this easy gingerbread recipe, you will need the following (scroll down to the recipe below for exact amounts and variations):
Brown sugar
Corn syrup: this is the secret ingredient! Gingerbread traditionally uses molasses, but corn syrup makes the cookies sweeter. You can substitute molasses if that is your preference.
Spices: cinnamon, ground ginger, and ground cloves
Baking soda
Flour
Salted butter
Water
The Gourmia Air Fryer has a sleek design and quick buttons that are super helpful!
How to Make Gingerbread Cookies in an Air Fryer
For this recipe, you will need an air fryer and gingerbread cookie cutters.
Make the dough. In a large mixing bowl, beat the butter, brown sugar, corn syrup, cinnamon, ginger, cloves, and baking soda. Continue to mix until the dough is smooth. Slowly add in the flour and water, until the dough becomes thicker. Wrap dough in plastic wrap and chill for 30 minutes.
Cut out cookies. Remove the dough from wrap, and roll out to be about 1/4 inch thick. Cut out cookies with cutters.
Air fry the cookies. Place shapes on a small piece of parchment paper that fits in the basket. Do not let the pieces overlap, and fold the parchment paper under around the edges. Otherwise, the paper can flap onto the cookies and cause them to lose shape. Cook at 370 degrees for 5-7 minutes, depending on the thickness and size of cookie shapes.
Decorate and enjoy!
Can I Make Gingerbread Cookies in the Oven?
If you do not have an air fryer, you can make gingerbread cookies in the oven. Just prepare the dough according to the instructions above. Place shapes on a lightly sprayed baking sheet. Freeze for about 10 minutes, then put into the oven at 375 degrees. Bake for about 13-15 minutes. Let pieces cool completely before trying to assemble or frost.
Tips for Making Gingerbread Cookies
If you use molasses, the cookies aren't as sweet, still edible, but my preference is corn syrup.
Using corn syrup makes the cookies a lighter color, so if you want darker dough, use dark corn syrup or molasses.
I removed the cookies within 5-6 minutes, and set them on the counter to cool, and they were cooled very quickly.
Store them in a Ziploc bag and they will stay fresh for 2-3 weeks.
How to Decorate Gingerbread Man Cookies
If you want to decorate your cookies, I recommend buying tubes of red, green and white icing. You can find these online or in the baking aisle at your local grocery store.