Instant Pot Garlic Mashed Potatoes are creamy, fluffy, and so easy to make. The roasted garlic, cream cheese, and heavy cream really elevate this humble side, and take it to the next level. Absolutely irresistible!
Freshly roasted garlic is the star of this dish, giving the potatoes amazing flavor. Roasting garlic is super simple and is worth waiting for.
This post contains affiliate links.
Instant Pot Garlic Mashed Potatoes Ingredients
To make this Instant Pot potatoes recipe, you will need the following ingredients (see the recipe card below for exact amounts):
Russet potatoes
Water
Garlic bulbs
Olive oil
Salted butter
Cream cheese
Sour cream
Heavy cream
Kosher salt
Freshly cracked black pepper
Parsley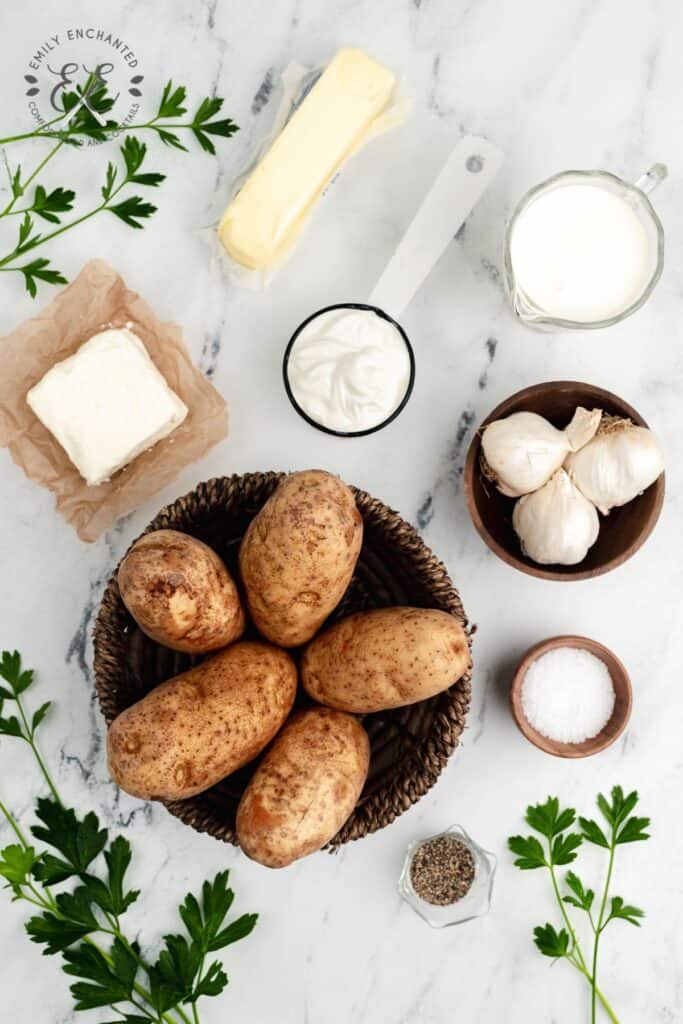 Special Tools Needed
Instant Pot
Hand mixer
Aluminum foil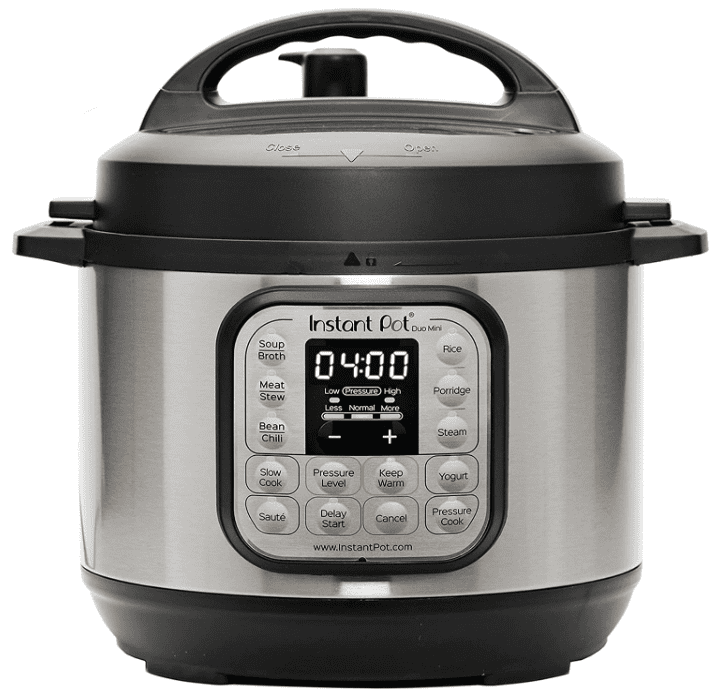 The Instant Pot Duo is simple and easy to use. This 7-in-1 appliance can pressure cook, slow cooker, steam, sauté & more.
How to Make Mashed Potatoes in an Instant Pot
Preheat oven to 350℉.
Roast the garlic: Slice tops of garlic bulbs off. Please cut side up on medium size piece of foil, drizzle with enough oil to moisten the garlic bulbs, about 1 or 2 tablespoons. Sprinkle with a pinch of salt. Replace garlic bulb tops. Bring sides of foil up and crimp together to make a foil packet. Place packet on baking sheet and bake 40 minutes, or until garlic is soft and fragrant and brown. Remove from oven to cool.
Place potato cubes in pressure cooker and add just enough water to cover the potatoes, about 4 cups. Salt water with 1 teaspoon salt. Place pressure cooker valve to "sealing" position.
Pressure cook potatoes on high for 7 minutes. Quick release the pressure and immediately drain potatoes with a strainer.
Add cooked potatoes back to pot. Add roasted garlic. Mash with a potato masher.
Add butter, cream cheese, sour cream, cream, and seasoning. Mix with a hand mixer on medium for about 30 seconds until potatoes are light and fluffy.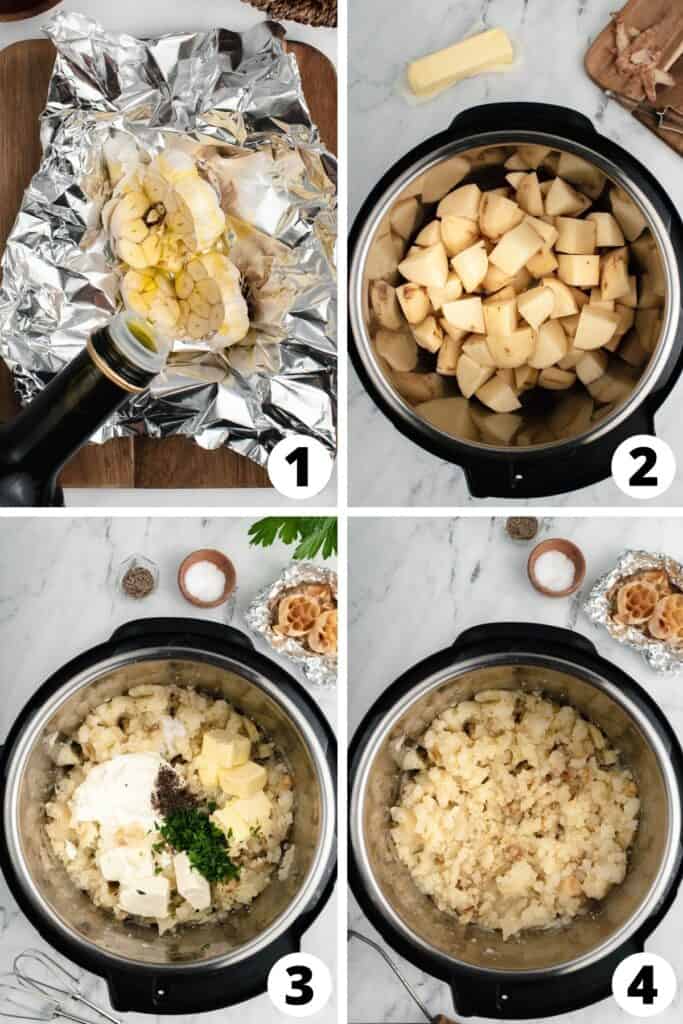 Recipe Tips
No time to roast the garlic? Try adding 1 teaspoon of garlic powder instead.
Do not chop the potatoes too small, they will soak up too much water.
If your potatoes come out of the pressure cooker and look like they've soaked up too much water, spread them on a large sheet pan while still piping hot and mash. The excess water will evaporate. Add them back into the pot after about 15 minutes and proceed with step 4.
Potatoes too dry? Add in some extra cream, milk, or even chicken stock.
Do not over mix potatoes, they can become gummy.
Love roasted garlic? Roast a few more bulbs and keep it in your fridge to use throughout the week!
Try customizing your mashed potatoes with ½ teaspoon finely chopped rosemary, a pinch of thyme, or a sprinkle of parmesan cheese!
Can I Make this Recipe Ahead of Time?
Yes. Potatoes will thicken as they stand, and stay warm for an hour, so they're great to make ahead of time! Mashed potatoes are great leftovers. Make the day before and just reheat in a large oven proof baking dish, covered at 350℉ until warmed through.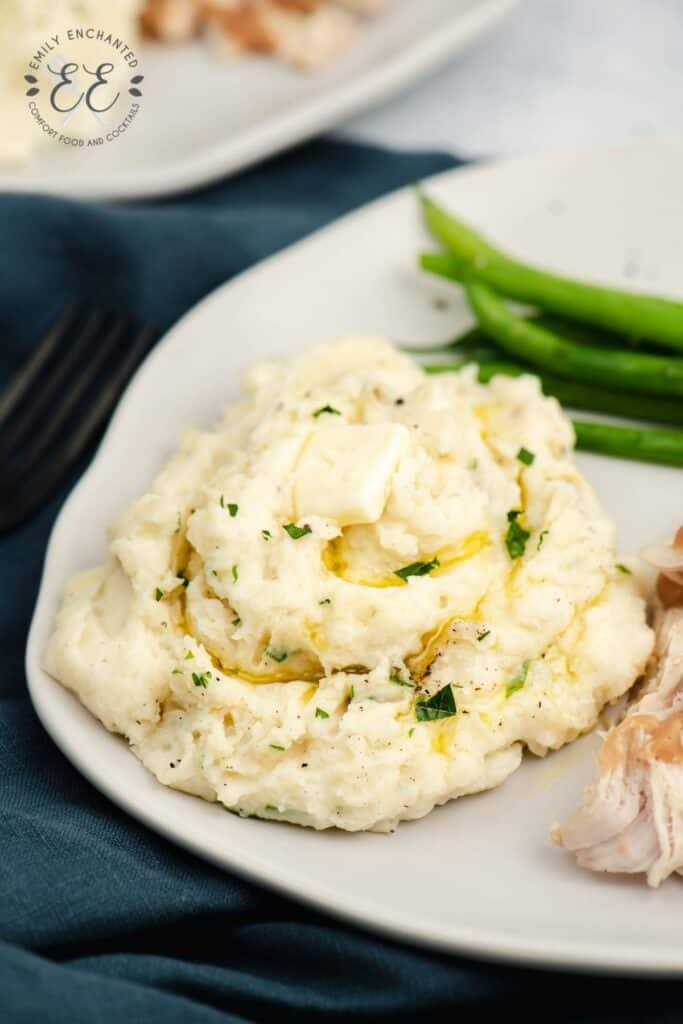 What to Serve with Garlic Mashed Potatoes
This classic side dish is great for any meal, especially the holidays. Here are some recipes you can pair with it:
Pot Roast with Mushrooms
Green Beans Almondine
Squash Casserole
Cranberry Sauce with Orange Juice
Cheddar Jalapeno Cornbread