Green Bean Casserole with Bacon is the BEST holiday side dish recipe! Onion cream sauce is tossed with lightly blanched fresh green beans, and topped with crunchy fried onions, and crispy bacon. The perfect holiday side, your family has never tasted green bean casserole like this before!
Green Bean Casserole with Bacon Ingredients
To make this green bean side dish recipe, you will need the following ingredients (see the recipe card below for exact amounts):
Fresh green beans
Bacon
Crispy fried onions
Garlic
Yellow onion
Salted butter
All purpose flour
Low sodium chicken broth or stock
Whole milk: You can substitute the whole milk for 2% or half & half.
Heavy cream
Kosher salt & freshly cracked black pepper
How to Make Bacon Green Bean Casserole
Preheat oven to 350℉. Fill a large bowl with ice water. Grease a 9×13" baking dish.
Bring a large pot of generously salted water to a rolling boil. Blanch green beans in boiling water for 2-3 minutes, until they turn bright green. Immediately scoop out beans and plunge into ice water to shock them and stop the cooking process. Once cooled, drain and set aside.
In a large saucepan, melt the butter over medium heat. Add onions and garlic, cook until onions are soft and translucent, about 5 minutes. If they start to brown, turn the heat down to medium low.
Add in flour and cook over medium low heat, stirring constantly with a whisk, until flour just begins to brown, about 1 to 2 minutes.
Whisk in stock slowly until smooth. Whisk in milk, and finally heavy cream. Taste and add salt and plenty of black pepper. The mixture should be the consistency of canned cream of chicken soup, if it's too thick, add chicken broth until mixture is smooth and creamy.
Add green beans to baking dish. Top with the cream mixture, stir in gently. Top with chopped bacon and crispy fried onions. Cover loosely with foil.
Bake for 30 minutes covered. Remove foil and bake another 10 minutes or until bubbly. Serve hot.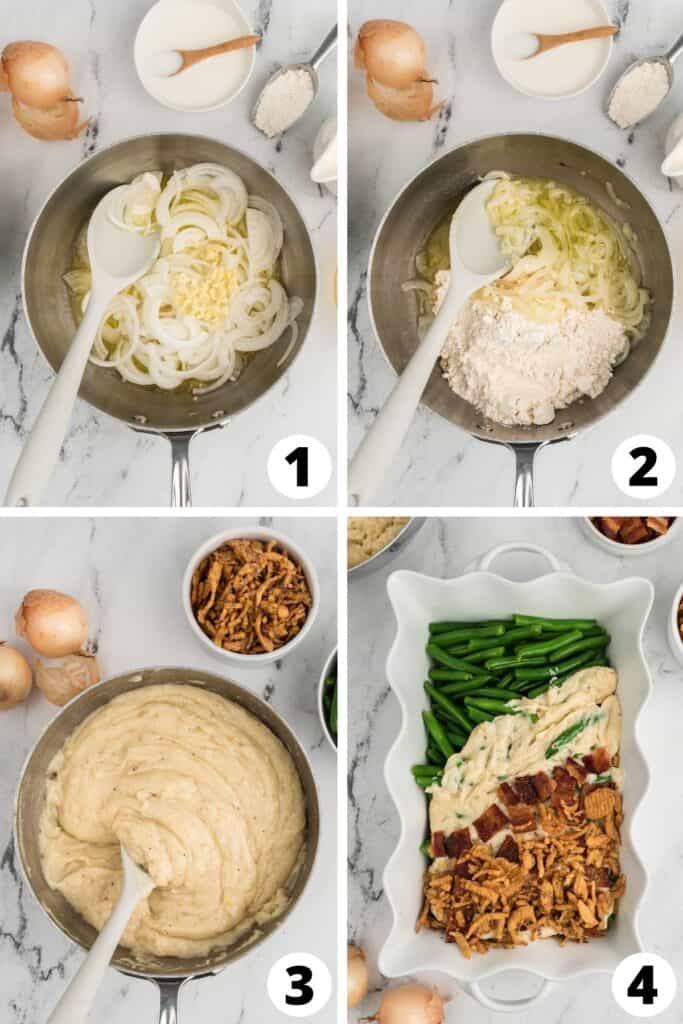 Can I Add Mushrooms?
To add mushrooms, saute 2 cups of sliced crimini mushrooms in 2 tablespoons of butter, remove from the pan, and proceed with step 3. Add mushrooms to the onion and cream mixture just before adding to the green beans.
What if My Sauce is Too Liquidy?
If your cream sauce is too liquidy, vigorously whisk 1 tablespoon flour with just enough milk to dissolve it. Pour it into the boiling cream sauce while whisking.
Recipe Variations
Try customizing your casserole with a sprinkle of parmesan cheese or panko bread crumbs under the crispy fried onions.
How Do I Cook the Bacon?
Line a large rimmed baking sheet with foil. Lay bacon in one layer on foil. Place bacon in a cold oven, turn oven on to 350℉. Cook for about 30 minutes, flipping bacon once halfway through. Thinly sliced bacon may take just 20 minutes. Drain and blot bacon on paper towel.
More Holiday Side Dish Recipes
Sweet Potato Casserole
Squash Casserole
Green Beans Almondine
Cheesy Scalloped Potatoes
Loaded Baked Potato Casserole
Cranberry Orange Fluff Salad
Honey Roasted Carrots and Parsnips