This Turtle Brownie Ice Cream Bowls Recipe is a melt in your mouth dessert that will have everyone screaming for more! The fresh-from-the-oven brownie and cookie bowl is topped with ice cream and drizzled with chocolate and caramel sauce for a decadent treat that is irresistible.
From birthday celebrations to summer treats, this recipe is sure to please even the pickiest of guests.
These edible ice cream bowls are made of both brownie and cookie, also known as brookie. Its the best of both worlds!
Cookie bowls can seem like a daunting task to undertake, but they are so easy, especially when you have the help of boxed brownie and cookie mix. This recipe only takes 10 minutes to prep.
This post contains affiliate links.
Turtle Brownie Ice Cream Bowls Ingredients
To make this easy dessert recipe, you will need the following ingredients (scroll down to the recipe below for precise amounts):
Brownie mix: You need a family size box, and don't forget the ingredients listed on the box to prepare.
Chocolate chip cookie mix: plus the ingredients listed on the package to prepare
White chocolate chips
Pecan pieces
Caramel sauce
Ice cream: I prefer to use turtle or pecan flavored ice cream, but you can use any ice cream of your choice
Toppings of your choice
Tools You Need to Make Brookie Bowls
To make this brookie bowl recipe, you will need 2 separate mixing bowls to make both the brownie mix and the cookie mix.
To get the bowl shape, you can use either 2 large muffin tins and a 3rd to press down on top to make the shape, or 2 large muffin tins with small sauce bowls.
How to Make Brownie Bowls
This turtle dessert is easier than you think!
Prep your oven and muffin tins. Preheat oven to 350 degrees. Spray large muffin pan with oil to coat.
Make brownie mixture. In a large mixing bowl, prepare brownie mix according to directions on package. Stir in white chocolate chips and pecans.
Make cookie mixture. In a medium mixing bowl, prepare cookie dough according to instructions on package.
Add layers to muffin tin. Pour brownie mixture into muffin tins about halfway full. Pour about 1 to 2 tablespoons of caramel sauce over the brownie mixture. Using a spoon, drop thin pieces of cookie dough on top of the caramel sauce until the muffin tin is about ¾ full.
Bake the brownie bowls. Bake at 350 degrees on the center rack for about 30-35 minutes or until a toothpick inserted comes out clean.
Cool and make bowl shape. Let cool for 10 minutes. Using another large muffin pan or small dish, press down on top of the brownie cookie to make the bowl shape. Finish cooling and remove the brownie cookie by taking a knife around the edge of the brownie cookie to release it from the pan.
Make your ice cream bowl sundae. Garnish with a large scoop of ice cream and toppings of choice.
What Are the Best Ice Cream Toppings?
For this ice cream sundae bowl, I have used the following toppings, but you can use any toppings you like! You can try nuts, sprinkles, fruit, candy, or crushed cookies.
Chocolate syrup
Caramel sauce
Whipped cream
Maraschino Cherry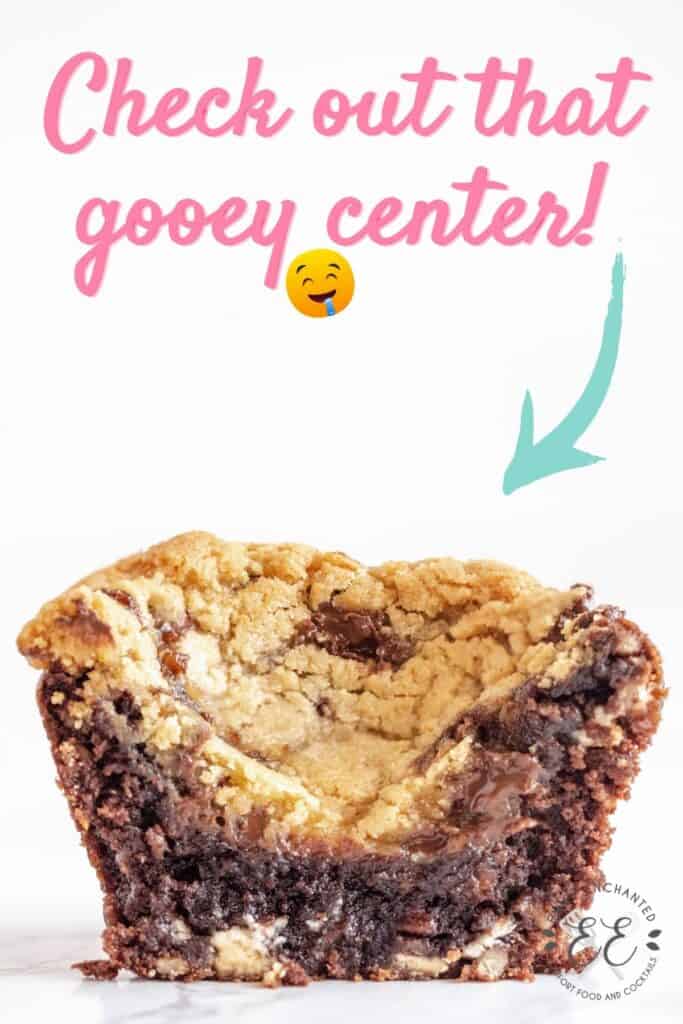 Tips for Brownie Bowls
Do not mix the boxed brownies per the cake directions or your batter will rise out of the muffin tin.
You can use a homemade brownie or cookie dough recipe. Just remember to use recipes that do not cause the batter to rise, as you may flood your muffin tin.
I highly recommend using thinner pieces of dough. If you do 1 large scoop, the cookie dough might take a little longer to cook through the center, causing the outside of your bowl to overcook.
You can use 12-count muffin tin instead of a large 6 count, but you will need to keep an eye on your bake time as it will take less time to cook in smaller tins.
Since this recipe only makes 9 bowls, you will have some empty muffin cups when baking these in the oven. But, you don't necessarily have to fill the empty muffin spaces with water as you may have learned to do. If you have a quality muffin pan, it won't be an issue.
Other Ice Cream Recipes
If you love ice cream, try these recipes:
4th of July Ice Cream Sandwiches