Cornflake Chicken is an easy baked chicken breast recipe. Seasoned chicken is coated with a cornflake crust and baked in the oven to make them nice and crispy.
This is one of the best baked cornflake chicken recipes. The cornflake crumb crust stays crispy because you only put it on top and the mayonnaise makes this a tender and juicy chicken. It taste like fried chicken but is a little healthier.
To make a perfect meal, serve with mashed potatoes, green beans almondine and watermelon salad.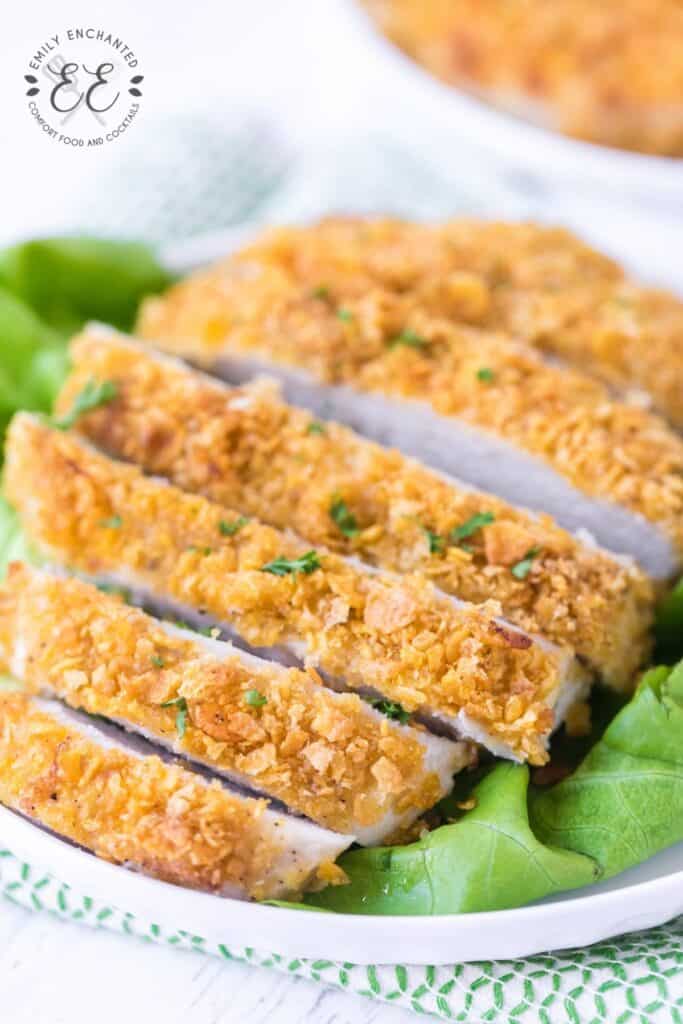 This post contains affiliate links.
Baked Cornflake Chicken Ingredients
To make this easy and delicious crispy chicken dish, you will need the following ingredients (see the recipe below for amounts and directions):
Boneless skinless chicken breasts: Boneless skinless chicken is great for this recipe because it can easily be flattened down. You can also use chicken tenders as well.
Mayonnaise: The mayonnaise keeps the chicken juicy and tender. You can always substitute it with buttermilk for a slightly healthier option.
Plain cornflakes: Just plain cornflakes do the trick for this. They add a wonderful crunchy bite to your chicken in a way that breadcrumbs just won't do. If you have leftovers, use them to make Funeral Potatoes.
Garlic powder
Onion powder
Salt: I prefer to give the chicken a light coating of salt and pepper before the corn flake coating to make sure that it is properly seasoned. You can always skip this optional step if you want to watch your salt intake.
Black Pepper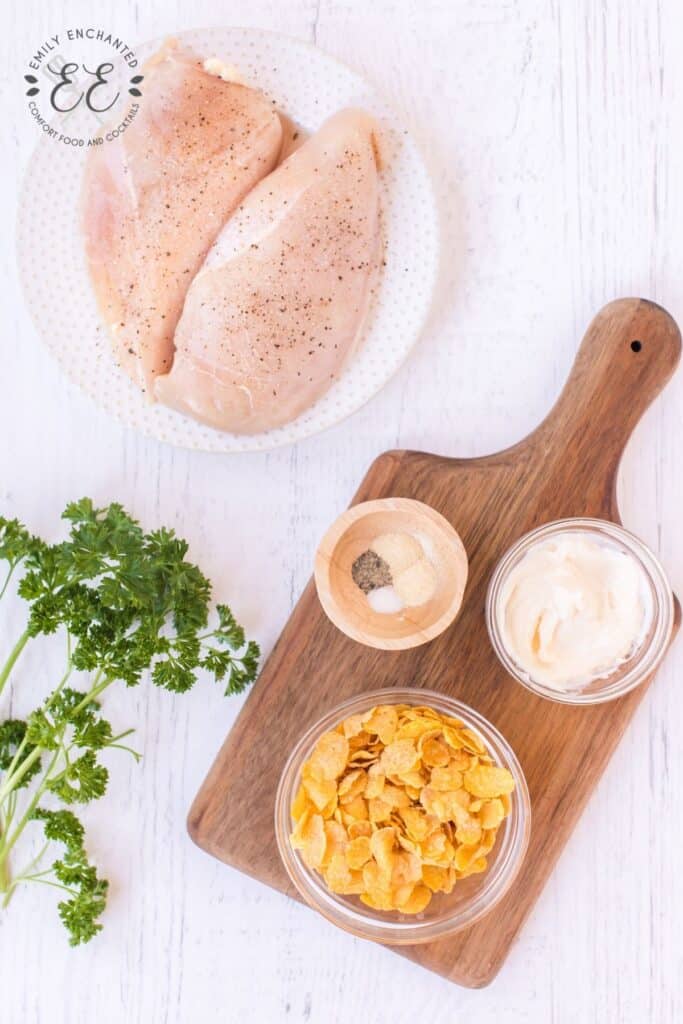 How to Make Cornflake Chicken
This chicken dinner is so easy to make – all you have to do is add a crumb crust to the chicken and bake!
Preheat the oven to 475 degrees F.
Tenderize chicken. Pat the boneless skinless chicken pieces dry and season with salt and pepper to taste. Place chicken in a plastic bag or wrap in plastic wrap. Flatten chicken by whacking it with a rolling pin or meat tenderizer until it is ½ inch thick on all sides. Set aside.
Make cornflake crust. Mix and crush corn flakes, garlic powder, onion, powder, salt, and black pepper together. (Tip: you can use a food processor for this step.) Spread 1 tablespoon of mayonnaise over the top of each piece of chicken. Coat each piece of chicken in the crushed cornflakes.
Bake the chicken. Place the chicken in a single layer on a parchment or aluminum foil lined sheet pan or baking sheet. Do not overlap pieces. Bake in oven for 12-15 minutes or until chicken is cooked, has an internal temperature of 165° and juices run clear.
Serve and enjoy! Let chicken rest for 5-7 minutes before cutting.
How Do You Keep Breaded Chicken From Getting Soggy In The Oven?
I prefer baked over fried chicken because it is easier to make in my opinion. There are a couple of methods you can use in order to prevent the chicken from becoming soggy in the oven.
Even though it sounds strange, spritzing the chicken with a cooking spay (I recommend an olive oil cooking spray). This will help the chicken to crisp up a little faster, keep the crushed cornflakes on the chicken, and keep the chicken from becoming soggy.
Another method that I use to keep my chicken dry for this recipe is to only coat one side of the chicken. When I have coated the chicken in the past with mayo and cornflake crumbs, I have found it to be very soggy on the bottom. Coating one side is all it takes with this recipe!
Storage Instructions
You can store baked cornflake chicken for an additional 3-4 days in the refrigerator. Make sure to store it in an airtight container.
Can I Freeze Baked Chicken?
I don't recommend freezing baked cornflake chicken because the cornflake coating will become soggy once thawed and reheated.
Other Chicken Dinner Recipes