Loaded Baked Potato Casserole is a cheesy and creamy potato side dish recipe that is a twist on the classic twice baked potatoes.
If you have made baked potatoes, you know that they are a lot of work. They are totally worth it! But if you are trying to save time, this is the recipe for you. Serving a casserole instead of individual potatoes makes them go father, too.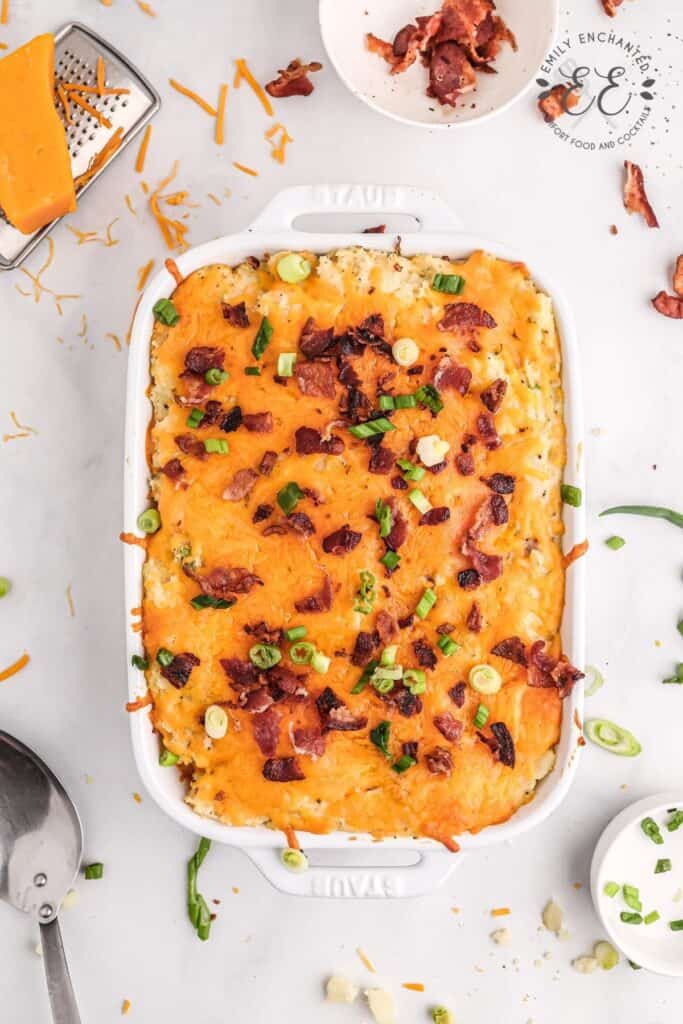 Loaded Baked Potato Casserole Ingredients
To make baked potatoes casserole, you will need the following ingredients (see the recipe card below for exact amounts):
Russet Potatoes
Salted Butter
Sour Cream
Half & Half
Salt
Ground Black Pepper
Cheddar Cheese
Bacon
Green Onions
How to Make Twice Baked Potatoes into a Casserole
This potato casserole is easy to make, but does take a little patience as potatoes take a long time to bake. First you bake the potatoes. Then you mix with the rest of the ingredients and bake a second time.
Step 1. Bake the potatoes
Preheat the oven to 400F.
Using a fork, prick holes throughout all of the potatoes. Bake the potatoes on a cookie sheet for 1 hour, or until tender.
Reduce the temperature of the oven to 350 degrees Fahrenheit.
Step 2. Mix the ingredients
Once the potatoes are cool enough to handle, cut them in half and scoop out the centers of the potatoes into a large bowl or stand mixer.
If using a mixer, add rest of ingredients (except toppings) and mix until potato lumps have smoothed out.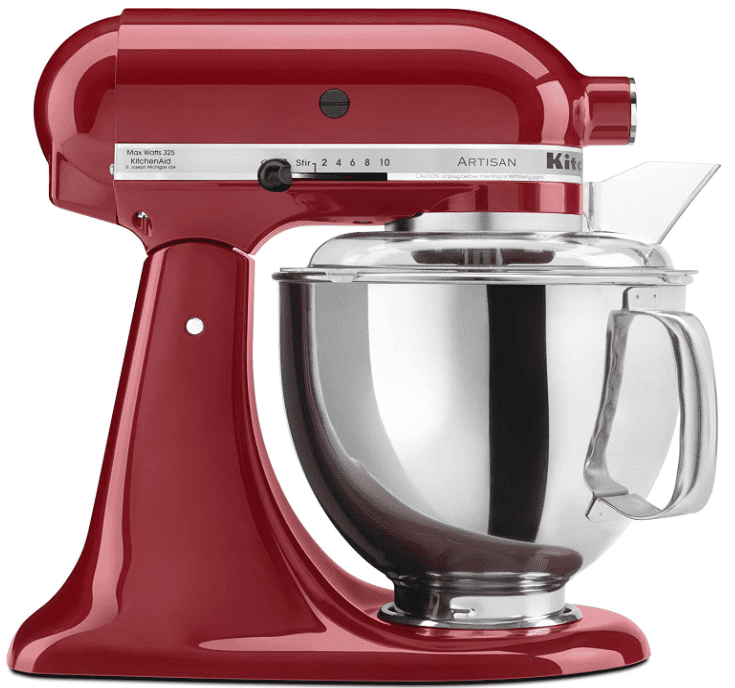 My KitchenAid Mixer is the main character of my kitchen. I use it for everything!
If mixing by hand, first add the butter and mash the potatoes with a fork or a potato masher. Once most of the lumps have been removed, add the sour cream, half & half, salt, and ground black pepper. Stir to combine. Add half of the shredded cheddar cheese, half of the bacon, and half of the green onions and stir to combine.
Step 3. Bake the potatoes a second time
Place the mixture into a 9×13 baking dish and top with the remaining cheddar cheese.
Bake for 30 minutes or until the cheese is starting to brown around the edges.
Top with the remaining bacon and green onions before serving.
Tips for Making Baked Potato Casserole
Do not let the potatoes cool completely. They are easier to mash/mix when warm.
Storage Instructions
Store any leftover casserole in an airtight container in the fridge for up to 5 days.