This post contains affiliate links. As an Amazon Associate I earn from qualifying purchases. View our Privacy Policy.
Cheesy Scalloped Potatoes Recipe is a warm and creamy side dish recipe. It's easy to make and even easier to eat!
This cheesy potato side dish recipe is perfect for the holidays. Serve it with Instant Pot Pot Roast, Creamed Corn Casserole, Green Beans Almondine, and Quick Bread for a delicious holiday spread.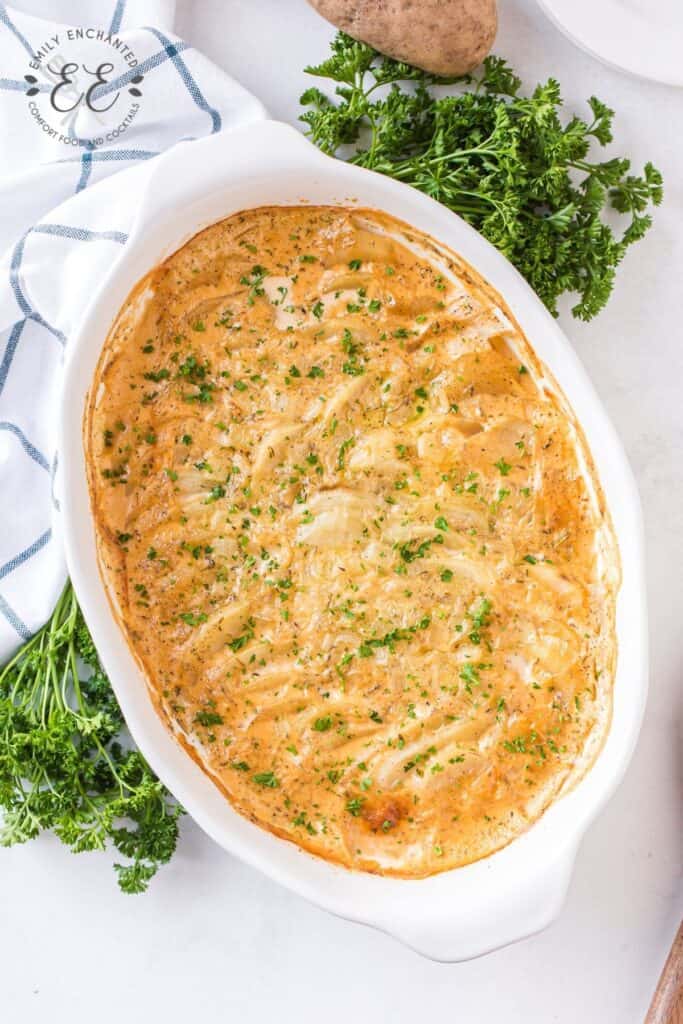 This post contains affiliate links.
Cheesy Scalloped Potatoes Ingredients
To make scalloped potatoes with cheese, you will need the following ingredients (see the recipe card below for exact amounts):
Yukon gold or russet potatoes: I have only tried this recipe using russet potatoes, but feel free to experiment with different types of potato.
Onion
Garlic
Salted butter: You can also use unsalted butter if desired
Evaporated milk: I have not tried this recipe using fresh milk, so I am not sure if it would work to boil it. The fresh milk may just need to be heated over the stove instead of being brought to a boil to prevent it from curdling.
Bay leaves
Salt and pepper
Dried thyme
Dry mustard
Dried rosemary
Parmesan cheese: The Parmesan cheese can be replaced with your favorite cheese, such as cheddar cheese.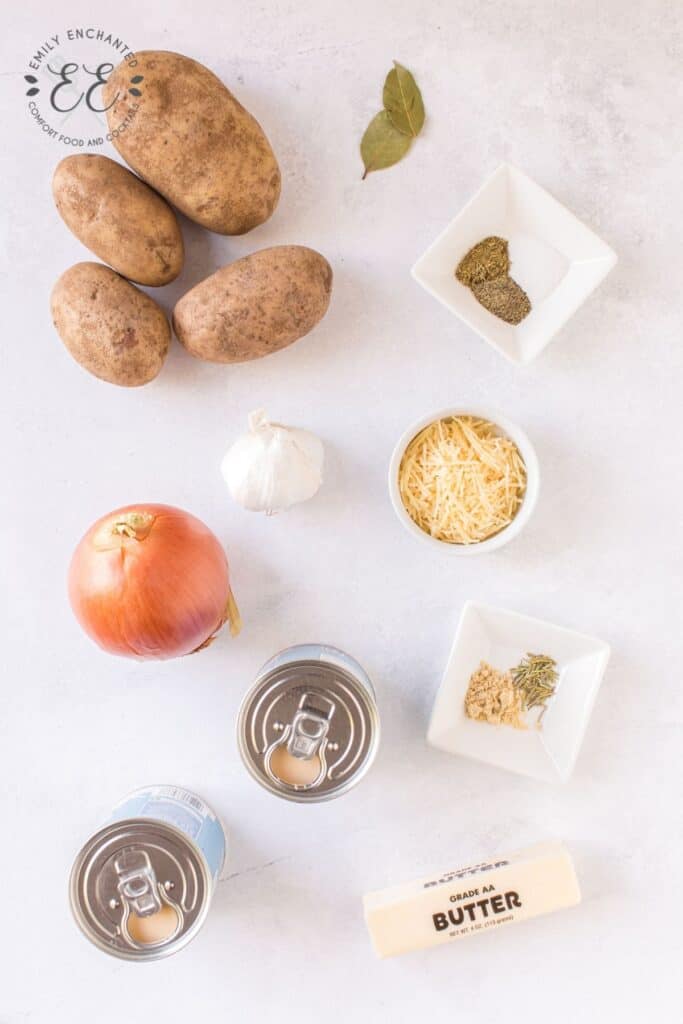 Tools You Need to Make Scalloped Potatoes
Food processor – Using a food processor makings cutting veggies so easy, especially ones that make your hands stink!
Mandolin Slicer – This tool is so helpful for cutting perfect slices every time. It is totally optional though.
Medium-sized pot – I always use a non-stick pot when I am sauteing onion and garlic as they can burn easily.
11 x 7 Baking Dish – I like to use an oval or colored baking dish as it makes for a pretty presentation, but a regular Pyrex works perfectly fine.
How to Make Cheesy Scalloped Potatoes Recipe
Preheat the oven to 350 degrees.
Saute onion and garlic. Melt butter in a medium-sized pot on the stove top over medium-high heat. Add the onion and garlic and heat, stirring until tender, for 3-4 minutes.
Make the sauce. Pour 1 ½ cans of evaporated milk into the pot. Whisk in bay leaves, salt, thyme, pepper, dry mustard and rosemary. Bring to a boil, then reduce heat and simmer for 3-5 minutes.
Layer the potatoes. Butter or grease an 11 x 7 casserole dish. Arrange the potato slices in the bottom of the pan.
Add sauce to the pan. Take the bay leaves out of the milk mixture. Stir in Parmesan cheese until combined. Pour the cheese sauce over the potatoes.
Bake the potatoes. Cover the dish with aluminum foil, pulling back one corner for steam to escape. Bake for 40 minutes before taking off aluminum foil and cooking for an additional 10 minutes, or until fork tender.
Garnish with chopped parsley, optional.
FAQs
Can I Make the Cheese Sauce Thicker?
The cheese sauce for this is not thick. It is creamier and saucier. I like scooping out the potatoes and ladeling the creamy sauce over the potatoes. If you are looking for a thicker sauce, add in 1 tablespoon cornstarch to the evaporated milk while it's boiling until it reaches your desired consistency.
Can I Add Other Kinds of Cheese?
If you prefer to use a different kind of cheese, I like to stick to shredded cheddar cheese. Don't be afraid to stray from cheddar cheese and be adventurous. Try Gruyere cheese, Danish blue cheese, provolone cheese, or a combination of cheeses.
Storage Instructions
Fridge: Store scalloped potatoes for up to 4 days in the refrigerator.
Freezer: You can freeze them once they are completely cooled. Cut a piece of waxed paper and put it over the dish, then wrap the dish in aluminum foil. (If possible, underbake the potatoes so they won't overbake when reheated).
How Do I Reheat Frozen Scalloped Potatoes?
Microwave Method. Thaw in the refrigerator or use the microwave to speed up the process. Cover with plastic wrap, leaving a corner open to vent. Cook for 2 minutes at a time, using the microwave's defrost setting. To reheat the potatoes from this point, continue to cover, venting one corner, and heat on high for 3 minutes. Stop for 30 seconds, then heat again for another 3 minutes. (Keep in mind that the microwave will not brown the potatoes).
Oven Method. To reheat in the oven, remove the plastic from the defrosted potatoes, cover with foil and preheat the oven to 350 degrees. Cook on the middle rack for 25 to 30 minutes, until the internal temperature reaches 165 degrees. Remove the foil and let the top crisp up for another 5 or 10 minutes.
The Best Potato Side Dish Recipes
If you love potatoes like me, you have to try these other delicious potato recipes.
Funeral Potatoes – This super cheesy side dish is made with frozen hash browns and a lot of pantry ingredients. Whip up a delicious side dish without any effort!
Roasted Potatoes – This basic potato dish is oven roasted with both butter and olive oil for ultimate flavor.
Twice Baked Potatoes – Take your potatoes to the next level with this twice baked potato recipe. They are topped with cheese, BBQ sauce, bacon and ranch dressing. YUM!