This easy Oven Roasted Red Potatoes recipe is made with butter, olive oil, garlic and parsley for a simple, yet delicious side dish that pairs perfectly with steak or chicken.
If you are a meat and potato person, this side dish recipe is just for you! Whole baby red potatoes are baked in the oven, soaking up the butter, olive oil and seasonings.
This recipe uses baby potatoes. These small potatoes cook quickly and are bite size.
These potatoes are not dry inside, and the outside gets nice and wrinkly. Throw them under the broiler if you want them even crispier.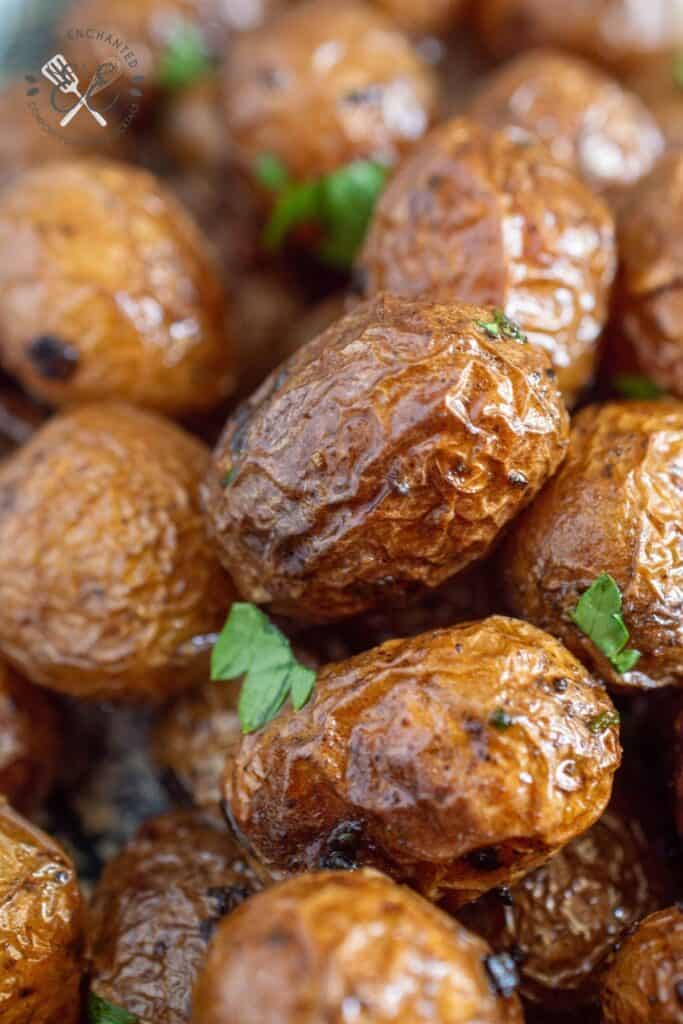 Oven Roasted Red Potatoes Ingredients
This easy potato side dish recipe only required a few ingredients. You probably already have most of these in your pantry. To make this hearty side dish recipe, you will need the following ingredients (print the recipe below for amounts and instructions):
Baby red potatoes: you can also use Gold potatoes for this recipe, or a potato medley
Salted butter and olive oil
Garlic cloves
Salt and black pepper: this is all the seasoning you need for this buttery potato recipe
Fresh parsley: this roasted potato recipe uses fresh parsley as garnish. If you want to use dried parsley, I would mix it in with the rest of the ingredients before baking.
How to Roast Potatoes in the Oven
This recipe is really easy. No need to spend any time peeling. The peels stay on the potatoes for this recipe, and yes they are edible. Potato skin is very good!
Preheat oven to 375 °F.
Mix ingredients. Melt butter in microwave in 15-20 second increments. In a mixing bowl, add potatoes, melted butter, olive oil, garlic, parsley, salt, and pepper. Toss until coated.
Bake the potatoes. Place on a baking sheet. Bake on the middle rack for 25 minutes or until the skin starts to wrinkle and fork pierces nicely. Turn potatoes a few times while baking.
Garnish. Garnish with fresh parsley.
What Are Red Potatoes?
Red potatoes are smaller than russet potatoes and red in color. The health benefits of red potatoes include Vitamin K, niacin, and less carbs than russet potatoes. Red potatoes are perfect for baking or cooking in a skillet because they are high in moisture and low in starch.
Tips for Roasted Potatoes
An easy way to turn the potatoes is to shake the baking sheet back and forth.
You can also cut the potatoes in half or quarters if you prefer.
Try this baked potato recipe with other seasonings like thyme or oregano.
What to Serve with Red Potatoes
What I love about serving oven roasted red potatoes is that they go with just about anything. Here are some ideas of what to serve with roasted potatoes:
Steak with blue cheese sauce
Green beans
Sausage and gravy
Lamb
Pork chops