Fruity Pebbles Treats are a colorful, no bake dessert that is easy to make and will satisfy your sweet tooth. These cereal bars with marshmallows are both crunchy and chewy.
I love making no bake desserts because they usually require less cleanup and I do not have to wait as long to satisfy my sweet tooth. Try my Coconut Fat Bombs or No Bake Chocolate Peanut Butter Bars.
Cereal bars made with marshmallows are such a yummy treat that everyone enjoys. This recipe is just like the traditional Rice Krispie Treats recipe, but Fruity Pebbles cereal is also used to add a fun pop of color and extra flavor.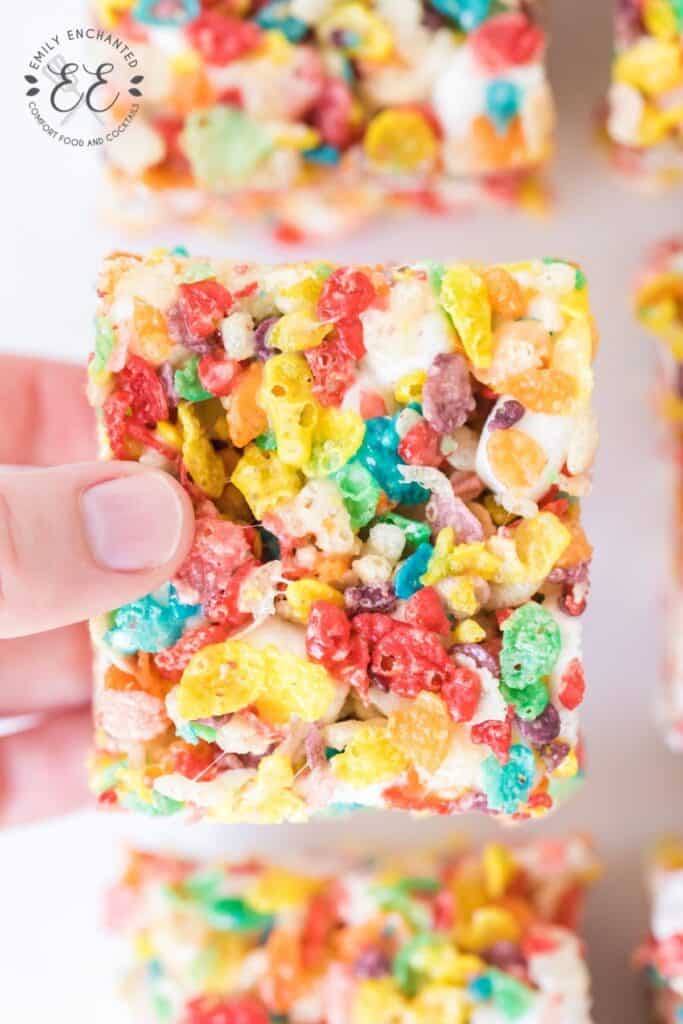 This post contains affiliate links.
Fruity Pebbles Treats Ingredients
To make this marshmallow dessert bar, you will need the following ingredients (scroll down to the recipe card below for exact amounts and directions):
salted butter
Rice Krispies cereal
Fruity Pebbles cereal
Tools You Need to Make Fruity Pebble Cereal Bars
These no bake treats are easy to make and only require a few tools.
Large Pot – You will be adding a lot of cereal and marshmallows to this pot, so I like to use a tall stock pot.
Baking Pan – To form the bars you will be using a 9 x 9 baking pan. If you want thinner bars, you can use a 13 x 9 baking pan.
Parchment paper – The lifeblood of my kitchen. Never deal with things sticking to pans or sheets ever again when you use parchment paper.
How to Make Fruity Pebbles Treats
Melt the butter in a large pot over medium-high heat.
Pour in half of the mini marshmallows and stir until melted, stirring continuously. Take off heat.
Pour in both cereals, the second half of the mini marshmallows, and vanilla extract.
Stir until everything is incorporated, but not completely melted.
Press mixture into a parchment lined 9×9 pan and set aside to cool, about 30 minutes at room temperature.
Cut into bars and serve. Enjoy!
Tips for Making Fruity Pebbles Cereal Bars
These make thick cereal bars. They fill the 9×9 pan up to the top. If you would like thinner bars, these will also fit in a 9×13 inch pan and will make thinner bars.
Why Do You Use Plain Rice Krispies Cereal?
Fruity Pebbles are a very sweet cereal. With the addition of marshmallows it makes them even sweeter. Adding a cup of the plain Rice Krispies cereal helps lessen the sweetness slightly. You can use only Fruity Pebbles cereal, but it can be too sweet. It really is up to your personal preference.
How Do I Cut Fruity Pebble Treats?
First, remove the treats from the pan by lifting the parchment paper out of the pan and placing on a cutting board.
I have found that the best method to cut these is by using a long serrated knife. It cuts through the cereal and marshmallow quickly and easily.
Make sure to wipe off the knife if anything sticks to it. You can also use a slightly greased sharp knife to cut these as well.
How Do I Store Fruity Pebble Treats?
You can store these sweet treats at room temperature for up to 7-10 days in an airtight container. I do not recommend freezing these cereal bars.