This easy Crockpot Cheese Dip takes just minutes to put together and is so cheesy. Creamy Velveeta and pork sausage bring so much flavor to this dip.
The perfect party appetizer for game day, this slow cooker queso provides hours of chip dipping. With only a few ingredients, you can master your party preparations and join in the fun.
Crockpot Cheese Dip Ingredients
To make this cheesy appetizer, you will need the following ingredients (scroll down to the recipe card below for exact amounts and directions):
Velveeta
Mild cheddar cheese: You can use medium or sharp cheddar cheese if you wish, but be sure to use a brick of cheese, not pre-shredded cheese as that is coated with preservatives that keep it from melting well.
Pico de Gallo: Fresh pico de gallo tastes delicious in this dish but you can also use a can of rotel, drained.
Milk: I recommend 1% or fat free milk for this dip, however, you can use 2% or whole milk if necessary. Be careful of adding too much excess fat to the dish or it may split and have little grease puddles on the top.
Pork sausage: You can substitute seasoned ground beef or chorizo or another crumbled meat, if you prefer.
Optional garnishes: tortilla chips, pico de gallo, sour cream
How to Make Queso in a Slow Cooker
In a crockpot, layer in the Velveeta, cheddar cheese, pico de gallo, milk and sausage. Stir only slightly.
Place the lid on the crockpot and heat on low heat for 2-3 hours or until completely melted and smooth, stirring well every 30 minutes.
Turn the crockpot to warm and enjoy your hot dip with tortilla chips, pico de gallo and sour cream, optional.
Storage Instructions
This Crockpot Cheese Dip can be kept out, as long as the crockpot is on low or warm, for many hours. Once you are finished with it any leftovers should be stored in an airtight container in the refrigerator and eaten within 3-5 days.
How to Reheat Cheese Dip
When reheating I recommend the crockpot or a saucepan over low heat. Avoid microwaving this dip as it may cause it to split or curdle. If you must microwave it, heat in 15-30 second intervals and stir between each heating. Do not overheat.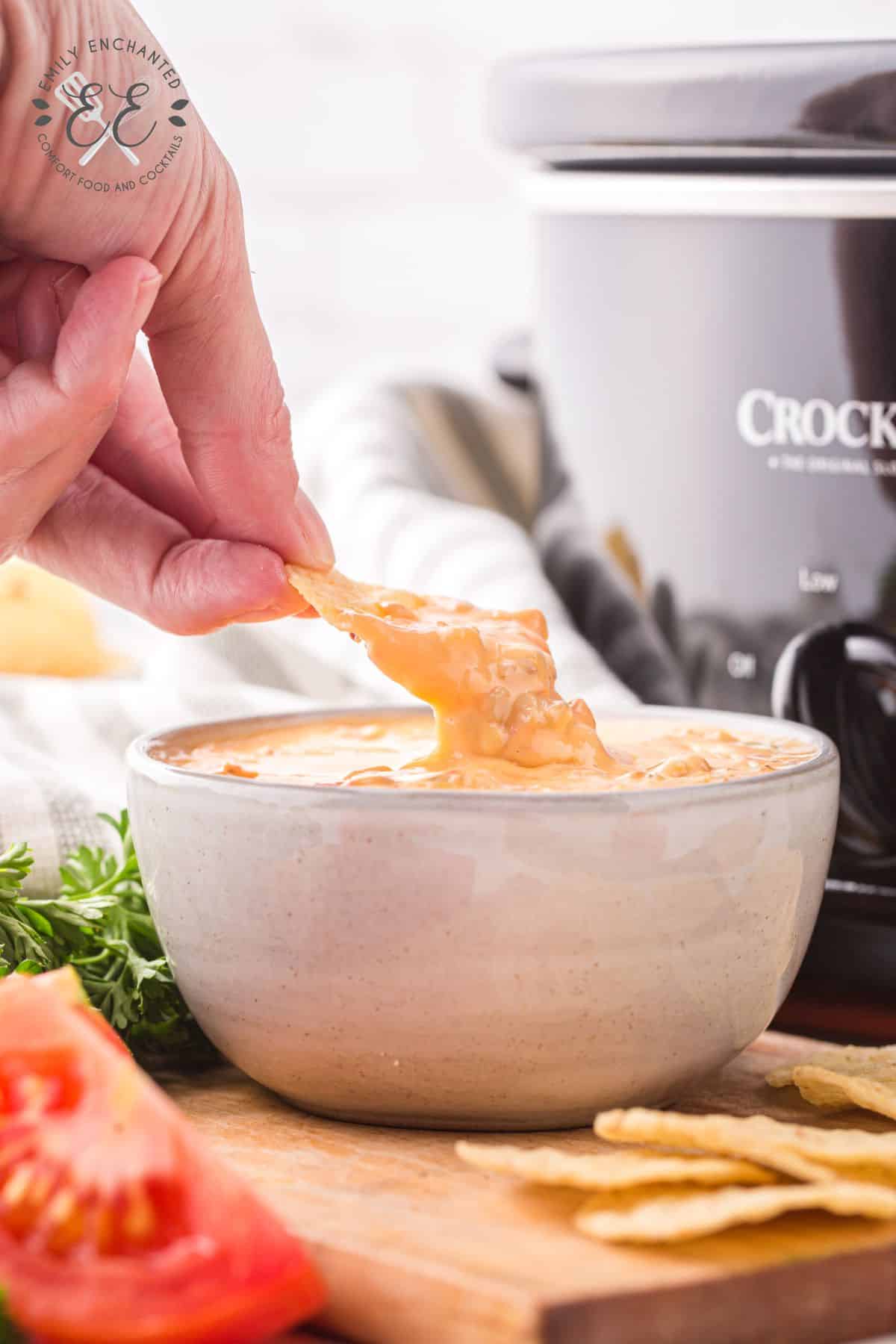 How to Adjust the Spice Level
It seems that everyone likes a different level of spice. From mild, no spice levels to the spiciest burn off your tongue levels, this dip can be modified for anyone.
The first modification to change the spice level of this dip is the Velveeta. You can use original for a mild, no spice base or you can use the Mexican Velveeta which has jalapenos in it for a little more kick.
You can also modify the spice level of this dip depending on which pico de gallo you use. Most stores have a mild and hot version to choose from. Some have other options or you can make your own with as much or as little spicy jalapeno as you'd like. Alternatively, you can use Rotel, drained, in place of the pico de gallo and use any of their many flavor and spice level options.
Finally, you can increase the spice level in this dip by using a spicy pork sausage or chorizo instead of a regular pork sausage. If using chorizo, be sure it is well drained after it is cooked or you will end up with too much excess grease in your dip. You can also use cooked, crumbled hamburger with lots of hot taco seasoning if you don't want to use pork.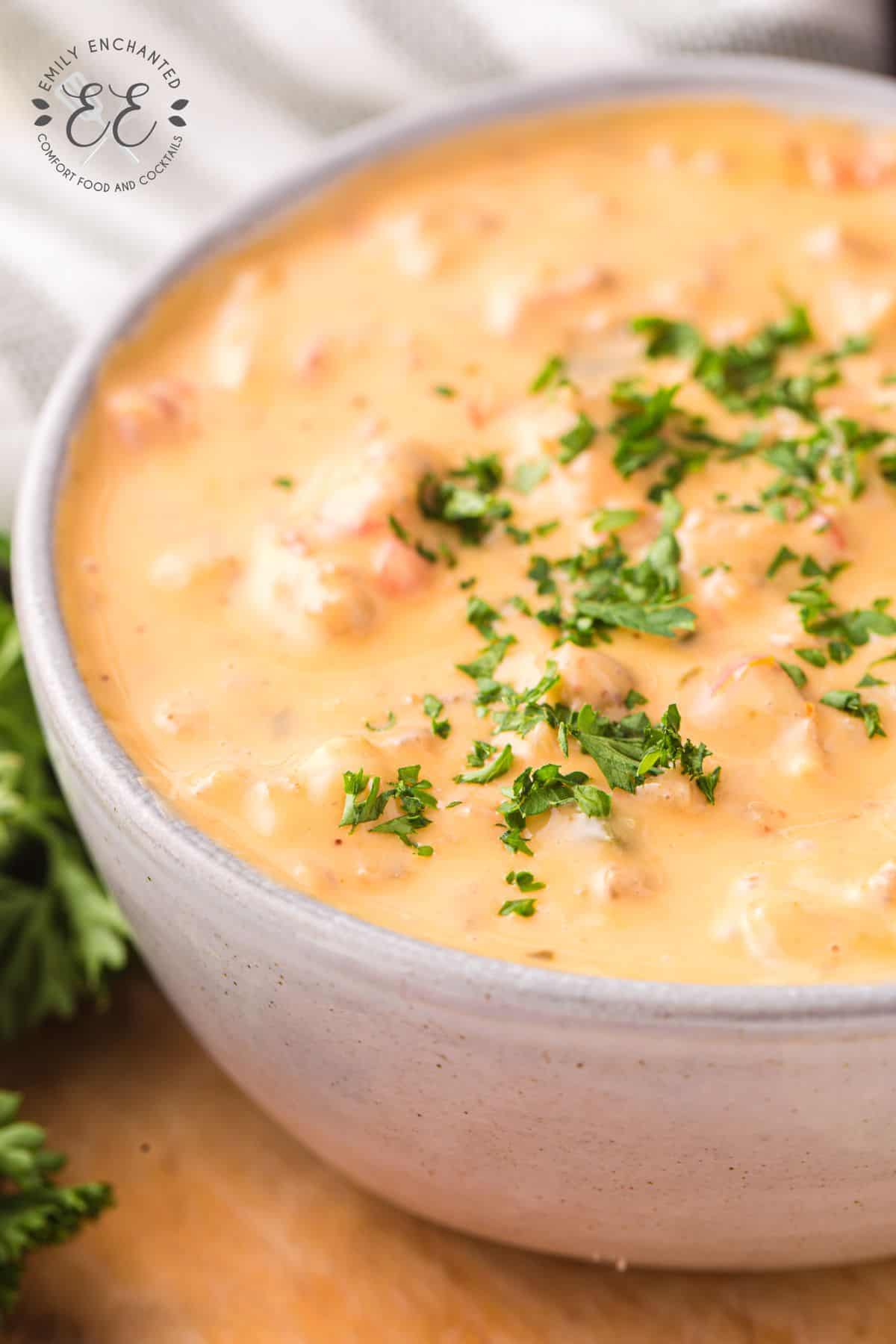 Serving Suggestions
Of course, tortillas chips are a must-have with queso, but here are some other ideas:
Assorted Crackers
Celery and Carrot Sticks
French Bread Slices
Pretzel Bites
Roasted Vegetables
More Delicious Dip Ideas
Crack Chicken Dip – from oven to table, serve this hot dip right in the skillet.
Hot Crab Dip with Cream Cheese – this classic dip will please even the pickiest eaters.
Homemade Hummus Recipe – nothing beats homemade and this dip is easier to make than you think!
Jalapeno Popper Dip – one of the best appetizers is now in dip form.