Hot Dog Twists are the perfect game day appetizer or after-school snack. They are fun to make and fun to eat! Dip them in your favorite condiments or some delicious homemade dips.
Hot Dog Twists are a fun "twist" on the classic Corn Dog. Why is it so much more fun to eat food on a stick? Maybe it is just easier! No plates are needed and you can enjoy cheering for your favorite team without worrying about spilling your food during that exciting touchdown. Hot dogs really are the best appetizer for a football party. I also love to make these Crock Pot Little Smokies.
I use pancake mix for this hot dog appetizer, but you can use pre-packaged crescent roll dough if you prefer. Maybe it's all in my head, but I like the pancake mix better! It is probably the little bit of sugar in the dough that makes it so mouthwatering. Whatever you decide to use, remember that dough expands a little bit when it is cooked, so make sure you roll the dough a little thinner than you want it, before wrapping it around the hot dog.
I have included recipes for 2 different dips below, and I recommend you make both of them. They are so good! You can also use regular ketchup, mustard, or queso dip.
This post contains affiliate links.
Hot Dog Twists Ingredients
hot dogs
pancake mix: You can use crescent roll dough instead of pancake mix.
water
vegetable oil
sour cream
mayonnaise
lime
chili sauce
chili powder
yellow mustard
honey
salt
You will need a large frying pan or a deep fryer. You also need short bamboo skewers. The sticks need to be short enough so that they fit in your frying pan.
How to Make this Hot Dog Appetizer
Making hot dog twists is easy but does require frying in a deep fryer or pan. If you have never fried anything in a pan before, I recommend watching this video on how to shallow fry before trying it yourself.
Take 4 hot dogs and cut them in half widthwise.
Poke a stick through half a hot dog.
Spiral cut the hot dogs by placing your knife diagonally against the hot dog while rotating. (Make sure you cut all the through to the stick and watch your fingers!)
Combine pancake mix with water. Divide into 8 portions. Roll the dough out into 5 inch strips
Roll the dough around the stick, in between the hot dog spiral.
Heat vegetable oil in a deep frying pan over medium heat. Add hot dog stick to pan and turn quickly and continuously until dough is golden brown. These fry very quickly. I burned my first batch!
Dab on paper towel to remove excess oil.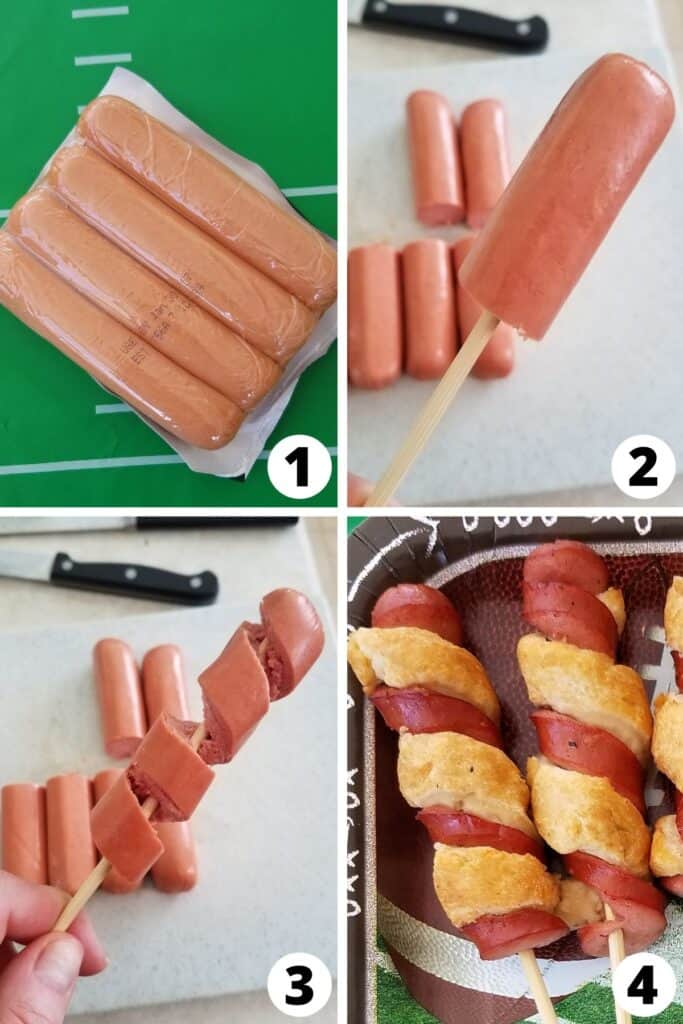 Dipping Sauces for Hot Dog Twists
Dipping sauces are so easy to make. Just mix all ingredients together for that sauce, add salt and pepper to your taste if you want, and serve!
Trust me, the Chili Mayo Sauce is not very spicy. Everyone will enjoy it! If it is still too spicy for you, you can add more mayo or sour cream.
Instead of making dipping sauces, you can just use the classic ketchup and mustard.