Dutch Oven Roasted Chicken is an easy, one pot dinner. Whole chicken is stuffed with aromatics and rubbed with olive oil to get that crispy finish.
If you're looking for a delicious and easy-to-make dinner, then you'll love this recipe. With just a few simple ingredients, you can have a tasty meal in no time at all. In just over an hour, you'll be able to enjoy succulent tender chicken that is oozing with flavor.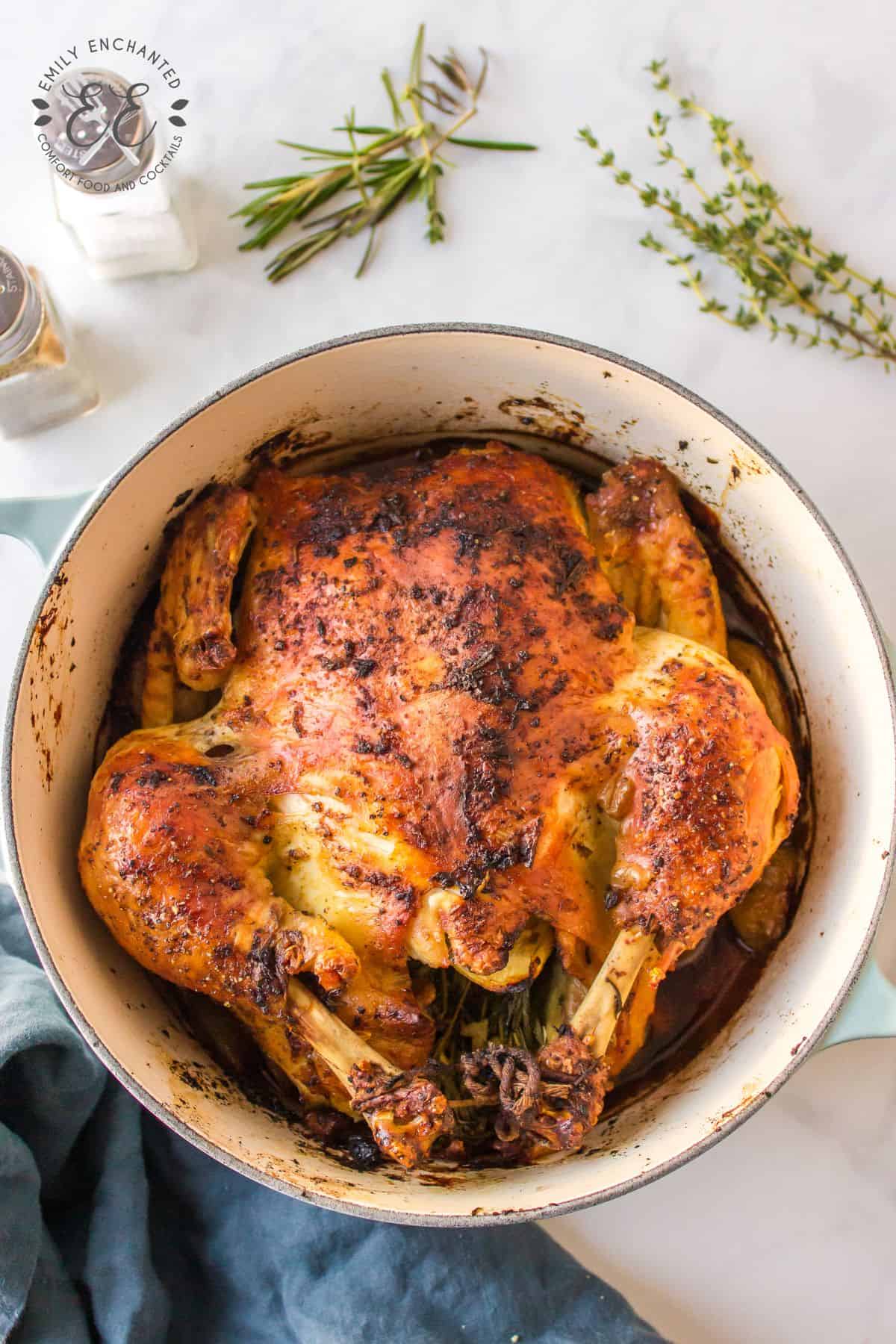 This post contains affiliate links.
Dutch Oven Roasted Chicken Ingredients
To make this roasted chicken recipe, you will need the following ingredients (see the recipe card below for exact amounts):
Whole chicken (4.5 to 5 pounds)
Sweet onion
Garlic cloves
Lemon
Fresh thyme
Fresh rosemary
Kosher salt
Freshly ground black pepper
Carrots
Small golden potatoes
Paprika
Onion powder
Olive Oil: You can substitute a half cup of butter.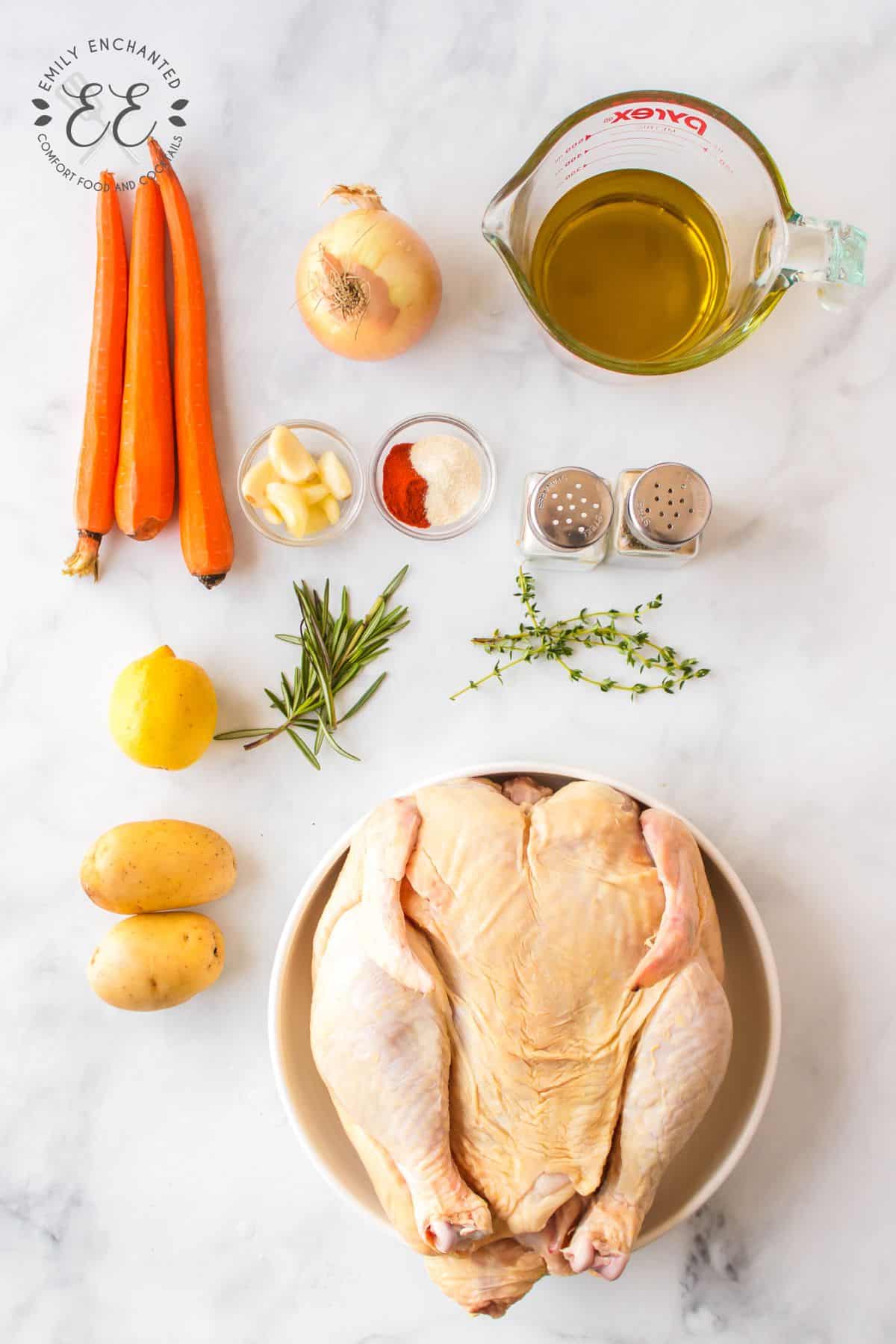 Special Tools Needed
Kitchen Twine – Tying a chicken's legs together, also called trussing, is a necessary step to ensure that the thighs and legs stay moist and do not burn. Kitchen twine is oven safe.
Dutch Oven – Dutch ovens are ideal for cooking because heat gets evenly distributed. You can use them both on the stove top and in the oven. They make one pot recipes a breeze!
Baster – Basting keeps the chicken moist while cooking in the oven.
The Lodge Dutch Oven is an affordable option and is very durable. I've been using mine for years!
How to Roast a Chicken in a Dutch Oven
Remove chicken from wrapping and remove any giblets if any. Pat dry with paper towels. Set aside.
In a bowl mix together the olive oil, minced garlic, fresh rosemary minced, fresh thyme minced, paprika, onion powder, and lemon juice. Set aside.
In the dutch oven, place the carrots, onion, and potatoes. Sprinkle 1 teaspoon kosher salt and 1 teaspoon freshly ground black pepper. Mix to combine and spread into an even layer. Place your chicken on top.
Stuff the chicken with the quartered lemon, 5 garlic cloves, fresh thyme sprigs, and fresh rosemary sprigs. Tie the legs together with kitchen twine and tuck the wings beneath the chicken. Brush the entire chicken with your olive oil mixture, getting every crevice. It's okay if it gets onto the vegetables. Sprinkle the chicken with kosher salt and freshly ground black pepper.
Preheat the oven to 425 degrees. Allow your chicken to sit at room temperature while it preheats. Roast covered for 70 minutes. Stir the vegetables underneath and baste the chicken with juices in between. Uncover and roast another 45 minutes or until the surface is brown, the juices run clear, and the internal temperature is at least 165 degrees.
Allow the chicken to rest for 30 minutes before serving.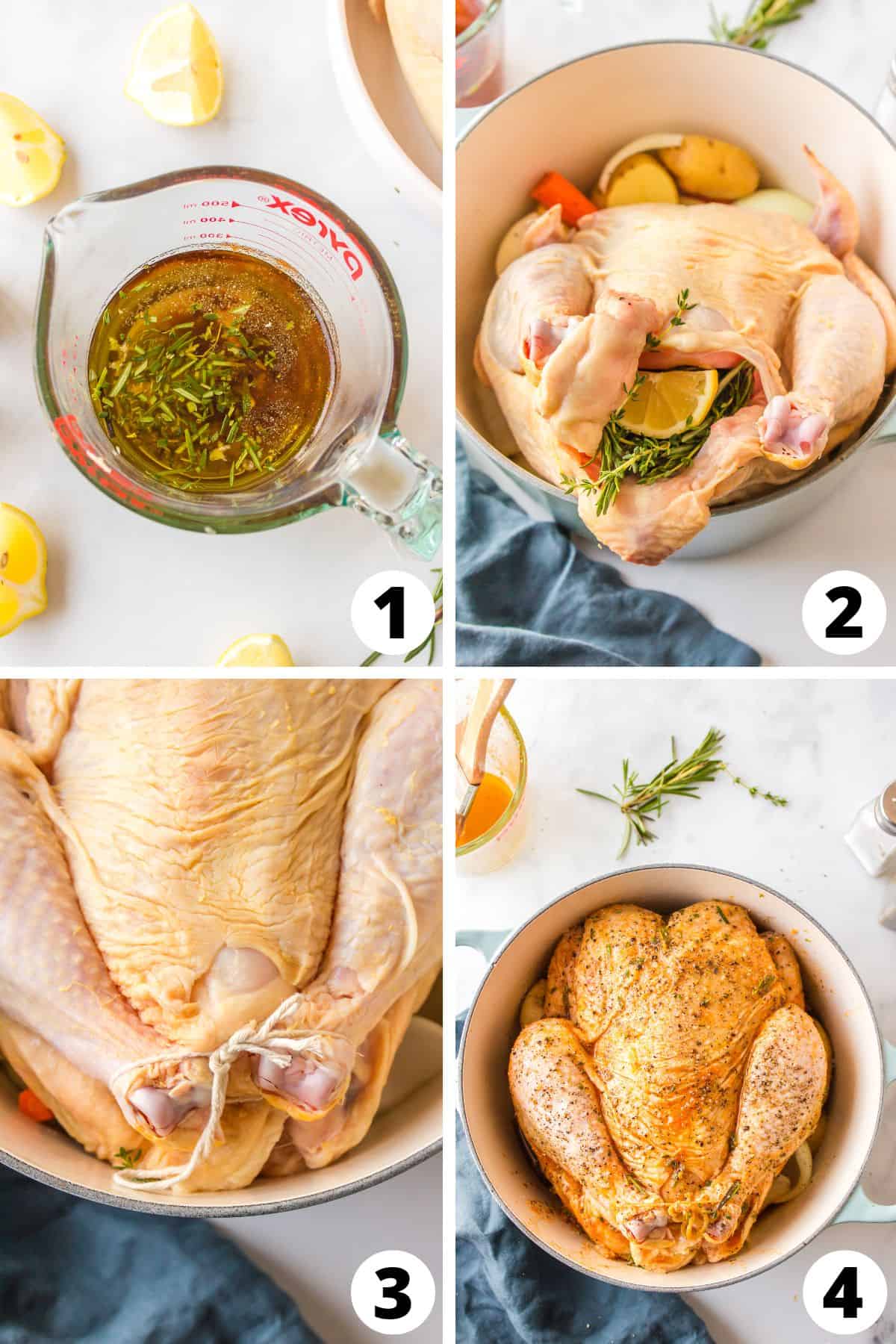 Can I make this recipe ahead of time?
Yes! The day before you wish to serve, follow all of the steps up to brushing the olive oil mixture on the chicken. Place the dutch oven with chicken and vegetables covered in the fridge, and olive oil mixture covered in the fridge separately. When ready to bake, allow chicken to come to room temperature, brush with the olive oil mixture, and bake.
FAQs
What is the best dutch oven?
Le Creuset is one of the leading dutch oven brands. They are very beautiful, but also very expensive. I use the very affordable and highly rated Lodge Cast Iron Dutch Oven.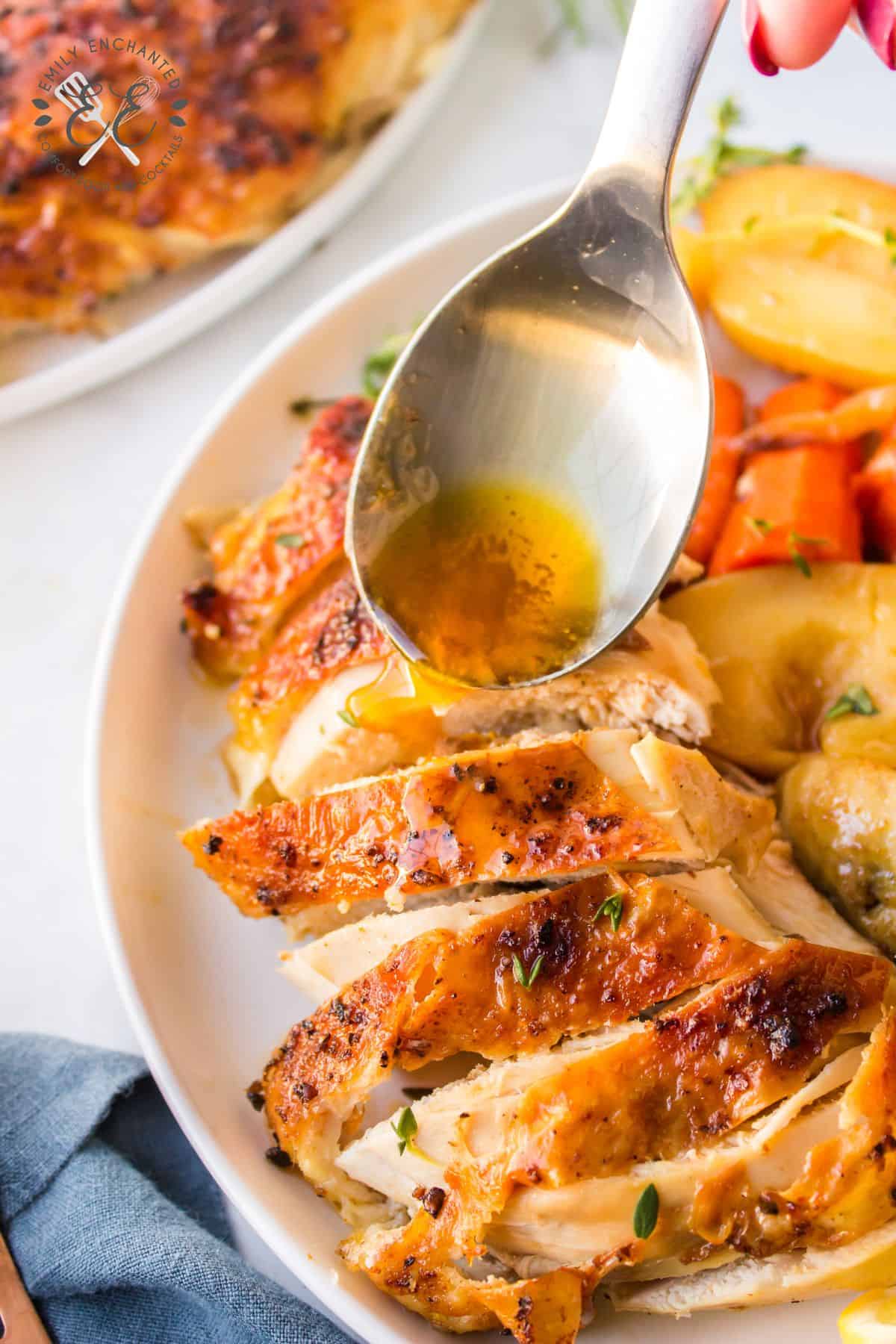 More Delicious Dutch Oven Recipes