For this Instant Pot Meatballs with BBQ Sauce recipe, you use 3 kinds of meat. I used 1 pound each of ground beef, pork and veal, just like in my Instant Pot Spaghetti Sauce recipe. You can use all ground beef if you prefer.
Bonus – these are also eggless meatballs! They are still very moist and hold together.
BBQ meatballs make a great appetizer, just stick a fancy toothpick in each! Or you can add to your favorite pasta dish. This Instant Pot Meatball recipe makes a lot of meatballs, perfect for your next family gathering or holiday party.
This post contains affiliate links.
Instant Pot Meatballs Ingredients
To make this meaty appetizer recipe, you will need the following ingredients (go to the recipe below for exact quantities and instructions):
ground beef
ground pork
ground veal
red onion
avocado or olive oil
thyme
Salt and Pepper
breadcrumbs or Panko
BBQ sauce
beef stock or broth
You will need an Instant Pot for this recipe. The Instant Pot Duo is a 7-in-1 Electric Pressure Cooker, Slow Cooker, Rice Cooker, Steamer, Saute, Yogurt Maker, and Warmer. This is probably the most common Instant Pot and works with this recipe.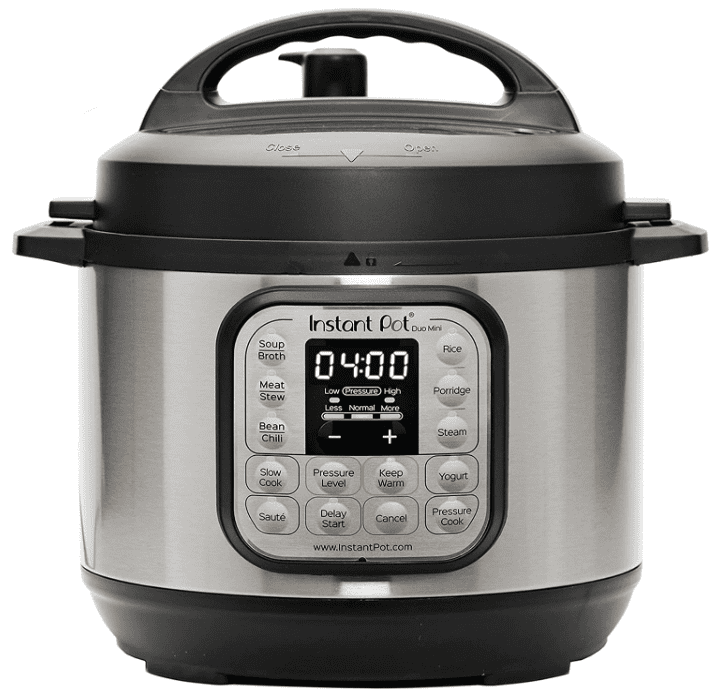 The Instant Pot Duo is simple and easy to use. This 7-in-1 appliance can pressure cook, slow cooker, steam, sauté & more.
How To Make Meatballs in an Instant Pot
This Instant Pot Meatballs recipe is super easy. Read through the directions before you start. You will need to make sure you have your Instant Pot trivet handy.
In a large bowl, mix together all of the meat, thyme, salt, pepper, 1 cup BBQ sauce, and breadcrumbs. Add more BBQ sauce or breadcrumbs as needed.
Heat the oil in the inner pot of the Instant Pot using the sauté setting on high. Add the onions and cook until brown. As they are starting to brown in the pot, add 1/3 cup BBQ sauce to caramelize them.
When done, turn off the Instant Pot and remove the onions. Add them to the large bowl with the meat mixture.
Pour the stock into the bottom of the Instant Pot, and set the trivet that came with your Instant Pot in the bottom of the inner pot.
Make uniformly sized balls and set them onto the trivet. Layering the meatballs is perfectly fine, just try not to flatten the bottom ones by pushing down. Optional: brush a little more BBQ sauce on top of the formed meatballs.
Check your sealing ring and then twist on the locking lid. Set the valve to sealing and select Manual mode for 6 minutes.
When the pressurized cook time has ended, let the Instant Pot naturally pressure release for an additional 6 minutes before carefully manually releasing the rest of the pressure.
Strain the meatballs. (There will be quite a bit of liquid in the pot around the meatballs, most of this is fat.)
Let the meatballs cool for a few minutes before plating.
Recipe Tips
The amount of time needed for cooking may vary if you are making larger or smaller meatballs.
More Appetizer Recipes You'll Love