This simple homemade hummus recipe tastes even better than a store-bought version. It uses canned chickpeas so there's no soaking or cooking involved.
This easy hummus recipe uses only 6 ingredients and is ready in 10 minutes. Simply add all of the ingredients to your food processor and blend them to create a thick and creamy hummus.
I love to make hummus for a healthy snack or a game day appetizer.
This post contains affiliate links.
Homemade Hummus Ingredients
To make this easy hummus dip, you will need the following ingredients (go to the recipe card below for exact amounts and directions):
Canned chickpeas: these are also called garbanzo beans.
Tahini: you can find tahini in the condiment aisle of the grocery store. Tahini is made from sesame seeds and is a must-have in this recipe.
Lemon juice: fresh lemon juice is best.
Garlic cloves: you can also use minced garlic.
Cumin
Salt
Extra virgin olive oil: optional
You will also need a food processor or blender. Personally, I love the Ninja Blender for making thick sauces.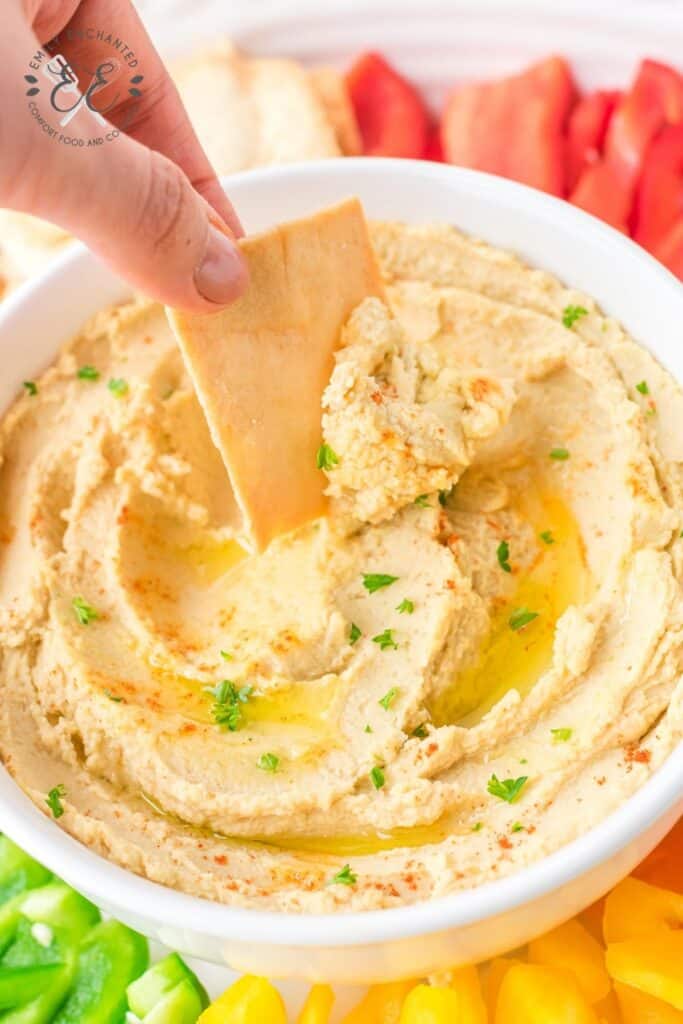 How to Make Dip from Chickpeas
Add all ingredients to a food processor or blender. Pulse several times and then blend until smooth.
If needed, add additional water (one tablespoon at a time) until your hummus reaches the desired consistency.
Drizzle with olive oil and serve with chips, veggies or fruit for dipping.
What to Serve with Hummus
Hummus is best served with chips or veggies for dipping. Popular favorites include warm pita bread, pita chips and sliced vegetables like carrots, celery or bell peppers. Drizzle olive oil on top and garnish with fresh parsley for some extra flavor.
Storage Instructions
Leftover hummus will stay good in the fridge (covered) for 3 – 4 days.
Hummus Tips
Customize the recipe: this is an easy recipe to customize to your favorite flavors. Adjust the amount of ingredients like lemon, salt, and garlic if you prefer.
To make it spicy: add a couple pinches of red pepper flakes to your plain hummus.
Blending your hummus: pause to scrape the hummus from the sides of the blender into the bottom. This will help it blend evenly.
FAQs
Do I need to peel the chickpeas?
Peeling the chickpeas will make a slightly smoother hummus. It is not necessary to peel the chickpeas and saves time.
Can I make hummus without tahini?
Yes, however the taste will be different. You will need to add more olive oil to get the right consistency.
More Dip Recipes You Will Love