This Beef Taco Foldover is a viral Tiktok tortilla wrap hack recipe that has taken social media by storm. Beef filling, bean dip and cheese are wrapped up and grilled for a delicious meal.
These foldovers are similar to quesadillas but take it to the next level. I like to add sour cream and guacamole on top. And if you have leftover beef, you can make this Taco Casserole.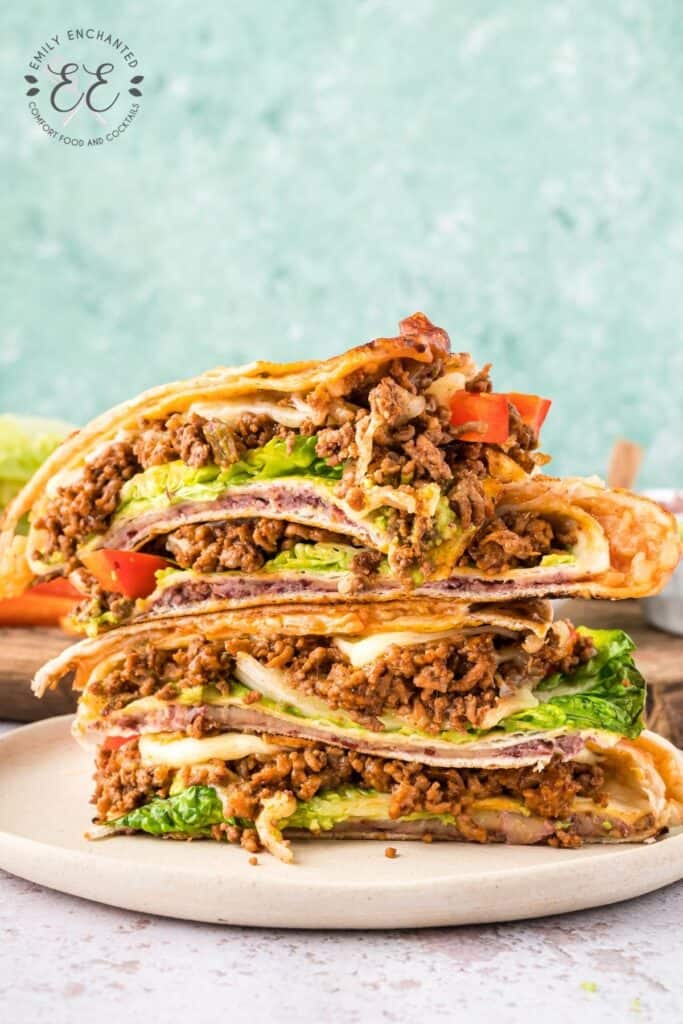 This post contains affiliate links.
Beef Taco Foldover Ingredients
To make this delicious taco wrap recipe, make sure you have the following ingredients on hand (see the recipe below for exact amounts and instructions):
Avocado
Lettuce
Bell pepper
Salsa
Mozzarella cheese: Use whatever cheese you like best and melts well. You can also mix different cheeses. Use more if you like. Choose your own cheese destiny.
Soft tortillas
Ground beef: You can substitute shredded beef if you prefer.
Tomato paste
Taco seasoning: make your own blend or use these packets
Salt and pepper
Kidney beans
Garlic clove
Cumin
Water, optional
How to Make a Taco Foldover
This recipe will show you how to make a foldover from scratch. If you want an easier method, you can use some shortcuts such as buying pre-made bean dip.
Step 1. Make the bean dip
Put the bean dip ingredients into a food processor and blend until smooth. You might need to add 2-3 tablespoons of cold water. Add salt and pepper to taste and set aside.
Step 2. Make the beef filling
Heat up a pan over medium high heat and cook the beef until no longer pink, breaking it up while cooking. Stir in the tomato paste and the taco seasoning and cook for another 3-4 minutes, adding salt and pepper if necessary and set aside.
Step 3. Add ingredients to the tortillas
Mash the avocado with a fork and add salt and pepper to taste.
Place one tortilla on a cutting board and make one cut to the middle.
Place the filling for the wrap in each quarter: avocado, lettuce and bell pepper left from the cut, ground beef left top, bean dip right top and salsa sauce and cheese right bottom.
Now start folding the tortilla by starting with the piece left from the cut.
Step 4. Grill the foldovers
Heat up a pan over medium heat and cook the wrap 2-3 minutes per side. (I like to use a cast iron skillet for even heating.) Turn them over with the open side facing up so you don't spill the filling. Press down with a lid for a more even browning.
Serve hot with sour cream, salsa or guacamole.
Tips for This Recipe
Before adding the ingredients, fold the wrap two times in half. Open it again and you will see little marks that you can use as a guide to know where to put the ingredients.
Place the fresh ingredients like salad, tomatoes or bell peppers left of the cut, so it will be in the middle later and doesn't get too warm. Place the cheese right from the cut so it will be on the outside later, melt perfectly and keep the wrap together.
Don't use any oil in the pan to cook the tortilla. It will get too soggy and the oil accelerates the heating outside so it will get brown very fast but the cheese won't be melted properly.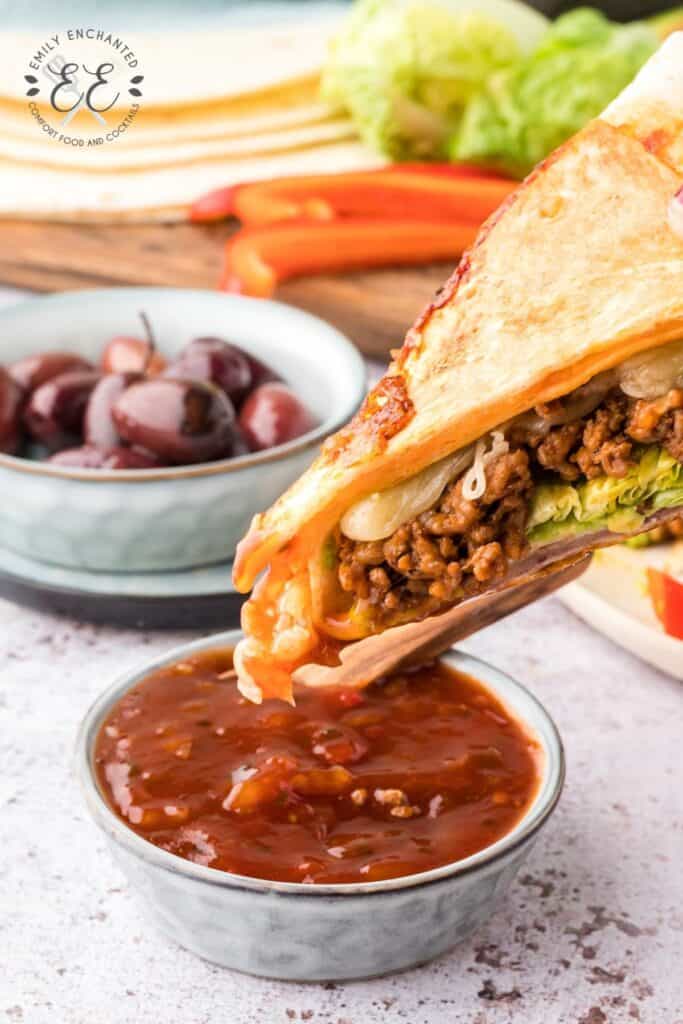 Variations
Add different vegetables like tomatoes or corn instead of bell peppers.
If you like it spicy, add jalapenos or chipotle.
For a super easy and quick tortilla you can use store bought guacamole and bean dip.
Can I Double the Recipe to Feed a Large Family?
Yes, easy. You can double or triple the ingredients. You can also make more of the beef filling ahead and freeze it in portions.
Can I Make This Ahead of Time?
You can make the fillings like ground beef, bean dip and mashed avocado (add some lime juice so it won't get brown) ahead, grate the cheese and cut the bell peppers. Then assemble and cook fresh, it will taste best freshly cooked and warm.