Taco Tuesday can't get better with these quick and easy crispy chicken tacos. Start with shredded cooked chicken (rotisserie is a great choice), add the spices and salsa, then add to the warmed tortillas. Fold tortillas over and bake till crispy. Serve with your favorite toppings.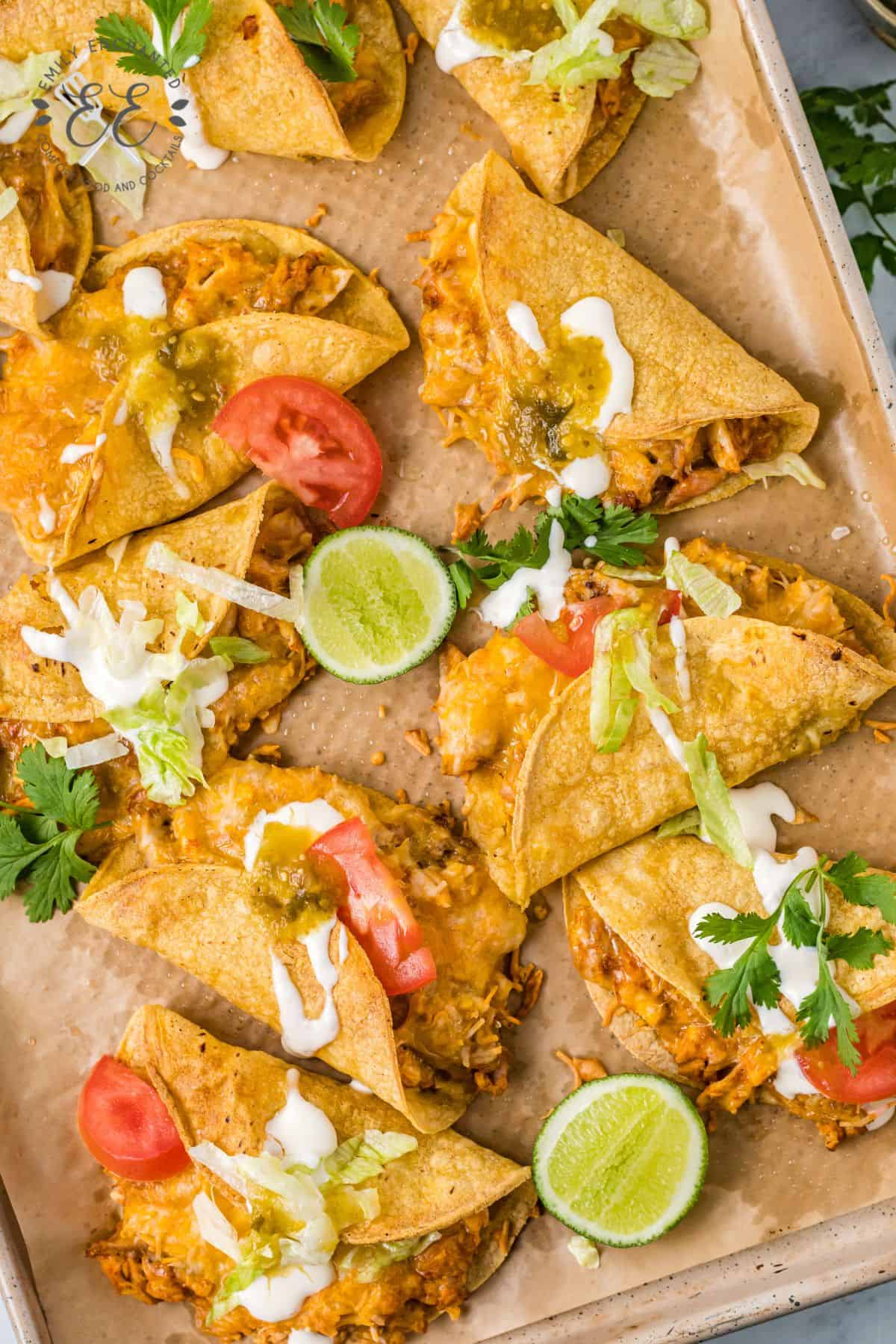 Crispy Chicken Tacos Ingredients
To make this chicken taco recipe, you will need the following ingredients (see the recipe card below for exact amounts):
Tortillas: corn tortillas are best.
Chicken: you can cook your own or use rotisserie chicken. Instead of shredded chicken tacos, you can also make ground chicken tacos.
Smoked paprika
Cumin
Garlic powder
Onion powder
Salsa Verde: I like to use a green salsa for this recipe, but feel free to use a red salsa if you prefer.
Mexican blend cheese: you can use any cheese you like.
Olive oil
Shredded lettuce
Roma tomatoes
Sour cream
How to Make Crunchy Chicken Tacos
Preheat the oven to 400°. Line a cookie sheet with parchment paper and spray with cooking spray.
Heat the tortillas for 30-45 seconds in the microwave and keep warm while making the tacos. This will help prevent them from breaking.
Combine the chicken, paprika, cumin, garlic powder, onion powder and salsa together in a bowl.
Brush a tortilla lightly with oil on both sides and spread a heaping tablespoon of chicken to the tortilla. Grab a handful of cheese and sprinkle over the filing. Fold the tortilla over and continue till all the tortillas are filled.
Place the pan in the oven and bake until crispy, approximately 10-15 minutes.
Remove from the oven and top with lettuce, tomatoes and sour cream.
Serve immediately.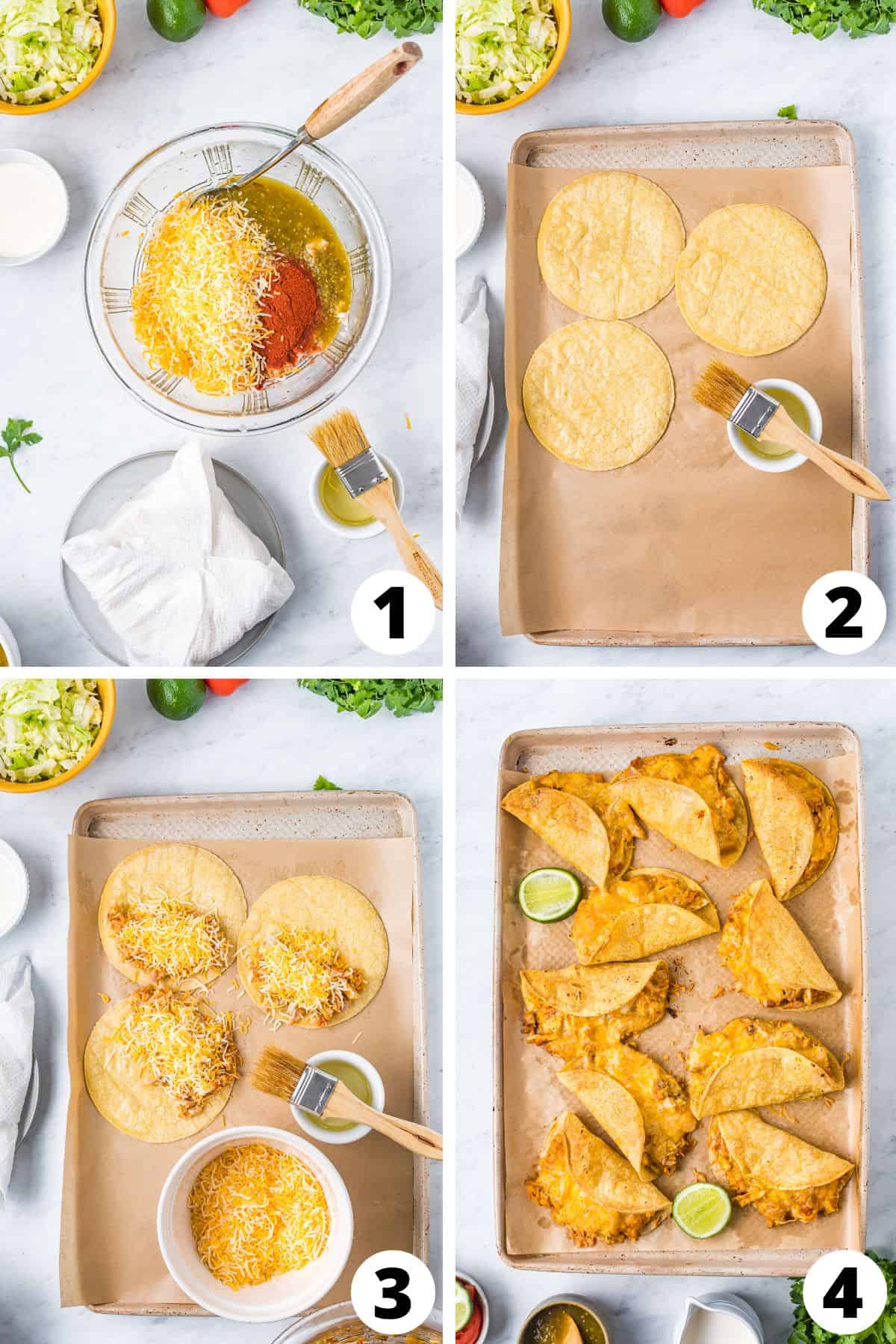 Recipe Tips
I like to wet a couple paper towels, then squeeze them out. Place the tortillas in the middle and fold the paper towels over it. Warm in the microwave for 45 seconds.
Brush the tortillas lightly on both sides with olive oil. This will help the tortillas get nice and crispy when baked.
Placing the tortillas folded edge to folded edge can help keep them closed while baking. Or you can use a toothpick to keep them closed.
Storage Instructions
These are best eaten immediately or they can get soggy. Store in an airtight container in the refrigerator for up to 5 days.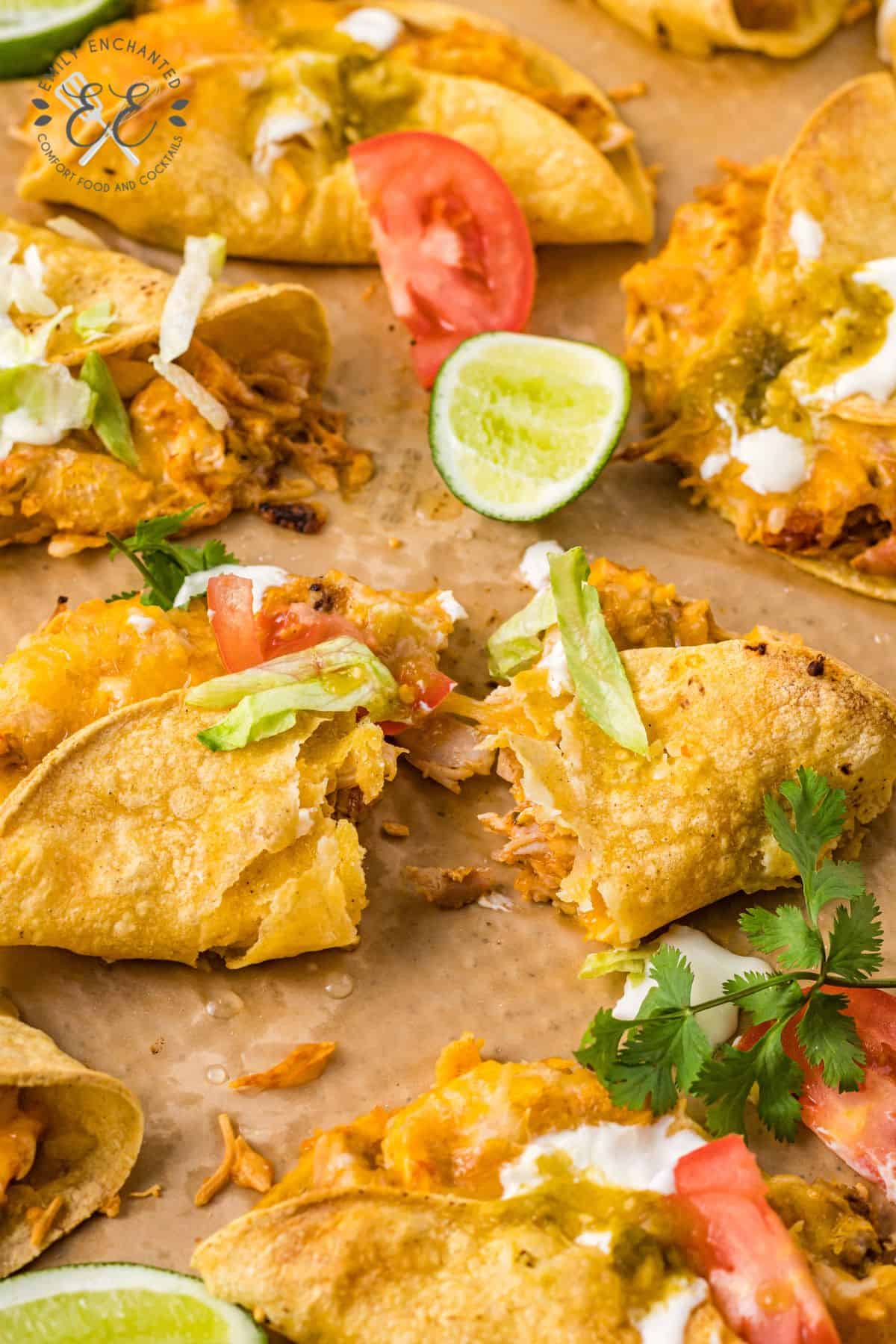 FAQs
What is the best way to shred chicken?
You can shred chicken with two forks, but I find this can take some time. The best and quickest way to shred chicken is to use a hand mixer or stand mixer. Let the mixer do the work! Your chicken will be shredded in seconds.