Chile Relleno Casserole is a delicious dish of roasted poblano peppers baked in a cheesy egg mixture. This recipe is the ultimate comfort food!
Relleno (pronounced reh-YEH-no) is a pepper stuffed with cheese, dipped in egg batter, and fried. This recipe deconstructs the relleno and bakes it all in one dish!
If you love Southwest cuisine, you are going to love this twist on a classic Mexican dish. Poblano peppers are very mild, so anyone will be able to enjoy this Mexican casserole.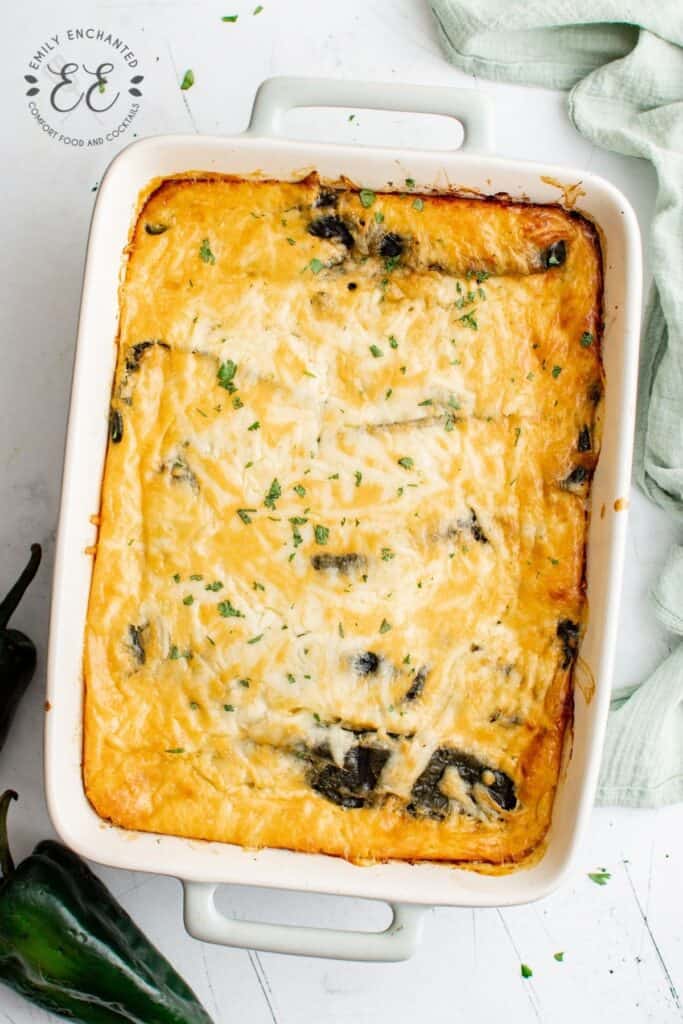 Chile Relleno Casserole Ingredients
To make this chile rellenos recipe, you will need the following ingredients (see the recipe card below for exact amounts):
Poblano peppers
olive oil
eggs
evaporated milk
all-purpose flour
salt
cumin
paprika powder
baking powder
Monterey Jack cheese
How to Make Chile Relleno Casserole
Preheat the oven to 400 degrees Fahrenheit and line a large baking pan with aluminum foil or parchment paper.
Remove the stems and slice the peppers on one side lengthwise, leaving the peppers intact, and then remove the seeds. Place the Poblano peppers on the baking pan evenly spaced then drizzle on the olive oil and bake for 20 minutes. Flip the peppers over and bake for 10 more minutes or until the tops have charred a bit.
In the meantime, whisk together the eggs, milk, flour, salt, cumin, paprika and baking powder in a large bowl then set aside.
Once the peppers are done, reduce the oven heat to 350 degrees Fahrenheit. Let the peppers cool until you can safely handle them then remove the skin and slice each pepper in thirds lengthwise.
Pour 1/3 of the egg mixture into a 9 by 13-inch baking pan or a casserole dish then add ½ of the peppers on top along with 1/3 of the cheese sprinkled on top.
Pour half of the remaining egg mixture on top followed by the remaining pepper slices.
Pour on the remaining egg mixture followed by the remaining cheese and cover loosely with aluminum foil then bake for 20 minutes.
Remove the foil and bake again for 15-20 minutes or until the center no longer jiggles. Slice and serve with freshly chopped cilantro for garnish if desired.
Storage Instructions
This casserole can be stored in an airtight container in the fridge for up to three days.
Variations
For a more flavorful and spicier dish, try roasted Hatch green chile. These New Mexico peppers are seasonal and can be hard to find if you live in other parts of the country, but they are soooo good. Green chile can be super spicy but is loaded with flavor. The canned green chile in the grocery store has nothing on fresh roasted pepper. It is addicting!
What to Serve with Poblano Pepper Casserole
While this dish could be eaten as a main meal, rellenos are traditionally a side dish. Try serving with one of these yummy Mexican recipes: