This post contains affiliate links. As an Amazon Associate I earn from qualifying purchases. View our Privacy Policy.
Crock Pot Beef Tacos is a super easy slow cooker recipe perfect for Mexican dinner night! Tender beef is cooked for 6 hours. Serve on warm tortillas with your favorite toppings.
The flavorful beef will fill your house with a delicious aroma while it cooks in the crockpot, leaving you eager for dinner to be ready. Want a quicker recipe? Try my crispy chicken tacos.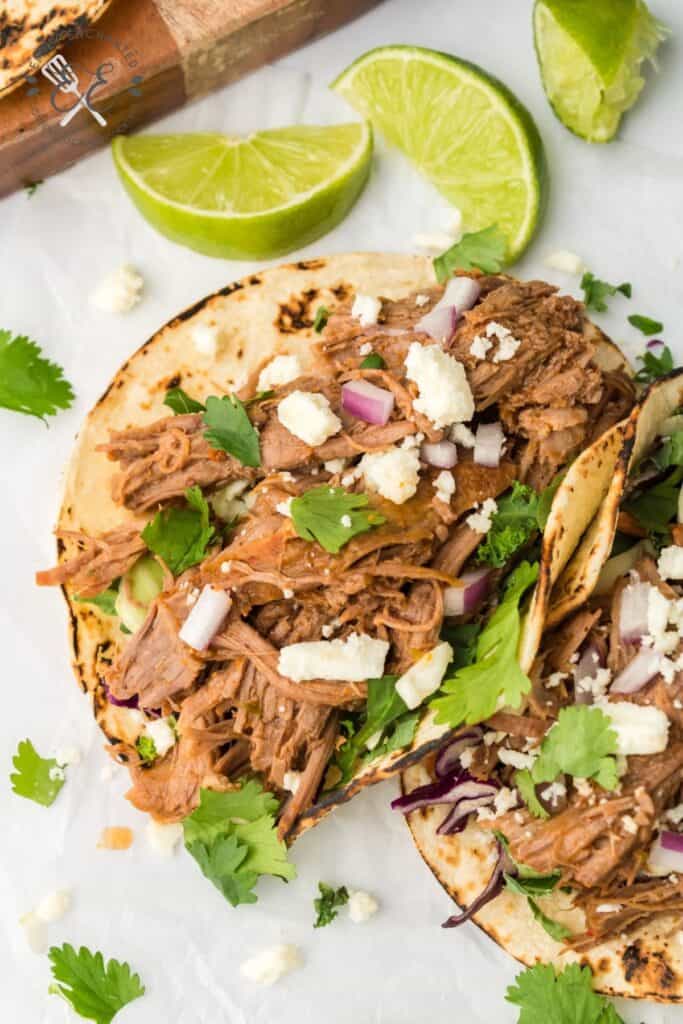 Crock Pot Beef Tacos Ingredients
To make this shredded beef taco recipe, you will need the following ingredients (go to the recipe below for exact quantities and instructions):
Beef roast: Bottom round or chuck are best.
Taco seasoning mix
Beef broth
Corn tortillas: Substitute hard tacos or soft flour tortillas if you prefer.
Red cabbage mix
Lime juice (optional)
How to Make Shredded Beef Tacos in the Slow Cooker
Place the roast, seasoning, and broth in the Crock Pot. Cook 4-6 hours on low or until beef pulls apart easily with a fork.

Shred the beef on a cutting board and place it back in the Crock Pot. Stir and continue to cook on low another 15 minutes.

Heat the corn tortillas in a pan to brown both sides. This can also be done in a toaster oven on toast setting.

Strain the beef, allowing most of the juices to drain.

Place desired amount of cabbage mix on a tortilla. Top with beef. Add a squeeze of lime juice (optional). Top with favorite toppings.
How Do I Char the Tortillas?
If you have a gas stove or grill and want your tortillas charred, place directly on burner or grill on low and flip every 5-10 seconds.
Do I Have to Strain the Meat?
Straining most of the juices before making your taco will prevent the tortilla for getting soggy and breaking.
Best Taco Toppings
I think this is best served with a small amount of cabbage, a squeeze of lime juice, and cilantro. Here are some ideas of what to serve on beef tacos:
red onion (raw or pickled)
slaw mix, red cabbage or lettuce
cotija cheese
crema
lime juice
jalapeno
Storage Instructions
Fridge: Leftovers can be stored up to 4 days in refrigerator.
Freezer: If using a fresh roast, leftovers can also be frozen up to 3 months. Place meat and some of the juices in freezer bag or freezer safe container.
How Do I Reheat Shredded Beef for Tacos?
Place in saucepan to reheat. Leftovers are great for rice bowls, quesadillas, and nachos.