Crispy Baked Chicken Thighs are perfectly seasoned and baked to perfection until they are crispy and golden brown. These chicken thighs are full of flavor and so juicy.
Dijon and yellow mustard are paired with honey, garlic, and red pepper flakes to create a bomb flavor for this easy chicken dinner. This is one of the best quick chicken recipes!
Chicken thighs baked in the oven is the best way to cook chicken. Leaving the skin on and bone in makes them so juicy and holds in the flavor, perfect dinner ideas for picky eaters.
If you would rather cook chicken thighs in a pan, try my Chicken Florentine recipe.
This post contains affiliate links.
Crispy Baked Chicken Thighs Ingredients
To make this delicious chicken recipe in the oven, you will need the following ingredients (jump to the recipe below for detailed amounts):
Chicken thighs: leave the bone in and skin on for maximum flavor and for the juiciest chicken. You can also use boneless chicken thighs or chicken breast if you are in a pinch. I get my chicken from my local meat store. The quality of the chicken is so much higher than grocery store chicken.
Salt and Pepper
Olive oil
Dijon mustard: feel free to substitute this with stone ground mustard.
Garlic: I used a pre-minced garlic in a jar, but you can use fresh minced or pressed garlic.
Red pepper flakes: This helps add the slightest bit of spice to the chicken thighs. You can leave this out if you are sensitive to spice.
How to Bake Chicken Thighs in the Oven
Baked chicken recipes are pretty simple. All you need to do is mix the ingredients and bake the chicken.
Preheat oven to 425 degrees F.
Season the chicken. Season both sides of chicken thighs with salt and pepper. Place thighs into a 9×13 baking dish.
Mix the ingredients. Whisk together remaining ingredients EXCEPT for the parsley garnish and pour over chicken. Roll the chicken in the sauce until chicken is coated.
Bake the chicken. Leave chicken thighs skin side up. Bake for 35 minutes or until chicken has reach 165 degrees F. Skin should be crispy and golden brown. Let chicken sit for 10 minutes before serving.
Garnish the chicken. Spoon on some of the sauce from the pan and sprinkle with chopped parsley, optional. Enjoy!
What Can I Eat With Baked Chicken Thighs?
You can eat baked chicken thighs by themselves, with a side dish, on top of rice or pasta, or shred the chicken and make tacos! Here is a full list of ideas:
Steamed green vegetable, such as asparagus, green beans, or broccoli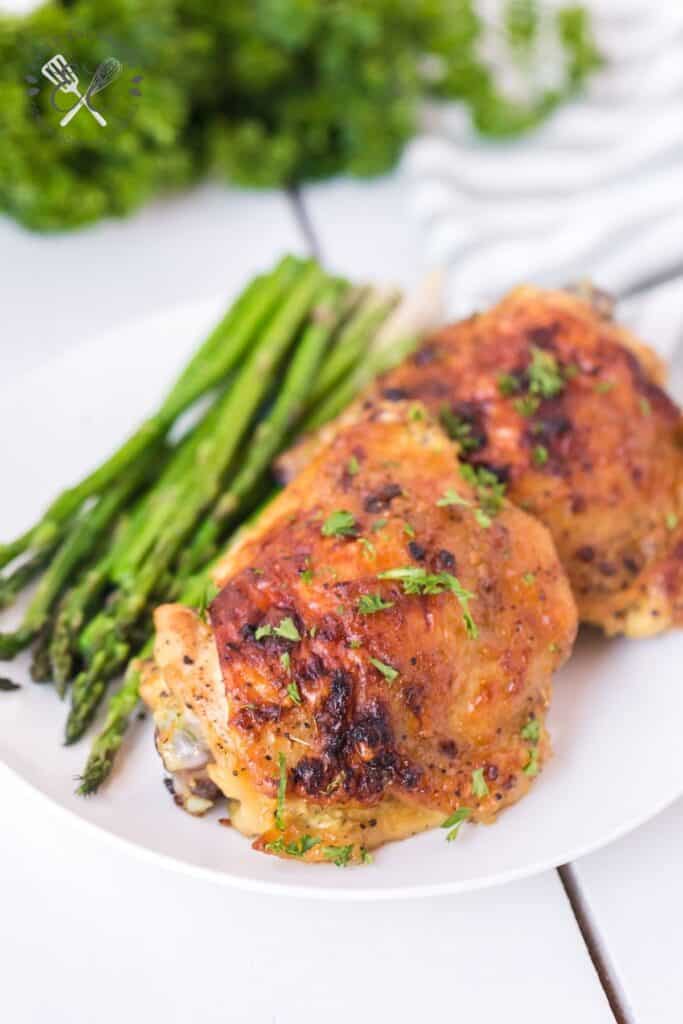 Storage Instructions
You can store cooked chicken thighs for up to 3-4 days in the refrigerator.
FAQs
Can I Freeze Cooked Chicken Thighs?
Yes, you can freeze cooked chicken thighs for up to 3 months in the freezer for best quality.