Parmesan Chicken and Cheese Tortellini is a delicious and comforting dinner recipe. Cheese filled tortellini noodles are cooked with chicken breasts and covered in a creamy white wine parmesan sauce with spinach.
This recipe is so rich and delicious, you will think you are eating something from Cheesecake Factory. Some call it my "extra special chicken."
This recipe is so divine, you could even make it into a tortellini soup or a cold side dish.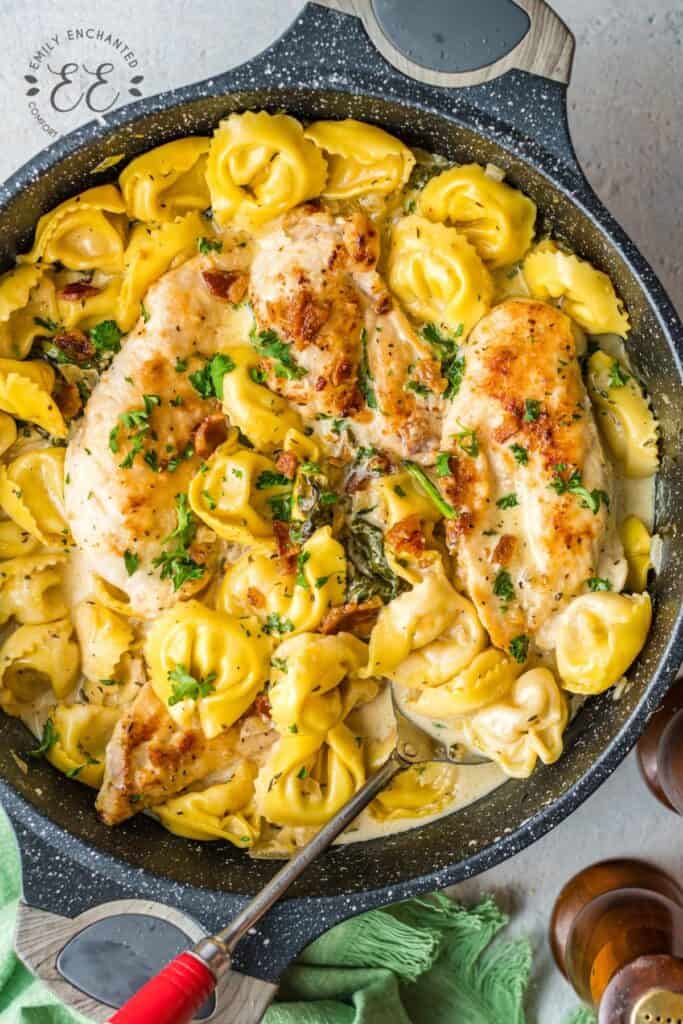 Chicken and Cheese Tortellini Ingredients
To make this chicken and pasta recipe, you will need the following ingredients (go to the recipe below for exact quantities and instructions):
Chicken breast: sliced in half horizontally and pounded flat. You can cut into strips if you prefer.
All Purpose Flour
Garlic: fresh or pre-minced
Unsalted butter
Onion
Thyme leaves: fresh or dried
Baby spinach: you can use regular and just chop it a bit
Dry white wine: a Pinot Grigio or Sauvignon Blanc is best for this
Chicken broth: low sodium or regular
Tortellini: I used a cheese tortellini, but any tortellini is fine
Heavy cream: this is needed for the creamy sauce
Parmesan: fresh shredded is best, but you can use some that is already shredded
Lemon juice: fresh squeezed is best
Bacon
Parsley: fresh is best, but you can also use dried
Salt and pepper
How to Make Chicken Tortellini with Spinach
In a small bowl, combine the flour, salt and pepper. Dredge the chicken in the flour until coated. Heat a little olive oil in a skillet and place the chicken in the pan. Sear until browned on both sides. Remove the chicken.
Melt the butter and cook the onion and garlic for a few minutes. Add the thyme and spinach and cook till the spinach is wilted. Add the wine and chicken broth and heat till simmering.
Add the tortellini and cook for 10 minutes. Check for doneness. Stir in the cream, parmesan and lemon juice.
Add the chicken to the pan and pour some of the sauce over the chicken. Add the bacon and sprinkle with some parsley.
Do I Have to Pound the Chicken?
Pounding the chicken breasts flat makes them an even thickness, which helps you get a nice crisp chicken cutlet.
What Can I Serve with Chicken Tortellini?
Since this dish has everything you need, it really is a complete meal by itself. For a simple meal, serve with garlic toast or rolls.
You could also serve it in smaller portions as a side dish.
Storage Instructions
Store in an airtight container in the refrigerator for up to a week.
More Delicious Chicken and Pasta Recipes