This Cauliflower Potato Salad is so delicious, you won't even notice it is not made with real potato! Perfect for summer barbecues and picnics, this recipe is low carb and Weight Watchers friendly.
My new favorite thing to do is to replace carbs with cauliflower. I can enjoy so many of my favorite foods without feeling the carb crash or feeling overly full.
This salad is really delicious, with a lot of flavors overpowering the cauliflower taste. This recipe is just as good as real potato salad. It is also Weight Watchers friendly.
Some Weight Watchers potato salad recipes use potatoes and replace the mayo with yogurt, but I love mayo so much that I prefer this version!
Cauliflower Salad Ingredients
To make this mock potato salad, you will need the following ingredients (scroll down to the recipe below for precise amounts):
cauliflower
light mayonnaise
mustard: yellow or dijon mustard
dill pickle
onion: you can use red onion or sweet onion, finely chopped
celery: finely chopped
hard boiled eggs
olive oil
salt and pepper
garlic powder
How to Make Potato Salad with Cauliflower
In order to make cauliflower salad, I recommend prepping all your items before you start cooking the cauliflower. I like to use little bowls for all the ingredients until I need them. Besides baking the cauliflower, prepping the rest of the ingredients only takes 5 minutes.
Preheat oven to 375.
Bake the cauliflower. Cut the large head cauliflower into bite size pieces and add to a large bowl. Pour olive oil, 1 tsp of salt, pepper and garlic powder into the bowl. Mix until coated. Spread cauliflower on a baking sheet and bake in oven for 30 minutes or until cauliflower is fork tender. Remove and let cool.
Hard boil the eggs. While cauliflower is baking, hard boil the eggs by placing eggs in a pot with water just covering the eggs. Bring to boil, turn off heat and let set for 10-12 minutes. Transfer to bowl of ice water to cool the eggs. [You can skip this step by purchasing pre-packaged hard boiled eggs.]
Mix everything together. Place the diced onion, pickle and celery in a large bowl. Add the cooled cauliflower florets. Dice the eggs and add to bowl. Add remaining ingredients and mix till combined.
Let cool. Refrigerate the cauliflower salad for at least one hour.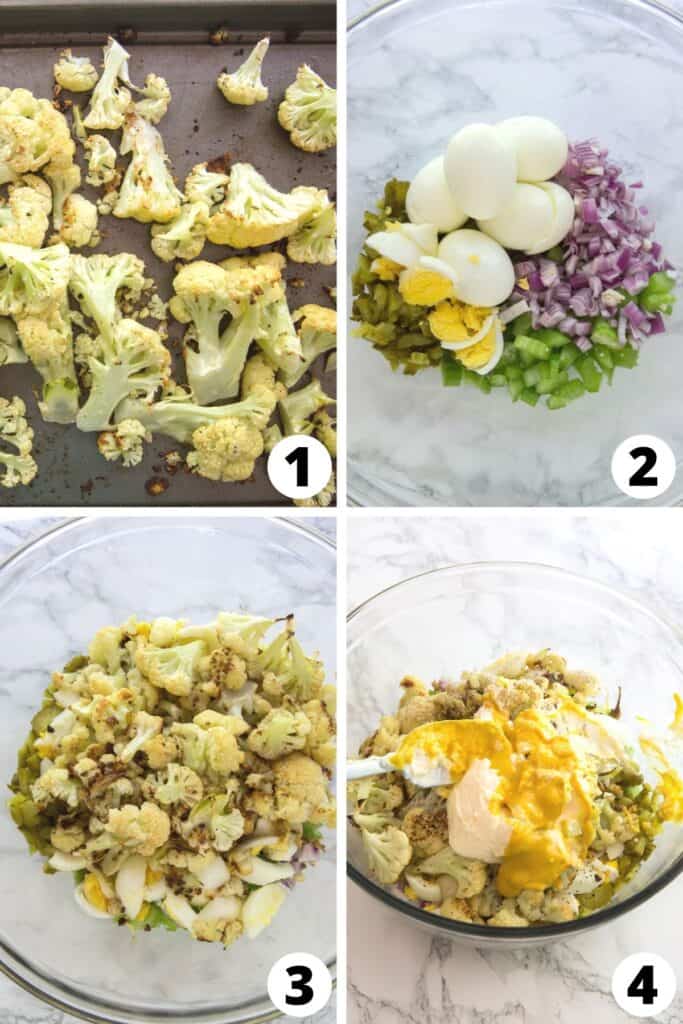 Other Healthy Recipes
If you love this low carb side dish, try these other recipes: