Instant Pot Mexican Street Corn is a delicious off the cob version of traditional Elote. It's a little crunchy, creamy, and melts in your mouth. Use herbs and spices just like you would if you grilled corn on the grill.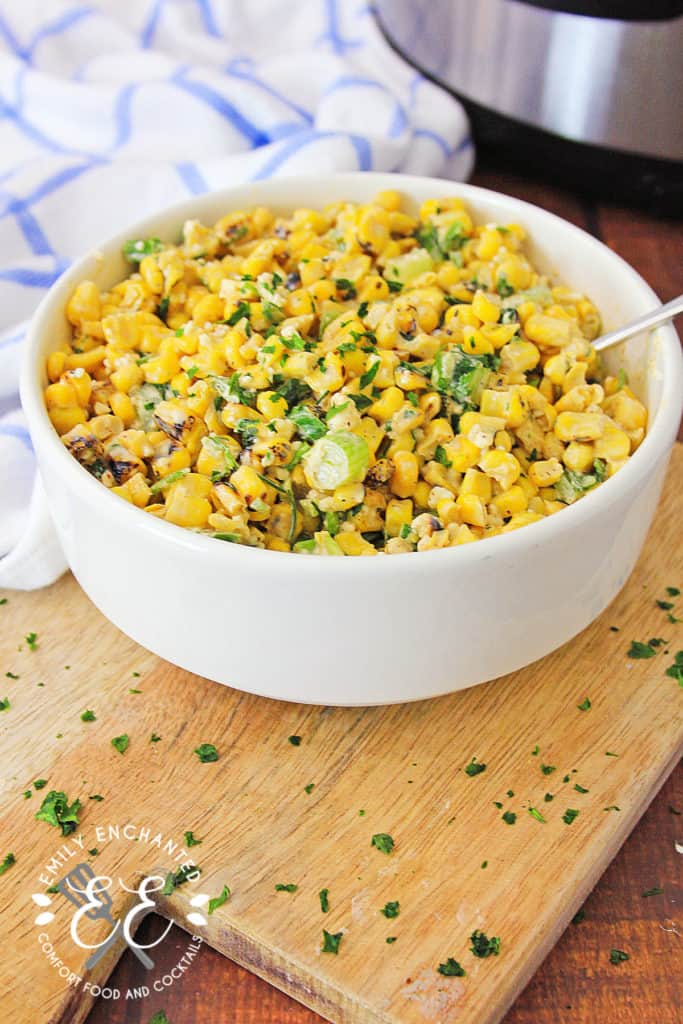 What Is An Instant Pot?
An Instant Pot is a pressure cooker and slow cooker combined into one product, designed to make your food cook faster and evenly. Instant Pots definitely save you time in the kitchen. Available in 3, 6, and 8 quart, this model is Amazon's #1 best seller with over 59,000 reviews and 4.6 out of 5 stars!
What is Elote?
Elote (pronounced ee-LOW-tay) is the Spanish word for "corn cob." It is used to describe the Mexican corn sold by street vendors. Traditionally, elote is served on the cob with mayonnaise, Cotija cheese, and Ancho chile powder. It may sound strange to put mayonnaise on corn, but it is amazing.
Corn On the Cob vs Off the Cob
Corn on the cob is nostalgic for me. It brings me back to summer days as a child, when we would be shucking corn on the deck and my dad would grill up burgers. Eating corn on the cob versus off the cob comes down to personal preference. There are a few factors to consider when making corn.
Visual appeal
Freshness
Length of time to prepare
Mexican street corn on the cob is very visually appealing. It looks delicious and you just can't beat fresh corn. However, if you don't want to spend all night picking corn silk out of your teeth, you can easily cut the corn off the cob or purchase frozen corn.
Grilling corn takes time if you want to do it the right way. If you want corn on the cob to be juicy, you have to soak it for hours before grilling it.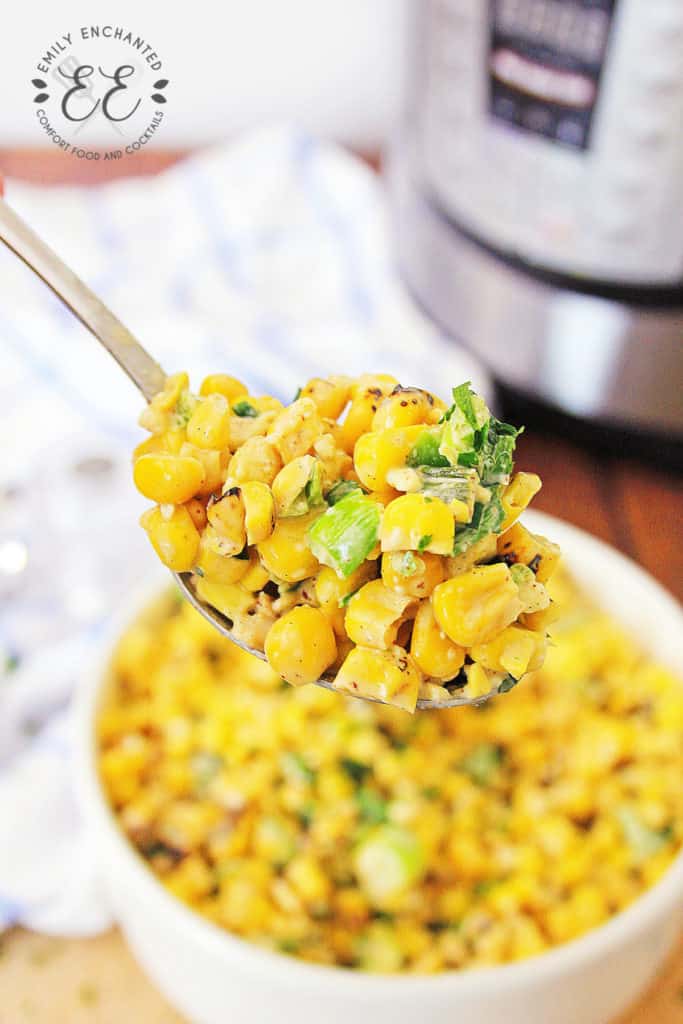 Instant Pot Mexican Street Corn Recipe
This recipe is a twist on traditional Elote, or Mexican Street Corn. Instead of mayonnaise, we use cream cheese and heavy cream.
Ingredients You Need for Instant Pot Mexican Street Corn Off the Cob
1/4 cup Unsalted Butter
1 large Sweet onion, chopped
16 ounces frozen Gold and White corn
16 ounces frozen Organic yellow corn
16 ounces frozen White shoe-peg corn
16 ounces Cream Style Corn
1 tablespoon Minced garlic
1 tablespoon Garlic salt
1 teaspoon Seasoned pepper
1 tablespoon Sugar
4 ounces Cream Cheese
2 tablespoons Heavy cream
1/2 cup Lawry's Herb & Garlic with Lemon Marinade
Shredded Parmesan Cheese
Finely chopped Parsley
How to Make Instant Pot Mexican Street Corn Off the Cob
Add the butter to the Instant Pot. Press the Saute button and melt the butter.
Add the onion and Saute for 2 minutes.
Add the frozen gold and white, yellow, and shoe-peg corn and Saute for about 5 minutes or until the corn starts to turn golden, or caramelize.
Turn off the Saute setting. Add the cream style corn, minced garlic, garlic salt, seasoned pepper and sugar, and stir well to blend.
Place the lid on the Instant Pot, press the Manual button, and set the time to 5 minutes. Make sure the pressure valve is set to "Sealing" and turn the lid on the Instant Pot until it beeps and locks.
When the Instant Pot goes to off, do a quick release. [A quick release is releasing the pressure instead of letting it naturally release by turning the pressure valve from "SEALING," to "VENTING."] Make sure the float valve is down before removing the lid. Remove the lid, and stir the corn.
Turn on the Saute setting, add the cream cheese, heavy cream, and the Lawry's marinade, and stir well to combine. Saute for a couple of minutes, just to make sure the cream cheese is completely melted and some of the liquid is absorbed.
When the cream cheese melts, turn off the Saute setting, and let the corn sit for about 5 minutes before serving.
To serve, dish into bowls or serve on plates, and garnish with Parmesan cheese and parsley.
What to Serve with Mexican Street Corn
Mexican Street Corn makes a great side dish for any Mexican meal. Here are some of my favorite Mexican recipes:
Hawaiian Coffee BBQ Steak Tacos with Pineapple
30 Minute Sheet Pan Steak Fajitas
Chicken Stuffed Poblano Peppers