Cheese enchiladas is one of the best Mexican recipes. Soft flour tortillas are filled with cheese, sour cream and enchilada sauce. They are so cheesy and delicious.
Sour cream and cheese enchiladas can be served as a main dish or as a side dish. Serve with your favorite Mexican side dish recipes and don't forget refried beans.
If you do not like spicy food, that is okay. The enchilada sauce sold in stores is usually mild. But the flavor of enchilada sauce, also called red sauce, is so good. The key ingredient is chili powder.
This recipe is also so east to double to feed a family. Just double the ingredients and use a bigger dish!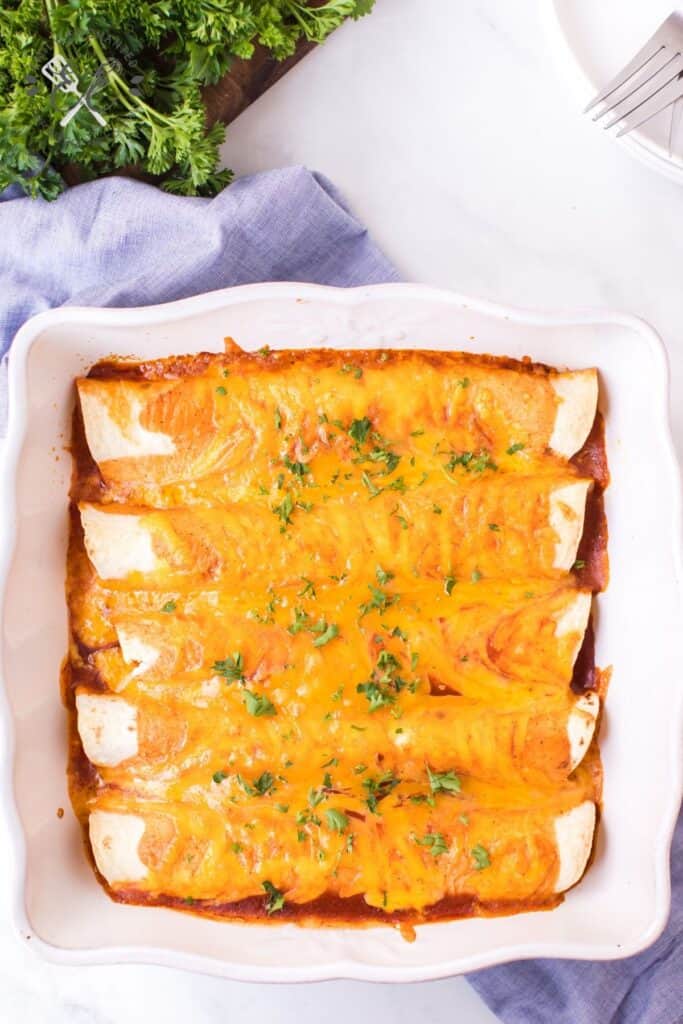 Sour Cream and Cheese Enchiladas Ingredients
To make this cheesy sour cream enchilada recipe, you will need the following ingredients (go down to the recipe below for exact quantities and instructions):
Sour cream: The sour cream is the base for this recipe. You could in theory substitute it with plain Greek yogurt, but because this recipe is so simple and because the sour cream flavor is the base of the recipe, I wouldn't recommend substituting the sour cream.
Cheddar cheese: I used shredded sharp cheddar for these enchiladas, but feel free to use your favorite cheese or whatever you have on hand. Some great options are mild cheddar cheese, provolone, shredded mozzarella, pepper jack cheese, etc.
Tortillas: I recommend using 8-inch tortillas. I used flour tortillas for this recipe, but you can also use corn tortillas. If you use corn tortillas, warm them up before you try to roll them, or they will break.
Enchilada sauce: Enchiladas sauce is most commonly found in the Hispanic section of the grocery store, but you can also find 1 oz packets of enchilada sauce that you can mix together. Either one will work for this recipe. Or you can make your own enchilada sauce.
How to Make Cheese Enchiladas
These Mexican enchiladas are super easy to make. Roll the ingredients in the tortillas, and to baking dish and pour the sauce all over.
Preheat oven to 400 degrees F.
Stir together sour cream and 1 cup cheese.
Spoon 1/5th of the sour cream mixture into a tortilla. Roll up tortilla and place in a 9×9 inch pan. Repeat until the pan is filled.
Pour the enchiladas sauce evenly over the tortillas and sprinkle on the remaining 1 cup cheese.
Bake in oven for 20 minutes or until sauce is bubbling.
Garnish with optional chopped parsley and serve warm. Enjoy!
Optional Add-Ins
I kept this enchilada recipe very simple, but it makes a great base to add other ingredients into the mix. My favorite add ins are:
What to Serve with Cheese Enchiladas
It is traditional in Mexican restaurants to serve combination platters, which are a sort of sampler platter. You usually get 3 different food items. Of course, you can eat enchiladas just by themselves. It is also tradition to top enchiladas with chopped onion, tomato and lettuce.
Here is what I like to serve with enchiladas:
Mexican rice
Chips and Guacamole
Tacos
Tamale
Storage Instructions
You can store enchiladas for 3-5 additional days in the refrigerator.
Can I Freeze Enchiladas?
Because of the high amounts of sour cream, I would not freeze these enchiladas. The consistency of sour cream tends to change when it's frozen.