Spicy Chex Mix is a popular party mix that people love to munch on. Chex mix, pretzels, Cheerios and peanuts are mixed together and slathered with butter and buffalo sauce. Pop in the oven and you have a toasty, tasty snack!
If you are having a party, this is a great snack to put out for people to enjoy. I love enjoying this bar mix with a good beer or cocktail. I think the spiciness of this mix would be best washed down with the best strawberry margarita!
This post contains affiliate links.
Spicy Chex Mix Ingredients
To make this buffalo chex mix, you will need the following ingredients (go to the recipe below for exact quantities and instructions):
Chex Mix
pretzels
Honey Nut Cheerios: you can use regular Cheerios, but I like the sweetness of the Honey Nut.
peanuts
butter
buffalo-style hot sauce
cajun spice: you can also substitute garlic powder, paprika and red pepper flakes.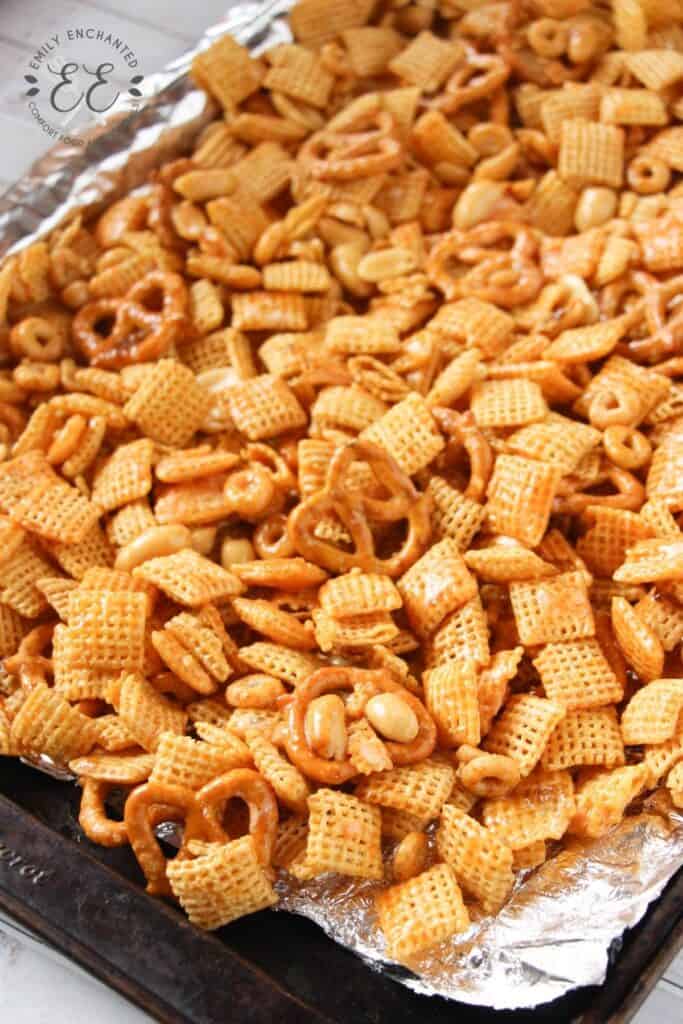 How to Make a Spicy Chex Mix
Making Buffalo Chex Mix is simple and doesn't take much time.
Prepare the oven and baking sheet. Preheat the oven to 350 degrees. Line a cookie tray with a silicone liner or tinfoil and set aside.
Mix ingredients with melted butter. Place Chex Mix, pretzels, Cheerios and peanuts in a large bowl. Melt the butter in a small microwave-safe bowl and stir in the hot sauce. Pour over the Chex Mix and stir to evenly distribute.
Add spice. Pour the Chex Mix out onto the lined cookie tray and spread out to make an even layer. Sprinkle the cajun spice over the top of the Chex Mix.
Bake the chex mix. Bake for 10-15 minutes, until the Chex Mix is dry to the touch but before it starts to brown.
Cool and serve. Allow the Chex Mix to cool on the baking tray. Serve or store in the pantry in an air-tight container.
Can I Make Buffalo Chex Mix More or Less Spicy?
Yes! You can make Buffalo Chex Mix more or less spicy, depending on your preference.
If you want more spice, add 2 more teaspoons of cajun spice. If you want less spicy, you can eliminate the cajun spice.
If you want zero spice, you can even eliminate all cajun spice and buffalo sauce. This party mix is good with just butter!
Substitutions and Optional Add-Ins
Chex Mix with cherrios is a classic recipe. This recipe uses Honey Nut Cherrios, but you can use original or any other Cherrios you prefer.
Add Rice Chex and Wheat Chex for some added color and flavor variations.
Rye chips are extra crunchy and my favorite part of Chex Mix.