This Pineapple Mojito recipe is a tropical twist on a classic drink. Fresh pineapple and mint leaves make this cocktail so refreshing.
If you love mojitos, try my Passion Fruit Mojito.
Pineapple Mojito Ingredients
To make this tropical mojito, you will need the following ingredients (see the recipe card below for exact amounts):
fresh pineapple
sugar
mint leaves
lime
pineapple juice
club soda
white rum
ice
How to Make Pineapple Mojitos
Muddle ingredients. In a large mortar and pestle, add in pineapple, sugar, mint leaves, and lime juice. Gently muddle ingredients together with the pestle, until pineapple is creamy and mint leaves have bruised.
Stir in liquids. Add pineapple mix to a small pitcher or very large mason jar. Add in pineapple juice, club soda, and rum. Stir together gently. Taste and add more sugar if desired.
Serve. Pour over ice.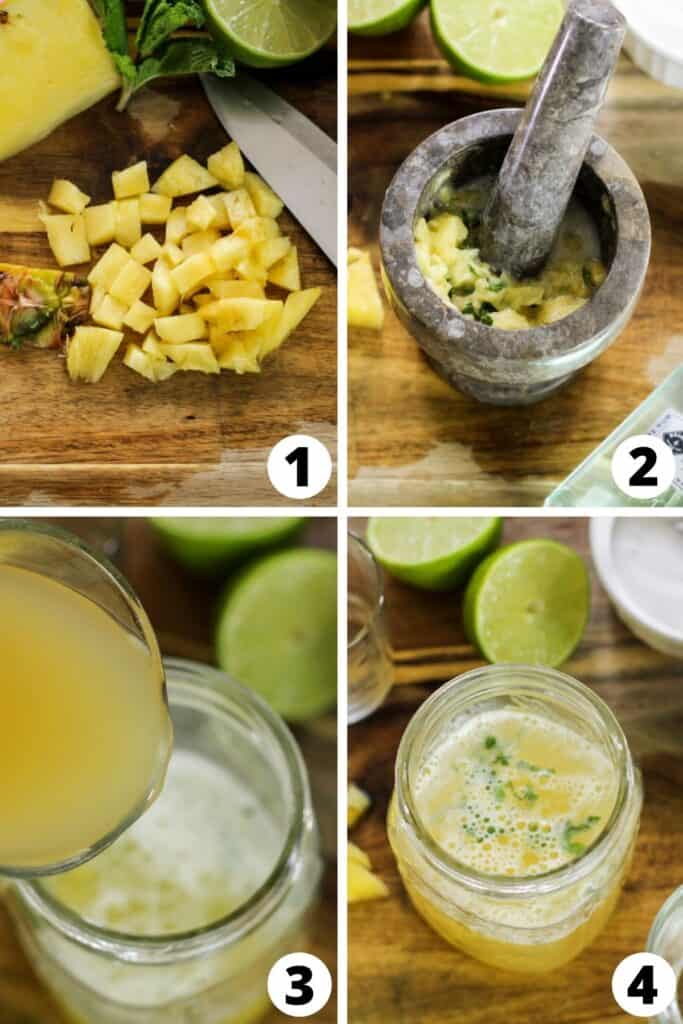 How to Garnish a Mojito
For a fun twist, add in a spear of pineapple and a few thin slices of lime to your glasses.
What is the Best Rum for Mojitos?
Mojitos use white rum. For this recipe you will be using Añejo instead of Reposado, a dark rum which has been aged. White rum is great for tropical and fruity drinks. Always check the bottle when looking for rum at the liquor store.