Mardi Gras Bundt Cake is so festive and colorful. Purple, green and gold cake batter are layered to create a colorful Fat Tuesday cake. This Mardi Gras cake is the perfect Fat Tuesday dessert.
Mardi Gras is a festival that takes place on Shrove Tuesday, also known as Fat Tuesday. People party on the day before Ash Wednesday, because many fast and give up certain desirables for the season of Lent.
This post contains affiliate links.
Mardi Gras Bundt Cake Ingredients
For this recipe, you will need 6 mixing bowls, a bundt pan and a mixer. You can use a hand mixer, but I prefer my KitchenAid.
all-purpose flour
baking powder
salt
unsalted butter
sugar
vanilla extract
eggs
milk
powdered sugar
How to Make Mardi Gras Bundt Cake
Preheat oven to 350 degrees.
Combine flour, baking powder and salt in medium bowl.
In large mixing bowl, cream together butter and sugar using a hand mixer or stand mixer. Add in vanilla and then eggs one at a time. Blend in the milk.
Add in the flour mixture half at a time and mix until well blended.
Divide batter equally into 4 bowls, with 1/4 going into each bowl. Add gel food coloring to 3 of the bowls: green, purple, and orange or yellow. Mix until color is incorporated.
Spray a bundt pan with non-stick cooking spray. Spoon batter into the prepared bundt pan my dropping spoonfuls of alternating colors of batter around the pan until all the batter has been used.
Bake for 45-50 minutes and toothpick test comes out clean.
Mix powdered sugar and milk until you get the consistency you like. Start with ½ cup powdered sugar and a few tablespoons of milk. Add more sugar and little milk until the icing is the thickness you want.
Drizzle icing on top of the slightly cooled cake. Sprinkle the top with mardi gras sprinkles of choice.
Can I Make this a King Cake?
Absolutely! King cake is a tradition where you put a little plastic baby (representing Jesus) in the cake, and it is good luck to whoever finds it. The person that finds the baby is responsible for next year's festive King cake.
Traditional King Cake is usually a pastry, like a coffee cake. But you can still hide a baby in this cake, making it a King Bundt Cake version. (Please stick the baby in the cake AFTER you have already baked it!)
What is the Best Bundt Pan?
I am a huge fan of bundt cakes because they are so easy to make! Everything goes in one pan. You bake it, let it cool, then turn it over and it's done!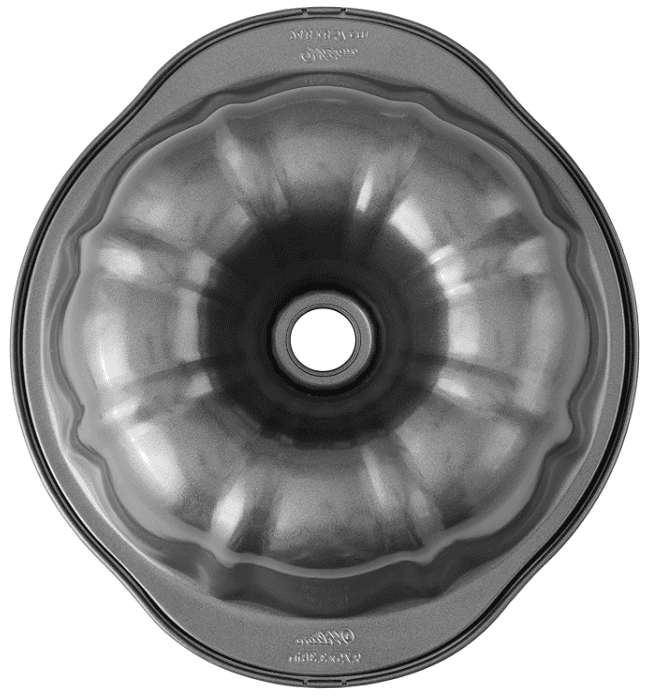 This Wilton Bundt Pan is affordable and has handles for easy use.
Bundt pans come in all different patterns. The best bundt pans for baking will be made of metal and have a non-stick surface. Do not use silicone, glass or ceramic bundt pans. Aluminum and steel bundt pans are best for conducting heat and browning the cake evenly.
This might be personal preference, but I like a bundt pan that has a wide edge or come with grips, so I do not accidentally get my fingers in the cake when I am turning the pan over. The Wilton Perfect Results Non-Stick Fluted Tube Pan is top rated.
What Do the Mardi Gras Colors Mean?
You can recognize the Mardi Gras color combination anywhere. You see it on beads, cakes, masks, etc. The colors for Mardi Gras are purple, green, and gold. They stand for justice, faith and power.
People frequently use variations of the colors to create more visually appealing decorations. They use dark and light purple, and yellow and orange instead of true gold.
For this Mardi Gras bundt cake, you can use either yellow or orange food coloring for the gold. I prefer to use the orange because it is darker than the bright yellow.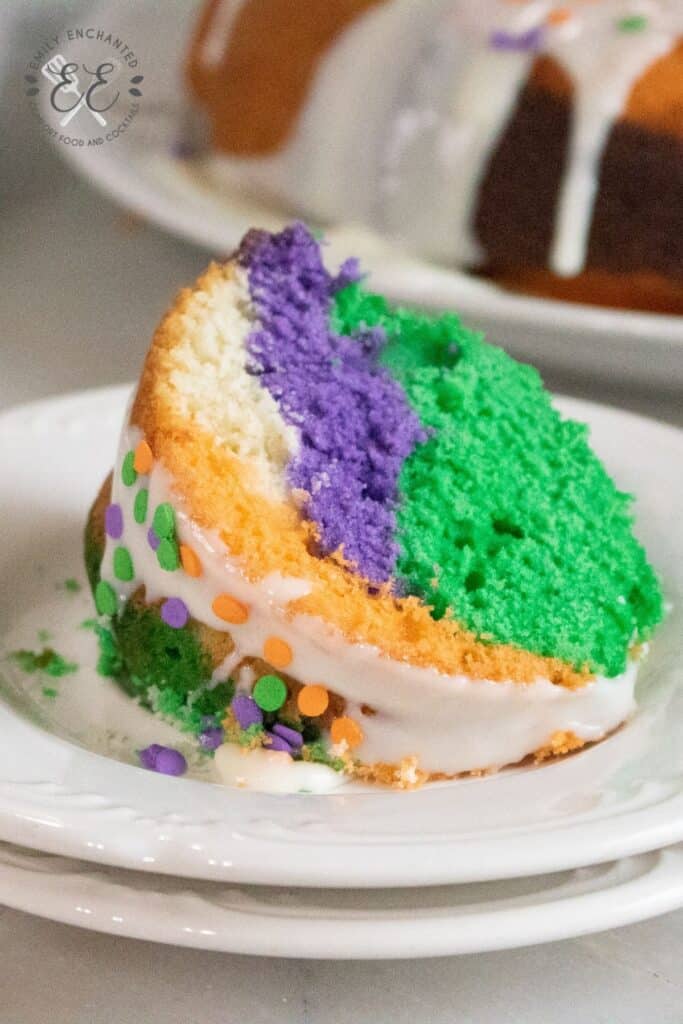 More Fat Tuesday Recipes
Mardi Gras recipes tend to be traditional southern recipes such as beignets, jambalaya, red beans and rice, and lots of shrimp. But I think Fat Tuesday recipes can be anything that is really indulgent! For me, that is anything that is super cheesy or super chocolatey. Here's a list of what I would eat on Mardi Gras.