This Apple Bundt Cake recipe is an easy dessert made with a blend of spices and topped with apple cider icing. This is one of the best bundt cake recipes for fall.
If you love making easy bundt cakes, try my Orange Bundt Cake, Carrot Bundt Cake, and Cranberry Pecan Bundt Cake. Check out this bundt pan tips for all the information you need to become an expert baker.
This post contains affiliate links.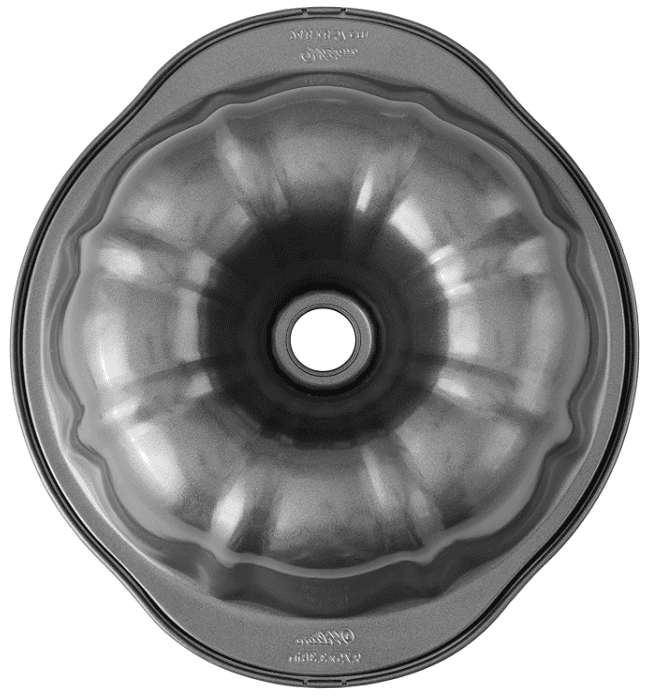 This Wilton Bundt Pan is affordable and has handles for easy use.
Apple Bundt Cake Ingredients
To make this simple apple cake recipe, you will need the following (print or screenshot the recipe below for quantities):
Box cake mix: You can use white or yellow cake mix. You will prepare this according to package directions, with some additions.
Eggs
Water
Vegetable oil
Vanilla pudding mix
Spices: Cinnamon, Nutmeg, Cloves
Granny Smith apples
Powdered sugar
Apple Cider: You can also use apple juice
How to Make Apple Cake in a Bundt Pan
For this recipe, you will need a bundt pan. They come in all different shapes. Pick any one that you like. All you have to do is pour the batter in and the pan does all the work.
Preheat the oven to 350 degrees F.
Make the cake batter. Stir together dry cake mix, chopped apples, vanilla pudding, cinnamon, nutmeg, and cloves. Add the ingredients asked for on the box cake mix, usually water, eggs, and vegetable oil and mix.
Bake the cake. Pour batter into a very well-greased bundt cake. Bake in the oven for 35-40 minutes or until a tester comes out clean.
Cool the cake and remove from pan. Allow the cake to cool completely. Carefully flip the bundt cake outside the tin and place on a cake stand or plate.
How to Make Apple Cider Icing
Make icing by whisking together powdered sugar, apple cider, cinnamon, and nutmeg until smooth. Add in more powdered sugar if too thin, and more apple cider if too thick until you have reached your desired consistency. Pour icing over bundt cake, slice, and enjoy!
Variations
You can also use the following box mixes with their respective ingredients.
Betty Crocker Super Moist Yellow Mix: 1/3 cup softened butter, 3 eggs, and 1 cup water
Duncan Hines Perfectly Moist Classic Yellow Cake Mix: 1/3 cup vegetable oil, 3 eggs, and 1 cup water
Pillsbury Moist Supreme White Cake Mix: 1/2 cup vegetable oil, 3 eggs, and 1 cup water
Duncan Hines Perfectly Moist Classic White Cake Mix: 1/3 cup vegetable oil, 3 eggs, and 1 cup water
Storage Instructions
This cake should be refrigerated if not eaten within 24 hours because of the apples. Cover the cake with aluminum foil or plastic wrap for it to keep for 3-4 days. You can also freeze this cake for up to 3 months. Just make sure to thaw it in the refrigerator before serving.
FAQs
What Are the Best Apples to use for baking?
I used Granny Smith apples for this recipe, and chopped them up relatively small. You can use other type of cooking apples, but the crispier apples will be better in this recipe.
Do I Have to Coat the Apples in the Dry Ingredients Before Mixing in the Rest of the Batter?
Coating the apples in the dry ingredients helps them to "float" in the batter better and not sink to the bottom.
How Do I Know When My Icing Has the Right Consistency?
You can test the consistency of the icing with the help of a drinking glass. If you place a teaspoon of icing on the side of a glass, it should be thick enough that it won't immediately run to the bottom. It may be too thick if it doesn't move at all. You want the icing to run to about the middle of the glass before stopping.
More Delicious Cakes Perfect for Fall