Easter Dirt Cake is a no bake Easter dessert with a creamy center and sweet topping. Indulge your sweet tooth with this twist on the classic.
Whoever invented dirt cake was a genius. They took some of the best ingredients and put them all together to make one delicious treat that is so hard to stop eating.
Vanilla pudding, cream cheese, sweetened condensed milk, butter, and whipped topping are combined for a mouthwatering filling. Add an Oreo crust and you can't go wrong.
If you think this is a cute dessert, wait until you see my viral Bunny Butt Dessert! When you are cooking in the kitchen all day creating an Easter feast, a no bake dessert is the way to go.
Easter Dirt Cake Ingredients
To make this Easter dessert recipe, you will need these ingredients from the grocery store (see the recipe below for exact amounts and instructions):
Vanilla instant pudding mix: Try another type of pudding mix, like chocolate pudding, strawberry, or cheesecake.
Oreo cookies: You will need 39 Oreo cookies for this recipe- or the equivalent of 1 regular sized package of Oreos. I don't recommend using double stuff Oreos because the filling tends to get mushy and makes the crust overly sweet.
Cream cheese
Butter
Maple syrup: You can replace the maple syrup with honey or agave.
Sweetened condensed milk: You can also use a cup of powdered sugar instead.
Whipped Topping: Any brand of whipped topping will be fine.
Vanilla extract
Cinnamon
Marshmallow peeps
Chocolate eggs
Green Sprinkles: Any type of green sprinkles will work as decoration. I used this easter sprinkle mix because I liked the colorful pop of the easter eggs.
How to Make Easter Dirt Cake
Making an Easter cake with Peeps is as easy as mix, chill and serve!
Step 1. Make the crust
To make the crust, use a food processor to crush the Oreo cookies and ¼ cup melted butter together until pulverized.
Measure out 1 ½ cups of crushed Oreos and set aside to use for the decoration.
Pack the remaining Oreo butter mixture into the bottom of a 9×13 inch dish. Set aside in the refrigerator for now.
Step 2. Make vanilla pudding mix
Whisk together pudding mix and cold milk until it begins to thicken, about 2 minutes. Set aside in the refrigerator to chill.
In a large bowl, beat together the sweetened condensed milk, cream cheese, softened ¼ cup butter, maple syrup, vanilla extract, and ground cinnamon. Beat until the mixture combines and thickens.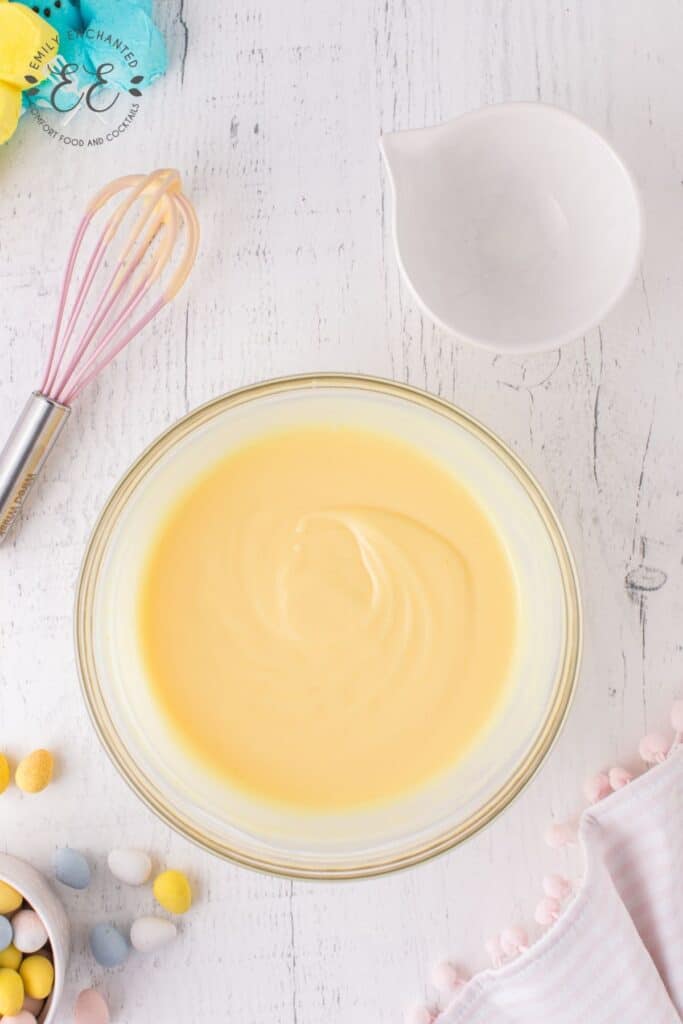 Stir in the chilled pudding mix until fully incorporated. The pudding mix does not need to be completely chilled before adding it to the rest of the mixture.
Fold in the whipped topping.
Pour the pudding mixture over the Oreos already in the pan.
Step 3. Top with Oreo crumbs and chill
Sprinkle the set aside Oreo crumbs over the pudding layer and let refrigerate for 1-2 hours before plating.
Step 4. Decorate
When you are ready to serve, garnish the top with the marshmallow peeps, sprinkles, and chocolate eggs.
Storage Instructions
Store any leftovers in the refrigerator, tightly covered with plastic wrap, for up to 3 days. I don't recommend freezing this dirt cake.
What Other Decorations Can I Use to Decorate Dirt Cake?
Instead of using green sprinkles, you can make edible grass by combining green food dye with coconut flakes. Just put some coconut flakes into a bowl, add a drop of food dye, and mix with the spoon or fork until food dye has evenly coated all of the flakes.
Feel free to use any type of pastel candy to represent spring for your dirt cake. Some suggestions include Easter m&ms, Easter wrapped Reese's peanut butter cups, sixlets, chick-style peeps, sour gummy worms, robins eggs, or full sized Cadbury eggs. Let your creativity and imagination run wild with this cake!
Can I Make Individual Desserts with this Recipe?
Yes! Skip the Oreo crust and just use the pudding mixture in a dessert cup, top with Oreo crumbs and decorate. I like to use these little sundae cups.