This post contains affiliate links. As an Amazon Associate I earn from qualifying purchases. View our Privacy Policy.
Easter Poke Cake recipe is a pretty pastel cake with grape and strawberry flavors. Jell-O is added to vanilla cake to create beautiful colors inside that appear when you cut the cake.
Easter is such a fun holiday to celebrate. It is all about new beginnings, including the transition from winter to spring. I love the change to brighter colors. This delicious cake recipe is the perfect addition to your Easter dessert table.
I have a lot of delicious Easter recipes that you must try, including my viral Bunny Butt Cheese Ball Dessert. It is VERY sweet, so try these Easter Chocolate Pretzel Bites if you prefer sweet and salty.
This post contains affiliate links.
What is Poke Cake?
The name "poke cake" is very literal. You poke a baked cake to make holes. Then you add different flavors to the holes, usually dyed so the cake is colored when you cut into it.
Easter Poke Cake Ingredients
To make this colorful Easter poke cake recipe, you will need the following ingredients (see the recipe card below for exact amounts):
Vanilla cake mix: You can also use white cake mix. If you want to be adventurous, you can use any box cake mix you desire! Just make sure they go well with the Jello flavors.
Unsalted Butter
Milk
Eggs
Grape Jell-O mix: or other flavors with food coloring to get the color you desire.
Strawberry Jell-O mix: or other flavors with food coloring to get the color you desire.
Heavy whipping cream
Confectioner's sugar
Vanilla extract
Easter sprinkles: you can use pastel colored sprinkles or these cute bunny sprinkles
How to Make Poke Cake
Making poke cakes is really not that different than making a regular cake. Before adding frosting, you poke holes, add gelatin and let it chill.
Set up your oven and baking dish. Preheat your oven to 350F and prepare a 9 x 13 baking pan with non-stick spray and set aside.
Bake the cake. In a large mixing bowl, add the cake mix, butter, milk, and eggs and whisk or mix with an electric mixer until well combined. Pour into the prepared pan and bake according to the box directions (mine was about 30 minutes) then allow to cool for about 10 minutes.
Add the Jell-O to the cake. While you are waiting for the cake to cool, prepare the Jell-O mix according to the box instructions. Once the cake is slightly cooled, use a straw or the end of a wooden spoon to poke holes all over the cake. Alternate adding each Jell-O flavor into each hole. Refrigerate for 2-3 hours or until the Jell-O is set.
Frost the cake. In the bowl of a stand mixer equipped with a whisk attachment, or using an electric hand mixer, add the heavy cream and whip until it starts to thicken. Add the vanilla and confectioners' sugar and whisk until stiff peaks form and the whipped cream starts to clump in the whisk. Place the whipped cream on top of the cake and smooth. Top with sprinkles and serve.
FAQs
Do I have to make my own frosting?
No, you can skip the last step and top the cake with Cool Whip.
How do I get more vibrant colors?
You can add food coloring to the Jello mix if you wish.
Storage Instructions
Store this Easter poke cake recipe in an air tight container in the refrigerator for up to 3 days.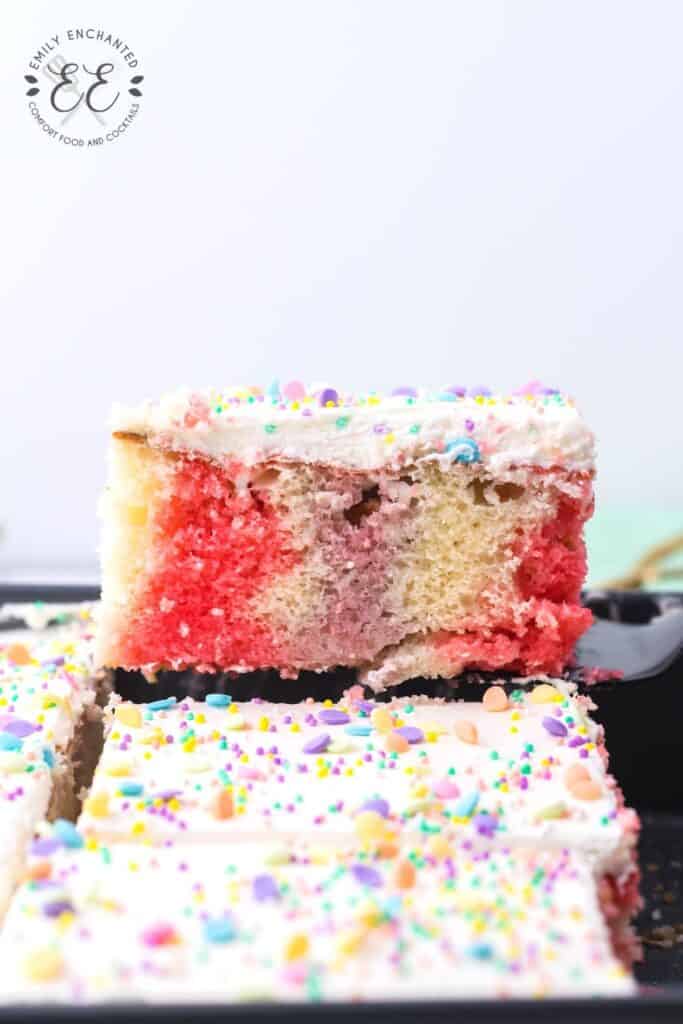 Incredible Poke Cake Recipes