This Bunny Butt Cheese Ball is so scrumptious and quite the cute Easter dessert recipe. This sweet cheese ball is loaded with your favorite goodies like sprinkles, funfetti cake, and cream cheese. Add coconut as the fur and pink M&Ms as the feet. So cute!
I love Easter and Spring time. It is a time for new beginnings, warmer weather, blooming flowers and trees, and overall it just seems to be a happier time!
Normally, I think of cheese balls as a savory appetizer, but this is such a sweet Easter treat! A little goes a long way, so I recommend this for parties. If you prefer chocolate, try my Chocolate Chip Cheese Ball Dip.
This post contains affiliate links.
Bunny Butt Cheese Ball Ingredients
To make this sweet dessert dip, you will need the following ingredients (print or screenshot the recipe below for quantities and directions):
Cream Cheese
Sugar
Pink M&M's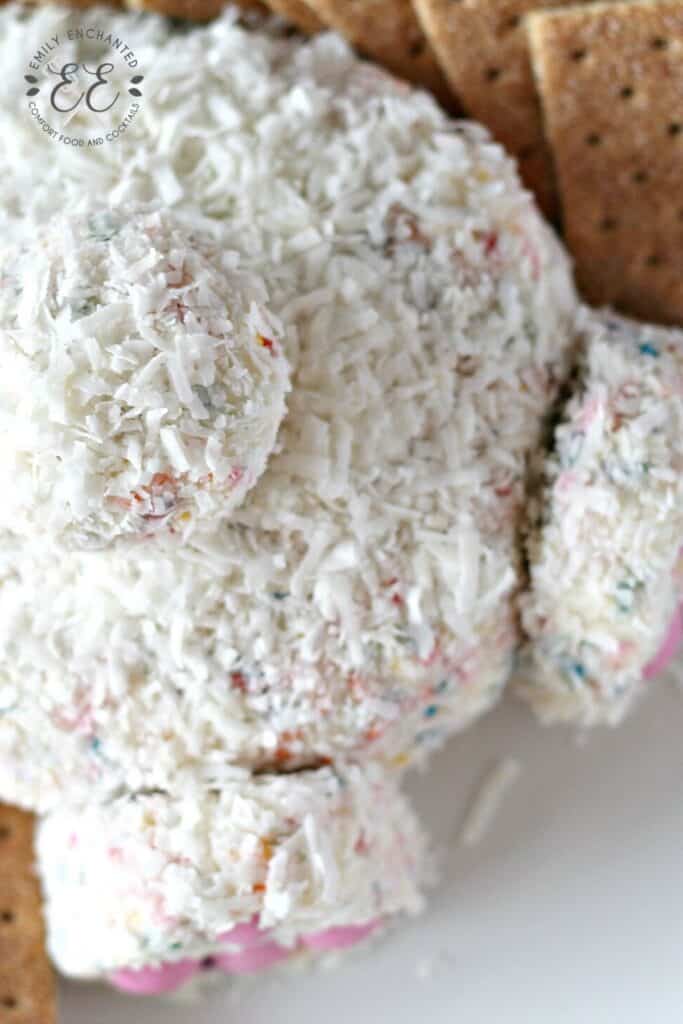 How to Make this Easter Cheese Ball Dessert
Making an Easter cheese ball dessert is simple and doesn't require any baking. All you need to do is measure out the ingredients and mix them together!
First, add the cream cheese, sprinkles, white chocolate chips, sugar, cake mix, vanilla, and butter extract into a mixing bowl. Knead with your hands until all ingredients are well combined.
Separate into one large ball, two medium size balls, and one small ball, as shown.
Roll each one in coconut flakes and pack them to make sure they are completely covered.
Assemble your bunny butt, by using the two medium size balls for feet and the small ball for a tail.
Gently flatten out the feet and shape them with your hands.
Use your pink M&M's to create toes, as shown.
What To Serve with Dessert Cheese Ball
Serve with graham crackers. You can dip with the crackers or spread with a knife.
Tips for Bunny Butt Cheese Ball
When placing the M&M's, make sure to put the "M" side into the feet so it doesn't show. This is a cleaner look.
Assemble the bunny butt right on the dish you are going to serve it on. Then you won't have to move it.
Cover with plastic wrap and store in the refrigerator if not serving right away.
Use toothpicks to hold the tail and feet in place if they are not sticking to the body.
How to Heat Raw Flour (or Cake Mix with Raw Flour in it)
This recipe contains raw cake mix. You may be concerned about eating raw cake mix because it contains raw flour, just like raw cookie dough. To be safe, you can heat up the flour. There are two ways to heat the cake mix to a safe temperature to pasteurize the raw flour in it. This is only for no-bake sweets. If you are baking your goods, there is no need to preheat the flour.
Microwave Method – In a microwaveable bowl, microwave the cake mix until it reaches an internal temperature of 165 degrees, about 55 seconds to 3 minutes depending on your microwave wattage.
Oven Method – The second way to heat flour so it's safe to eat is in the oven. Add the cake mix to a baking pan and put in the oven at 300°F for about 10 minutes. Make sure it doesn't burn or turn brown. Let cool before using in the recipe.