Italian Easter Cookies are sweet cookies with hints of lemon and vanilla. These soft, dense cookies are topped with a smooth, slightly crumbly icing.
Traditional Italian wedding cookies are a simple Italian cookie that becomes the perfect Easter recipe when pastel sprinkles are added.
Italian cookies usually have anise, or almond which is a more popular flavor in America, but these Easter cookies have a lovely lemon flavor.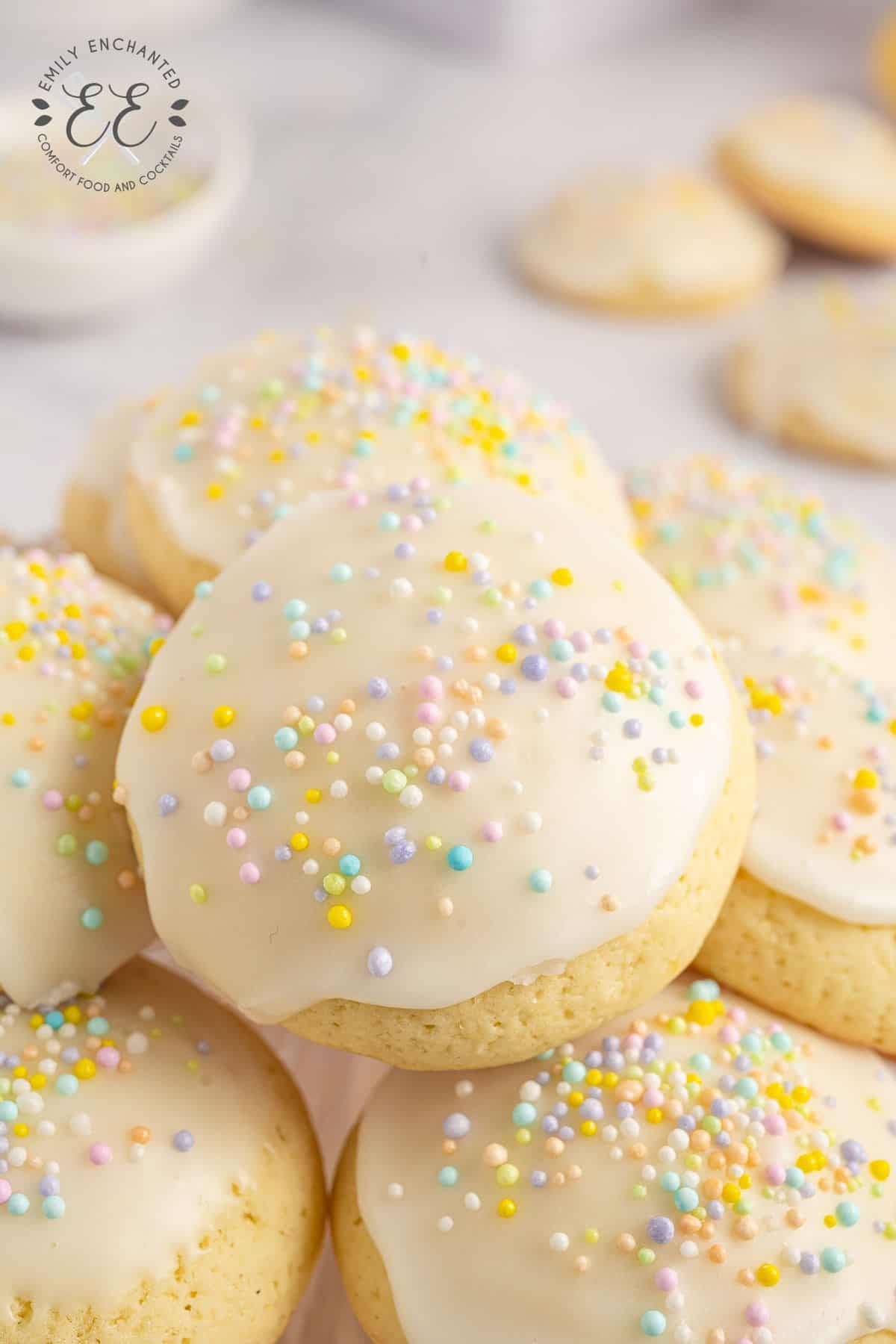 This post contains affiliate links.
Italian Easter Cookies Ingredients
To make this Easter cookie recipe, you will need the following ingredients (see the recipe card at the bottom of this post for exact amounts):
Flour
Baking powder
Salt
Lemons: zest and juice
Granulated sugar
Unsalted butter: If you use salted butter, omit the salt in the recipe.
Eggs
Vanilla extract
Powdered sugar
Milk: I used 2% milk but you can use whole milk.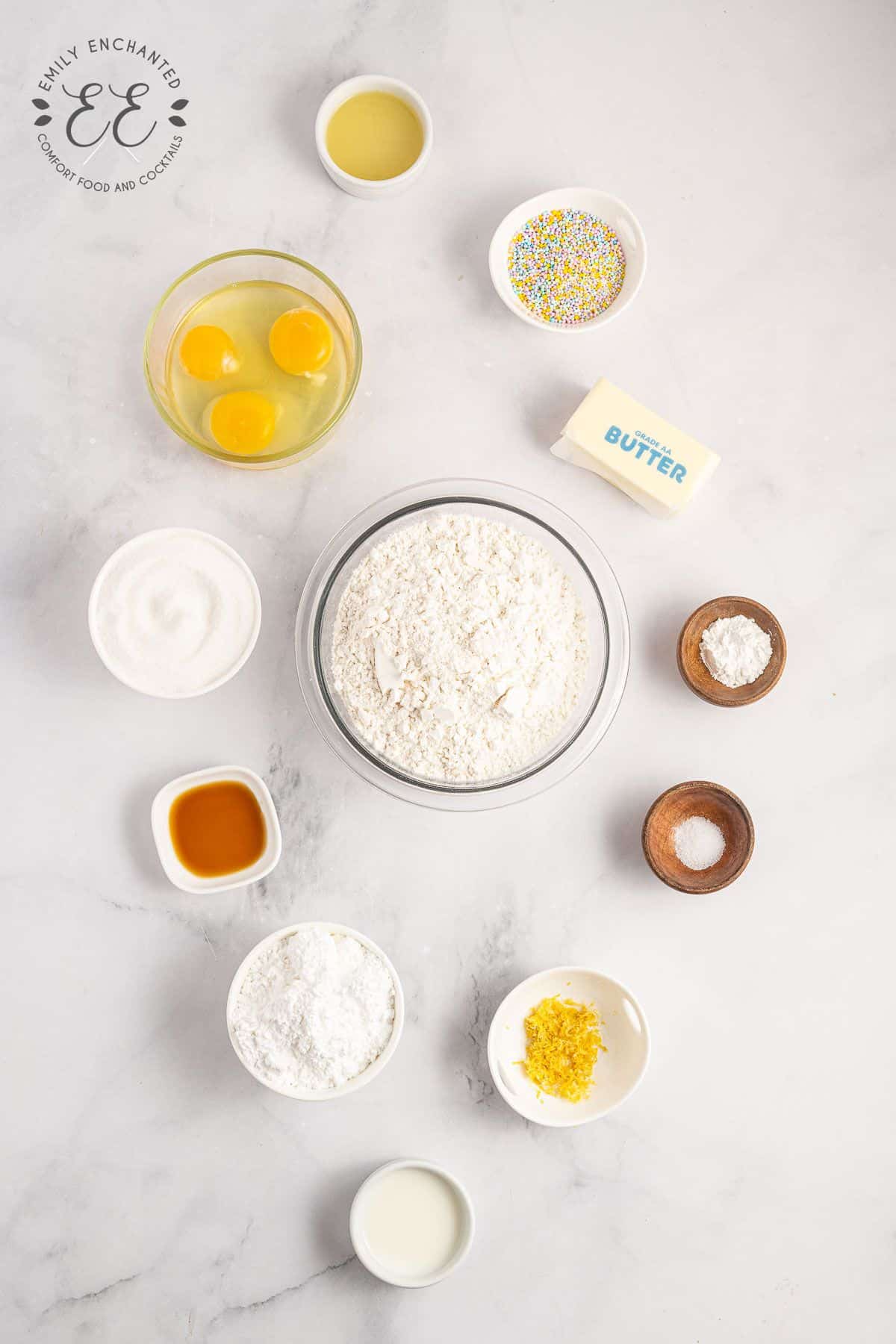 How to Make Easter Cookies
Preheat the oven to 350°. Line 3 cookie sheets with parchment paper and set aside.
Whisk together the flour, baking powder, and salt in a medium bowl and put it to the side.
In a separate large bowl, add the lemon zest and sugar and mix them together with your fingers until fragrant. Add the butter, and use an electric hand mixer to cream the sugar and butter together until fluffy.
Mix in the eggs and vanilla extract.
Gradually add the dry ingredients and continue mixing until the dough is thick and sticky.
Use a 1 1/2 tablespoon cookie scoop to scoop out the cookie dough and roll it into smooth balls with your hands. Place the dough balls about 2 inches apart on the parchment-lined cookie sheets. (I put 12 cookies on each cookie sheet.)
Bake the cookies, 1 cookie sheet at a time, for 15 minutes or until the bottom edges of the cookies start to turn golden brown. Place them on a cooling rack to rest.
Add the powdered sugar, lemon juice, and milk to a small bowl and stir until it is smooth and free of lumps.
Once the cookies are cooled, dip the tops into the icing and place them on a piece of parchment paper or a cooling rack to let the icing run down the sides. Sprinkle with pastel-colored sprinkles and let the cookies rest for about 10 minutes so that the icing sets.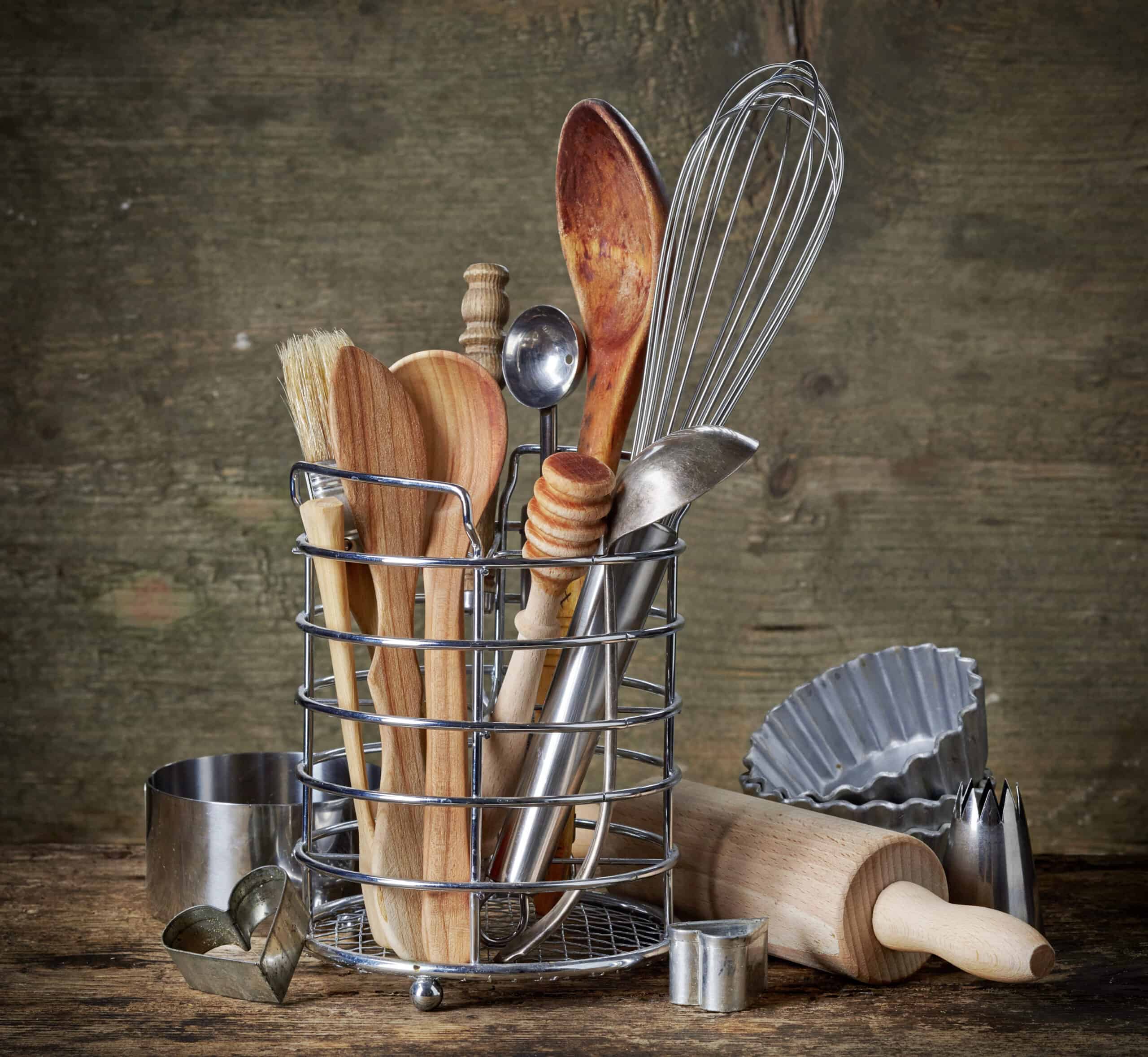 Variations
Add a 1/2 teaspoon of almond extract for more sweetness and a more traditional flavor.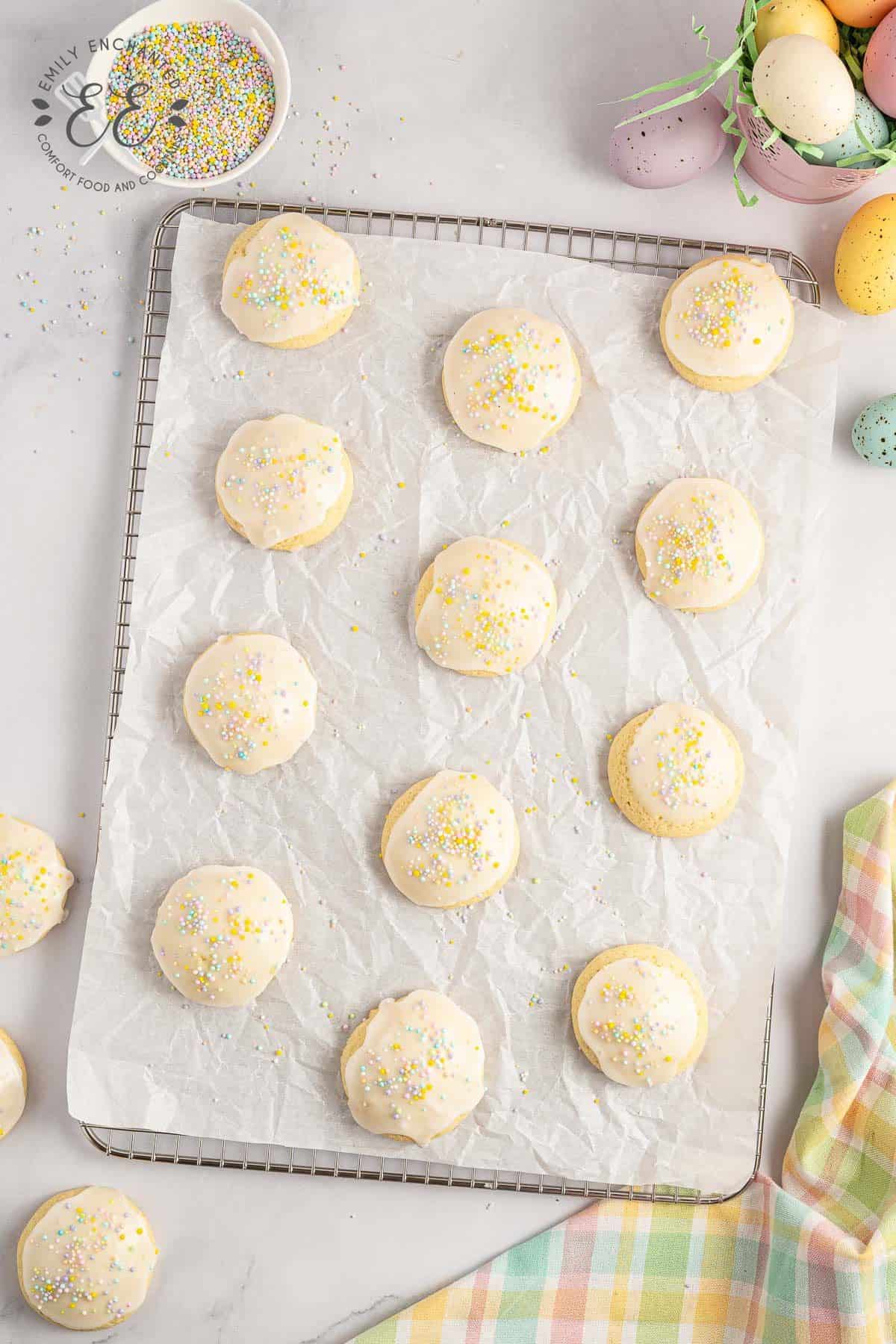 Storage Instructions
Counter: Store in an airtight container at room temperature for up to 4 days. Please note that in warmer temperatures the icing may melt.
Refrigerator: Store in an airtight container in the refrigerator for up to 7 days. Serve chilled or bring to room temperature.
Freezer: Store in an airtight container in the freezer for up to 3 months. Thaw in the fridge or on the counter overnight. I recommend freezing the cookies before dipping them in the icing. The icing should be made fresh before serving.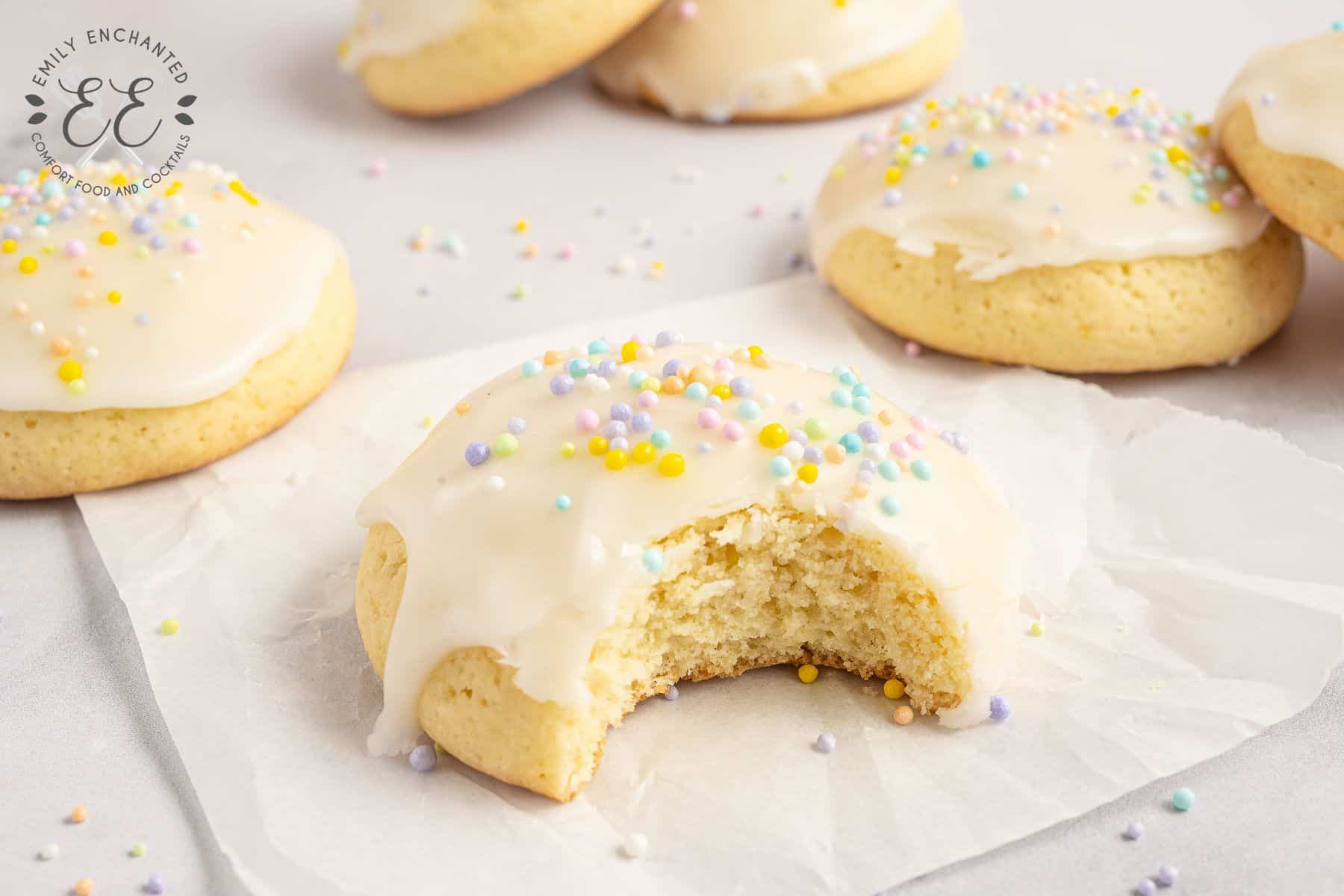 Can I Make Italian Easter Cookies Ahead of Time?
The cookie dough can be stored in the freezer. Cover with plastic wrap and foil and store for up to 3 months. Thaw overnight in the fridge, scoop it out and bake for 15 minutes.
Recipe Tips
I used a 1 1/2 tablespoon cookie scoop. Please note that using a cookie scoop of a different size will result in a different number of cookies.
If your icing is too thin, add more powdered sugar. If the icing is too thick, add more milk. The icing should appear white, not clear.
I used a light-colored cookie sheet. The bottoms of the cookies started to brown at 15 minutes. If you use a dark cookie sheet, the cookies may brown more quickly.
To halve this recipe, simply cut the ingredients in half.
These cookies go great with a cup of tea!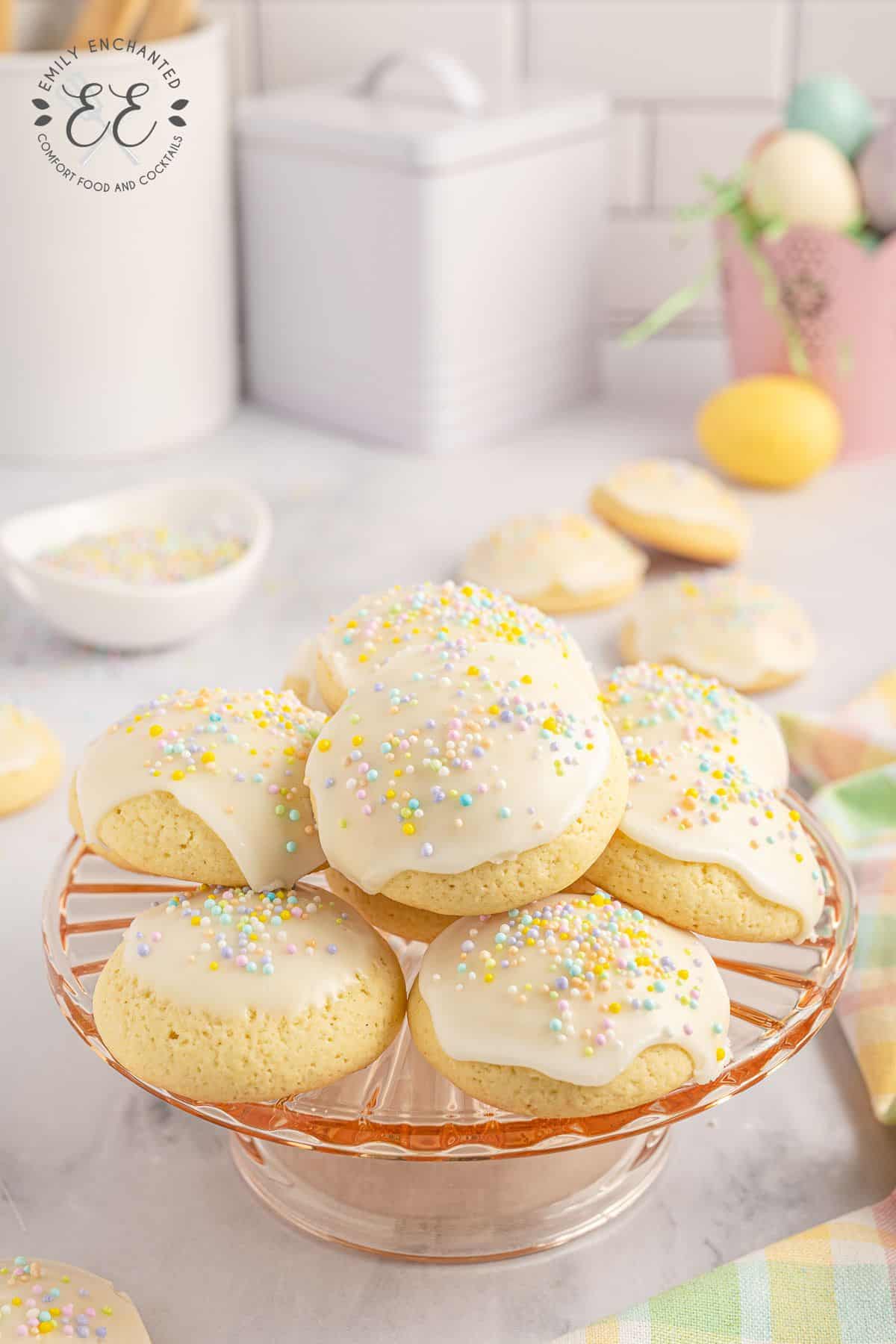 More Easter Dessert Recipes