These crispy Air Fryer Pizza Rolls are a great option for a quick snack or lunch. They can be made in just a few minutes using the air fryer!
This is simple tutorial on how to cook your pizza rolls in the air fryer instead of in the oven. You will love how fast and easy this recipe is – no preheating required!
Any flavor of pizza roll will work for this recipe – pepperoni pizza rolls, cheese pizza rolls, supreme pizza rolls – whatever you like!
This is not a recipe for homemade pizza rolls. I do have a recipe for pizza crescent rolls that is the bomb!
Air Fryer Pizza Rolls Ingredients
For this recipe, you only need two items!
Frozen Pizza Rolls: I used Totino's pizza rolls for this recipe but you can use Michelina's, Amy's or store-brand pizza rolls. The 50 count bag is the easiest to find in the store, but you can buy a 100 count bag or the 160 count box and cook as many as you like. Since you do not thaw the pizza rolls, you can make only one batch and put the bag back in the freezer for another time.
Cooking Spray: You can also use melted butter or olive oil.
Best Air Fryers
The best air fryer depends on individual preferences, budget, and cooking needs. For this recipe, I used the 8 Quart Gourmia. Cosori, Ninja and Instant Vortex are also popular brands.
The Gourmia Air Fryer has a sleek design and quick buttons that are super helpful!
How to Make Pizza Rolls in Air Fryer
The best pizza rolls are made by placing frozen pizza rolls in an air fryer basket and cooking them for 6-8 minutes or until they turn crispy and golden brown.
Put your frozen pizza rolls in an air fryer basket. They should be in a single layer. Be sure not to overcrowd the basket. Lightly brush or spray the rolls with butter, olive oil or your cooking spray of choice for extra crispiness.
Cook the pizza rolls at 380 degrees Fahrenheit (or 375 on Ninja air fryers) for 6-8 minutes. You don't need to preheat the air fryer. Turn the pizza rolls over halfway through the cooking process or give the air fryer basket a good shake.
After the pizza rolls turn golden brown and crispy, remove them from the basket and let them cool down for about 3 minutes before eating. The last thing you want to do is burn your mouth. Serve your crispy pizza rolls with your favorite sauce.
Recipe Tips
If your pizza rolls are undercooked, add an extra minute to the cooking time.
Make your air-fried pizza rolls extra crispy by brushing melted butter or oil with a pastry brush.
Place in a single layer for even cooking.
How to Serve Air Fryer Pizza Rolls
Pizza rolls go really well with blue cheese, marinara sauce, ranch dressing, or your favorite dipping sauce. You can top these rolls with Italian seasoning, mozzarella cheese or parmesan cheese.
Storage Instructions
Place any leftover rolls in an airtight container or Ziplock bag.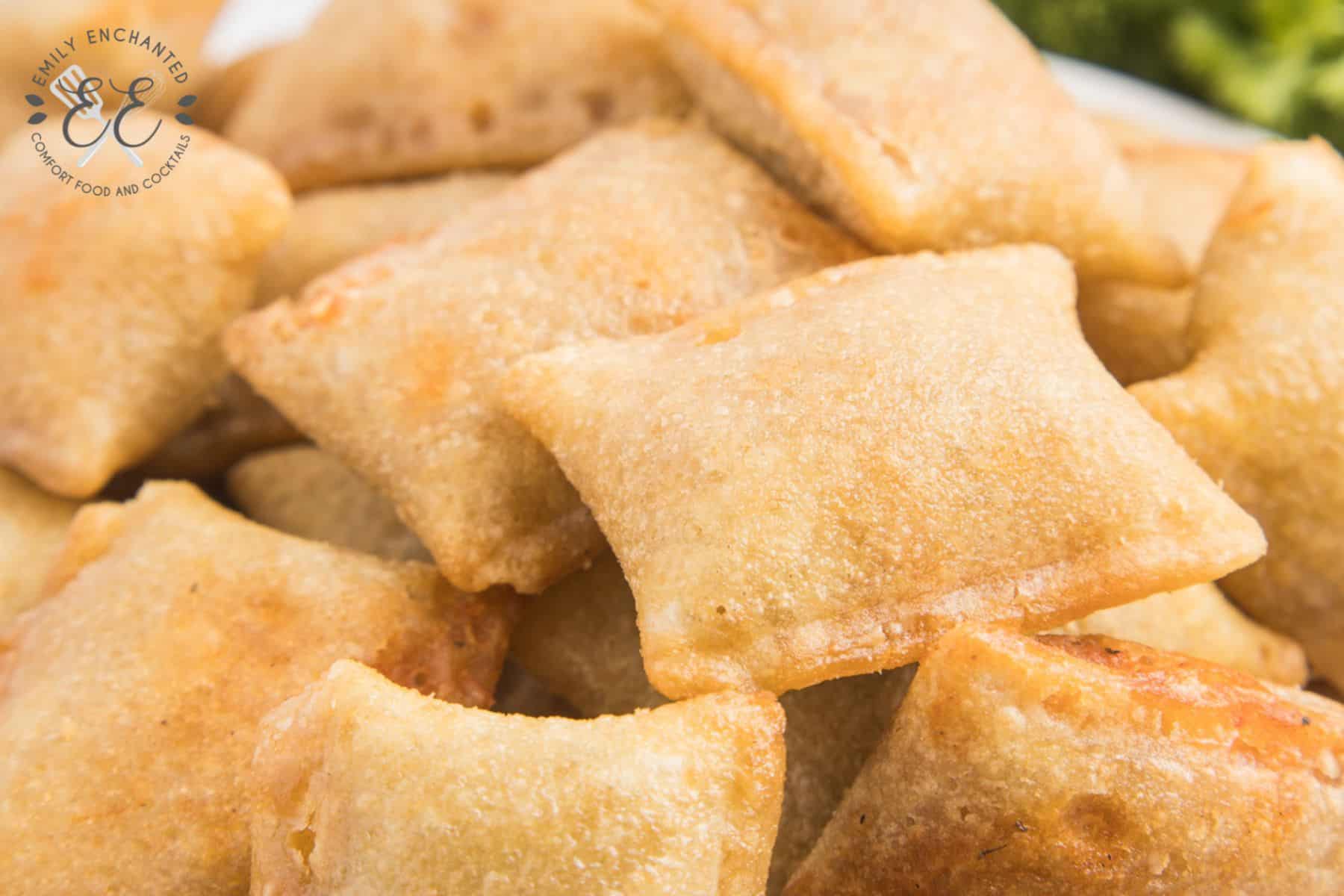 FAQs
How do I keep pizza rolls from exploding?
Poking holes in them with a toothpick or reducing the cooking time will keep them from exploding.
More Air Fryer Recipes