Air Fryer Pineapple tastes just like grilled pineapple and is so much easier! No grill required. Juicy pineapple is air fried in a cinnamon brown sugar and butter glaze.
Air fryer recipes make things easy by allowing you to make your favorite recipes in one appliance right in your kitchen.
Fresh pineapple is one of the best summer fruits. You can put this sweet and delicious fruit in fruit salad, on a fruit kabob, or even in a fruit dessert.
Air Fryer Pineapple Recipe Ingredients
To make this air fried pineapple recipe, you will need the following ingredients (see the recipe card below for exact amounts):
Pineapple: Fresh is best! I don't recommend using canned pineapple because the pineapple is already soft and will turn mushy.
Salted butter
Brown sugar
Cinnamon
Vanilla ice cream (optional, but recommended!)
How to Select a Ripe Pineapple
Knowing when a pineapple is ripe can be tricky, but here are some tips for picking the best pineapple:
Smell. The best way to tell if a pineapple is ripe is to smell it near the base as pineapples usually have a sweet pleasant scent when they are ripe.
Touch. You can also squeeze the outside of the skin lightly and feel for soft areas, which typically indicate the pineapple is ready to be eaten.
Sight. Look for the fruit to have an overall golden hue with no green spots and make sure there are no brown or mushy spots on the skin too.
How to Cook Pineapple in the Air Fryer
In a large mixing bowl, toss the pineapple with the melted butter, brown sugar, and cinnamon until the pineapple is coated.
Place the pineapple into the air fryer basket. No need to place them in a single layer, feel free to stack the pineapple.
Set the air fryer to 400°F for 13-15 minutes, giving the basket a shake halfway through. Remove pineapple from the basket when done cooking.
Serve over some ice cream and enjoy.
FAQs
What measurement is one small pineapple equal to?
It's about 3-4 cups of fresh chunked pineapple.
How do you peel a pineapple?
Peeling a pineapple is quite simple. You will cut off the top and bottom, then run your knife around the outside of the pineapple to remove the skin.
What is the best air fryer to use?
You don't need an expensive air fryer to make this recipe. I prefer an air fryer with a large basket. Ninja and Cosori are popular brands.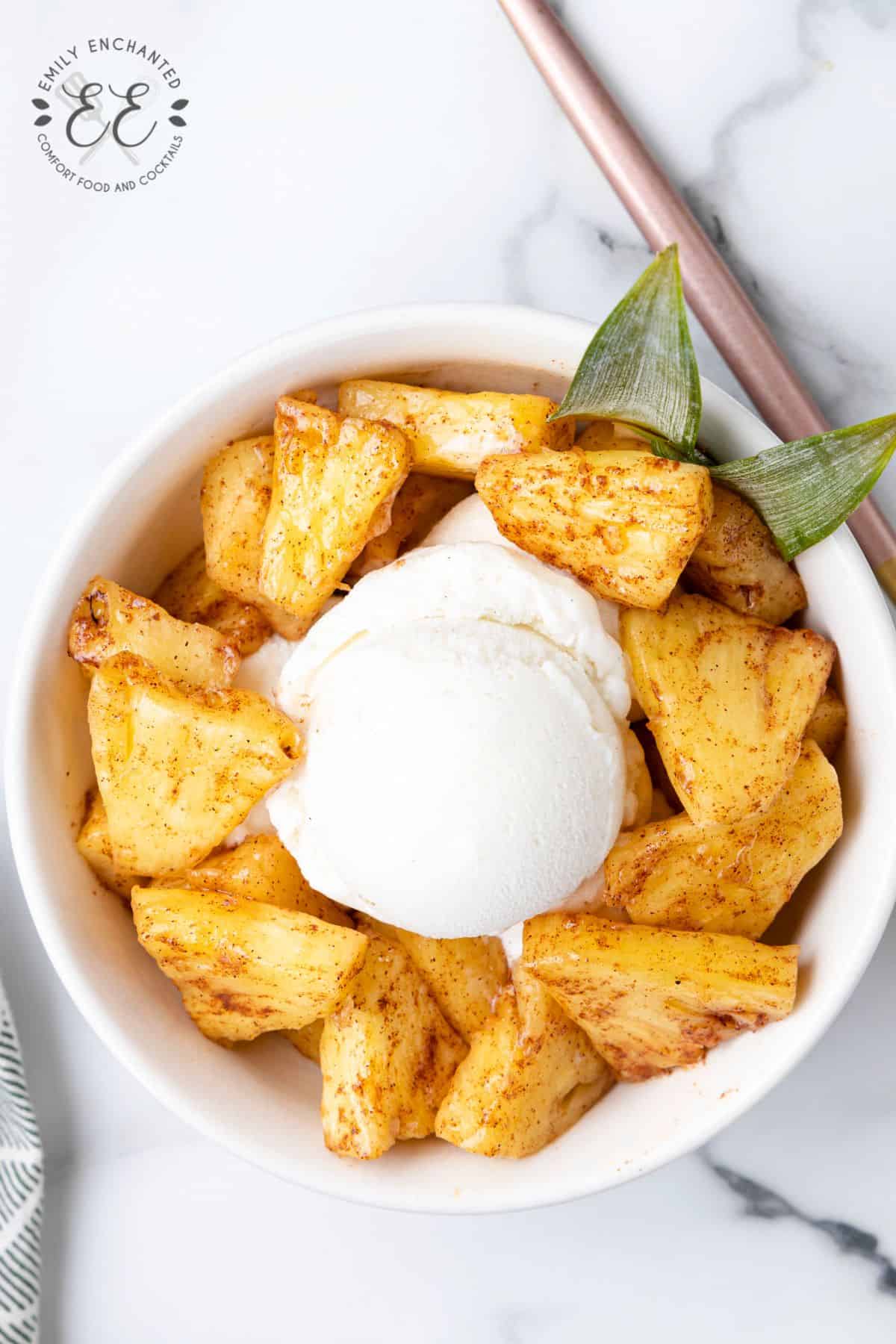 Variations
You can cut pineapple slices or pineapple rings, whatever you prefer!
You can place aluminum foil on the bottom of the air fryer to catch the drippings. Then you can double the butter and sugar to make a sauce.
Serving Suggestions
Serve with ice cream or a dollop of whipped cream on top. You can also add to smoothie bowls or yogurt bowls.
Storage Instructions
You will want to store leftover air fryer grilled pineapple in an airtight container in the fridge for up to one week.
More Foods You Can Air Fry