Mushroom Swiss Burger with White Truffle Mayo is a gourmet burger recipe that is easy to make at home! Sautéed mushrooms and onion top a juicy cheeseburger with truffle aioli.
I love putting truffle oil on everything from steaks to popcorn. It is so good! Truffle oil has an earthy, buttery flavor that fits perfectly with mushroom Swiss burgers.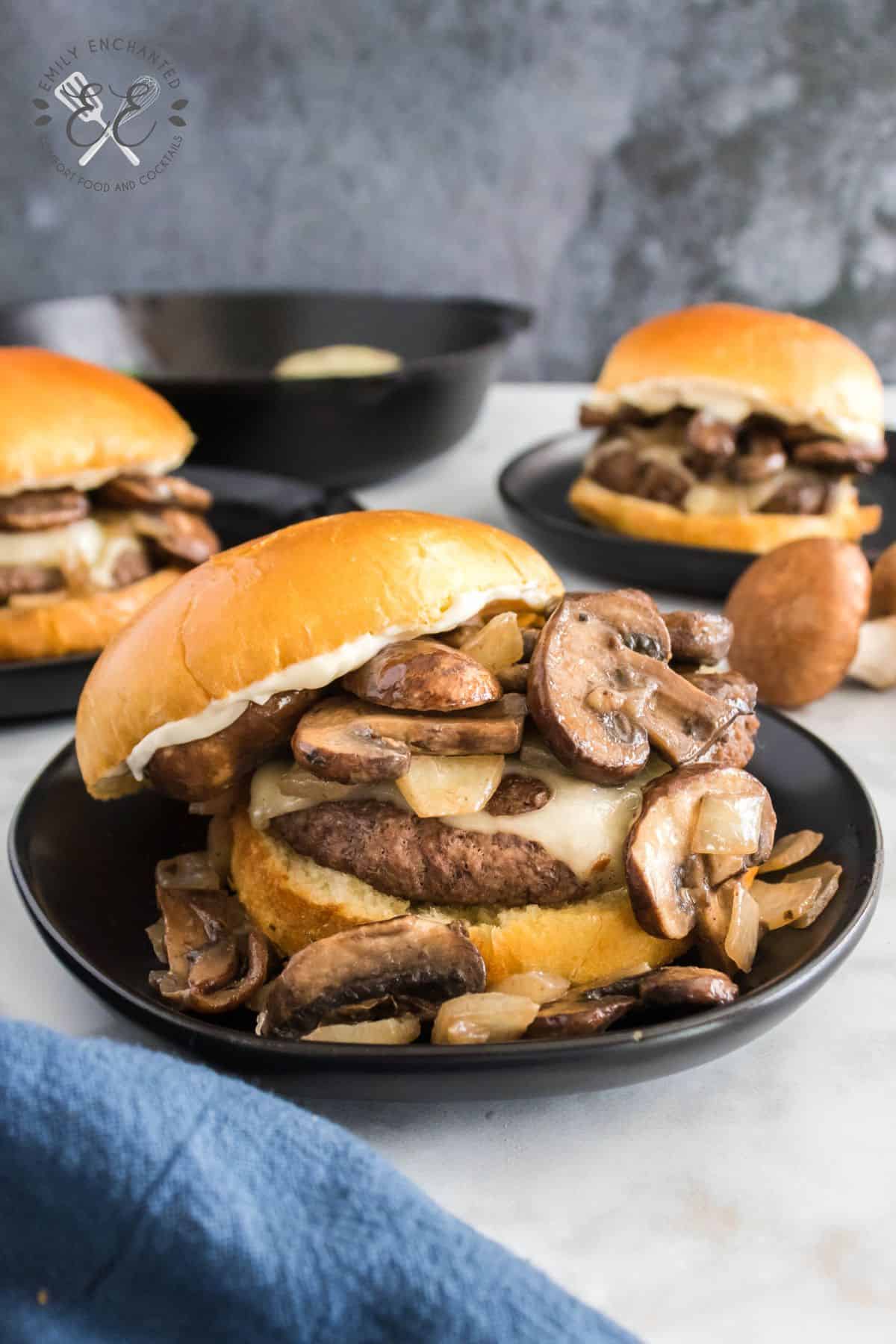 Mushroom Swiss Burgers Ingredients
To make this homemade burger recipe, you will need the following ingredients (see the recipe card at the bottom of this post for exact amounts):
Ground beef: I used 90/10 fat ratio for my burgers, I prefer a slightly more lean burger especially because of the rich butter flavors in this recipe. Can also use preformed hamburger patties.
Salted butter
Swiss cheese
Hamburger buns: brioche buns are the best for this recipe because the slight sweetness of brioche complements the flavors of the burger so well! Any bun will do, but I would recommend choosing a sweeter option (like Hawaiian) if brioche is not available.
Baby Bella mushrooms: I prefer baby bella mushrooms because of their availability, size, and flavor. But this could be substituted with any mushroom. I rinse my mushrooms and wipe them dry. Cooking the mushrooms by themselves for 5 minutes helps reduce the amount of water so they aren't soggy.
Yellow onion
Salt
Black pepper
Special Tools Needed
1 large skillet – this can be substituted with a grill or frying pan.
1 frying pan
Truffle Mayo Ingredients
Truffle aioli can be purchased in the store, but it is super easy to make at home.
Mayonnaise: I always use Hellman's real mayonnaise, I would not substitute with miracle whip.
White truffle oil: I used Epicurean Specialty white truffle flavored olive oil.
Garlic clove: can be freshly minced or jarred. You could also use dry garlic powder, but it is not recommended.
How to Make Mushroom Swiss Burger Recipe
To make the truffle mayo: combine mayonnaise, truffle oil, and garlic in a bowl. Set aside.
Divide ground beef into four equal balls, flatten and form burger patties (about 1/2 inch thick and 4 inch diameter).
Over medium heat, allow skillet to get hot and melt 1 tablespoon of butter. Add beef patties and cook in skillet over medium heat until there is little to no pink (about 4 minutes each side) remove from heat and place a slice of Swiss cheese on top of each patty and allow to melt. Set aside.
In a frying pan over medium heat, cook mushrooms alone to allow them to release water stirring occasionally (about 5 minutes). Add the remaining 2 tablespoons of butter, chopped onion, salt and pepper, and sauté until the onions have a slightly translucent appearance (about 5 minutes).
Spread truffle mayo on each bun, add a hamburger patty, and a scoop of mushrooms over the melted Swiss cheese. Enjoy!
Serving Suggestions
Top your burger with your favorite toppings such as bacon, lettuce, tomatoes, and pickles. Serve with sweet potato fries, steamed green beans, or a side salad.
Storge Instructions
You can choose to store the patties and mushrooms together or separate. Store in an airtight container in the fridge for up to 3 days or in the freezer for up to 3 months. Texture of the mushrooms may change slightly after being frozen.
Store truffle mayo in an airtight container in the fridge for up to 5 days.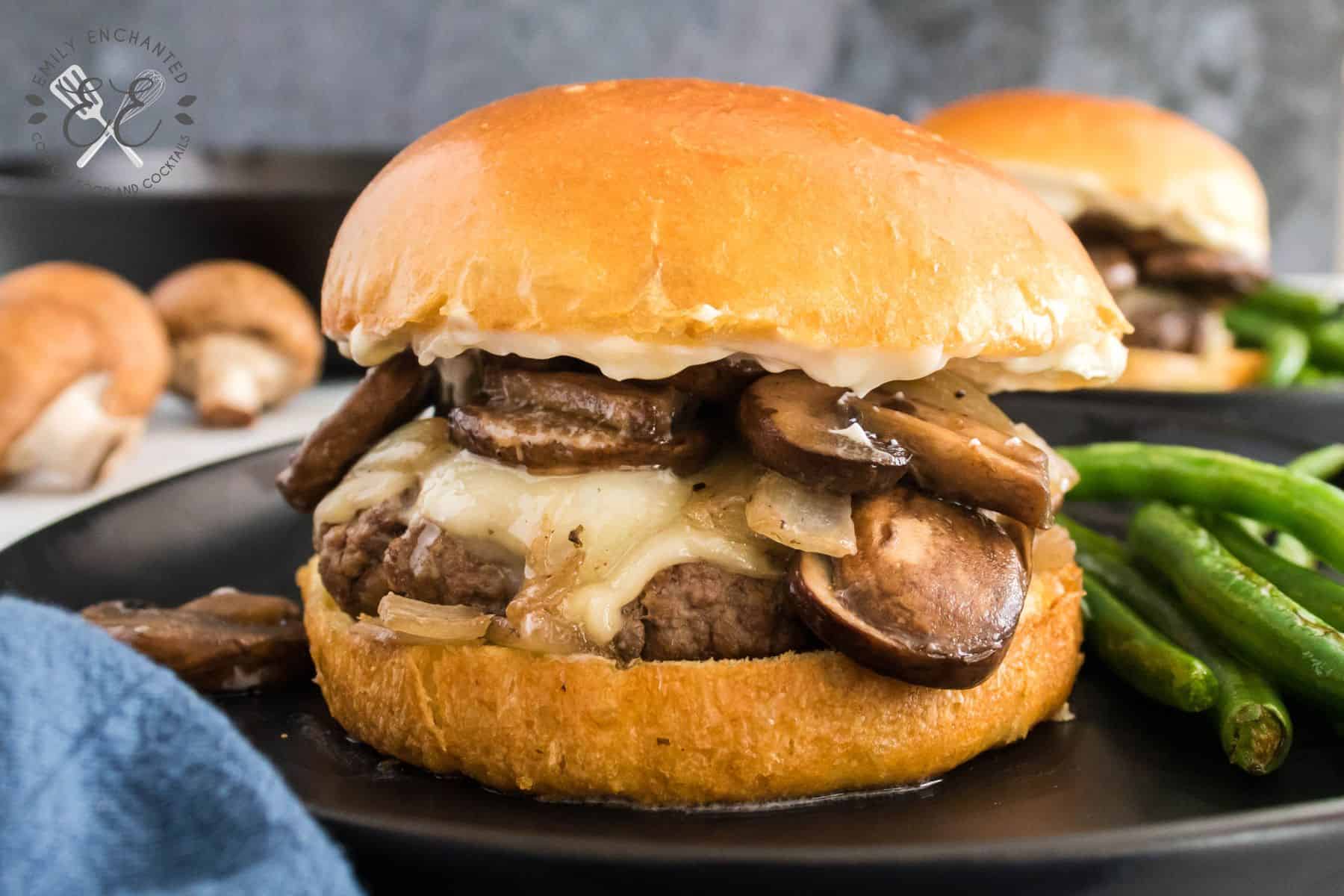 Variations
Swap the ground beef patties for ground turkey or impossible burgers. Or skip altogether for a meatless mushroom burger.
Wrap in iceberg lettuce instead of a bun for a gluten free option.
Swap Swiss cheese for American, cheddar, provolone, pepper jack, smoked gouda, brie or blue cheese.
Swap truffle mayo for regular mayonnaise or your favorite burger sauce.
Marinate the burger patties in Worcestershire sauce and steak seasoning.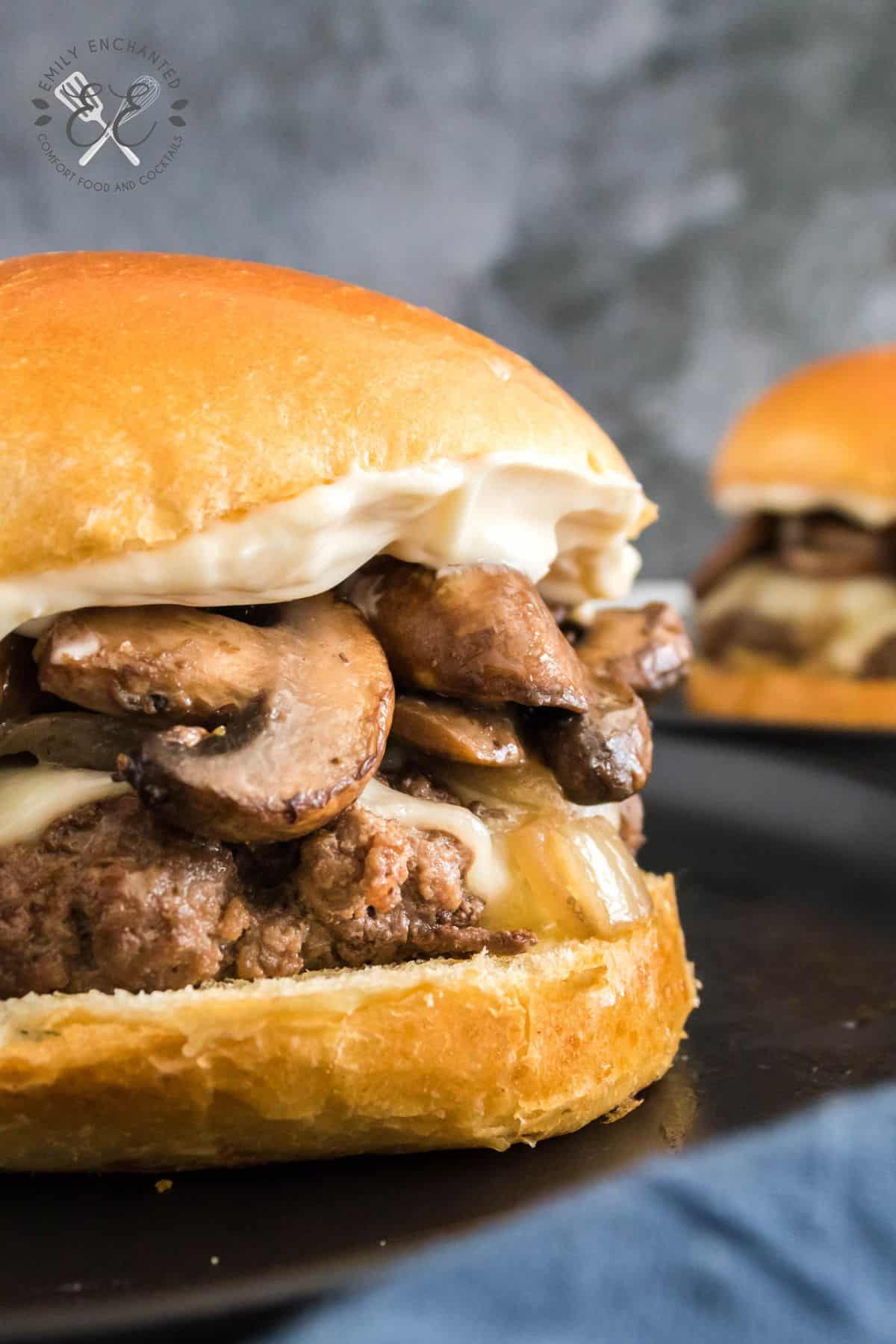 Recipe Tips
With a little multitasking, you can cook the patties and sauté the mushrooms at the same time which would reduce the cook time to 10 minutes (instead of 20) and they are both warm and ready to serve at the same time! I would start the patties first then start the mushrooms immediately after.